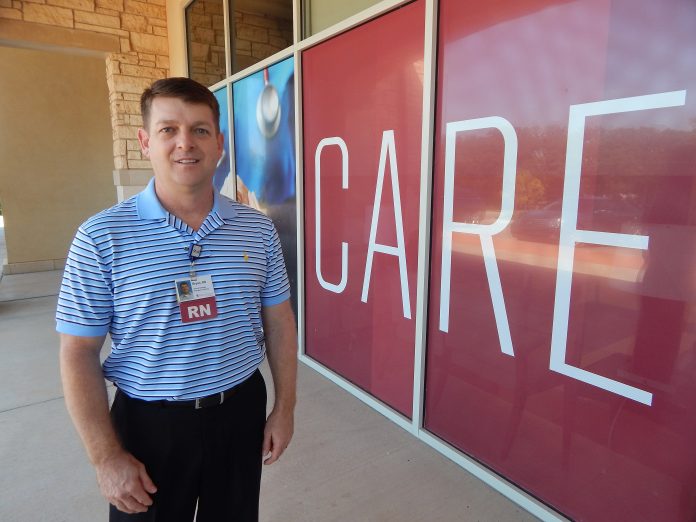 by James Coburn
Staff Writer
ER Oklahoma is a full service emergency room that is new to folks in west Edmond and Oklahoma City. It also receives patients from any of the outlying areas in the metro, said Bryan Barnett, RN, nurse manager of ER Oklahoma, a department of OU Medical Center.
The emergency department is rated No. 3 in the HCA emergency system for patient satisfaction.
"Our mission is to lead in health care as part of the OU model," Barnett said. "We are to provide a service to the community in Edmond and the northwest Oklahoma City area. We provide that service to treat them and get them back to a healthier state. And if we need to, transfer them to the hospital of their choice to facilitate their care and get them to a better status."
ER Oklahoma is a $3.5 million, 10,000-square-foot facility that reaches out to its communities to the north, including Guthrie, Cashion, Piedmont and the Crescent area.
Barnett has been with OU Medical Center since 1990 in a variety of nursing roles before joining the emergency department in May of this year. His work has encompassed endoscopy, med/surg and recently supervised the Senior Health Center downtown.
"It's helped me grow professionally and prepare myself for the next stage of my profession," he said.
He is part of the founding staff at the facility that opened at 15300 N. Western in Oklahoma City. His nursing career began in the U.S. Air Force. He has worked in the intensive care unit downtown and did some emergency room work in his early days with OU Medical Center.
"I think it's a great challenge. I look forward to working with the staff and physicians in providing the best care we can," Barnett said. "And also to be part of a greater system which is OU Medical Center in providing care to the citizens of Oklahoma."
Emergency care requires compassion and respect for the patients it serves, he said.
"We want to do the right thing for the patients, to assess them, make sure we meet their needs and get them to the right area for the care that they need," Barnett said. "If it's cardiology, urology, neurological surgery — where do we need to facilitate that care to if we can't take care of them within our facility here."
ER Oklahoma is connected to the Children's Hospital at OU Medical Center as well as the level 1 trauma center there.
"We're trying to outreach to the citizens in this area to try to let them know this service is available," Barnett said. If they need us we're here. We want to expand services to the community."
ER Oklahoma employs kiosk registration when a patient comes to the facility. They are automatically registered into the facility. The ER uses the latest advancements in CAT scanning and ultrasound.
"We have XRay. We have lab onsite," Barnett said. "If a patient comes in, we can provide those services very quickly with great turnaround times so we can get the patient into the facility and out with the best ability. We will save them time by not waiting in a major ER like some of our competitors in town."
All of the ER physicians at ER Oklahoma are certified in emergency room care. Barnett said they provide those skills to treat in advanced emergency medicine. All of the nurses are certified in advanced cardiac life support.
"So they are here to be able to take on all of those critical needs in the community," Barnett explained.
The nursing staff has the ability to think fast and respond very quickly to the needs before them. They also know how to switch from urgent lifesaving matters to care for patients with less acute conditions such as a sore throat. They are flexible and love taking care of people, Barnett said.
"That's why we're here, to help at that special time when a patient is at their worst feeling horrible," he said. "Nurses reach out with compassion. They understand what the patient is going through and take on that challenge."
One should never hesitate to seek care at an emergency room when they feel the need to seek care that they cannot personally render. A lot of times, these are working individuals and their primary care physician is off work by 5 p.m.
"For them, the ER is where they can be seen and treated without having to take a day off from work. Their kids may be sick and are not able to get to their pediatrician. They bring them here to be treated so they can go back to school. They don't miss school or daycare. It doesn't disrupt their life," Barnett said.