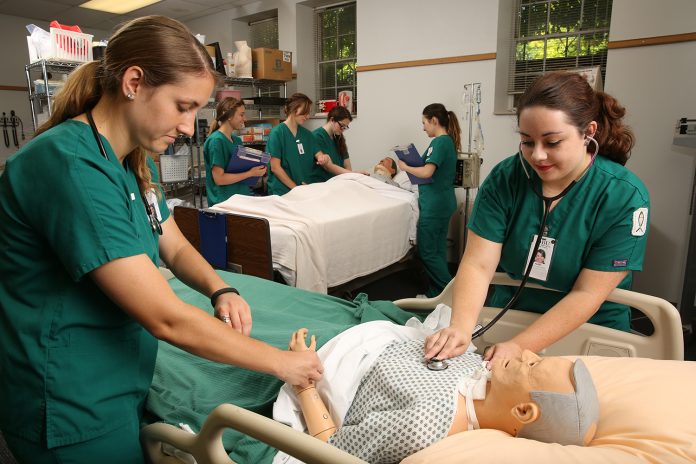 Oklahoma Baptist University's College of Nursing recently received accreditation for both its bachelor's and master's degree programs through 2025. The College of Nursing is accredited by the Commission on Collegiate Nursing Education (CCNE). The accreditation was approved by the CCNE Board of Commissioners.
The CCNE accredits colleges of nursing based on four standards: mission and governance, institutional commitment and resources, curriculum and teaching-learning practices, and assessment and achievement of program outcomes. Numerous criteria are used within each standard to verify institutions are in compliance and also to assess when institutions have areas needing improvement.
The OBU nursing program was the first baccalaureate nursing program in Oklahoma and the first baccalaureate program in Oklahoma accredited by the National League of Nursing. It has maintained continuous accreditation throughout its history. Founded in 1952, the OBU College of Nursing has graduated more than 1,000 nurses with baccalaureate nursing degrees. The College of Nursing also offers a Master of Science in Nursing, with specializations in Nursing Education or Global Nursing, as well as an RN-to-MSN path.
The College is experiencing tremendous growth, as construction continues on Jane E. and Nick K. Stavros Hall, the future home of the College of Nursing. The free-standing and cutting-edge nursing education facility is being constructed immediately north of OBU's Shawnee Hall, on the southwest corner of MacArthur Street and Kickapoo Avenue.
The late Nick Stavros, founder and CEO of Metro Appliances and More, provided the lead gift for the building. Stavros was married to the late Jane Eleanor Stavros, daughter of Victor C. Hurt, legendary OBU athletic director and football, basketball and track coach.
The 31,000 square foot facility is scheduled to be completed later this year. It will contain five classrooms and a 109 seat lecture hall, as well as a state-of-the-art computer lab. The facility will feature six state-of-the-art, high-tech skills simulation labs with 22 beds. The building will also include the administrative office suite for the College of Nursing, a conference room, faculty offices and office space for adjunct faculty.