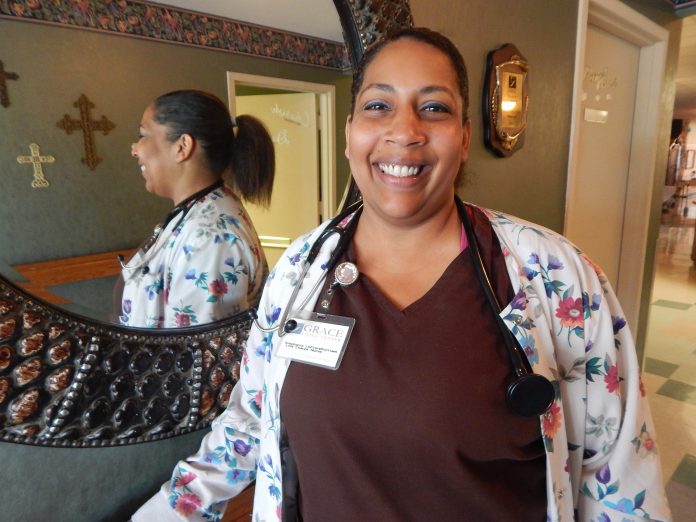 GRACEFUL DAYS: LPN LOVES HER NEW ROLE AS ADON
by James Coburn – Writer/Photographer
Stephanie LeFlore-Pulliam is new to the realm of long-term care, she said. She worked mostly in hospital med/surg arenas before joining the team at Grace Living Center Wildwood in Oklahoma City.
"My husband is in the military, so we came here in 2008 and I started in the hospital again. A friend lived across the street from me. She lived on the base and she worked here," said Pulliam, LPN, ADON/clinical coordinator. "She asked me to come in and apply."
Pulliam said what she found at Grace Living Center was a family of friends and elders that she deeply enjoys.
A licensed practical nurse for nearly a decade, Pulliam graduated from nursing school at Pulaski Technical College in Arkansas.
"As soon as I walked in, I thought, 'Oh my gosh, it smells good. It's clean. So I applied and got the position. Actually this is probably my most favorite job I've ever had," Pulliam said.
She's gratified to work with experienced nurses in an environment that fosters learning. Some of the nurses are new while others are seasoned, she said.
"We have good teamwork and I really like it," Pulliam continued.
Her inspiration for her profession began in 1999. Pulliam was an admissions coordinator in a hospital emergency room. She liked what she saw of nursing care.
"They would actually let me go back when we had codes to chart the times that everything was done," Pulliam said. "I thought, 'Gosh. That's what I want to do.' And ever since then my goal has been to be a nurse."
Grace Living Center is a good choice for nursing because of the family-like setting in a professional environment that excels as a team, she said.
"We have fun here. We have quite a few people that just crack me up," Pulliam added. "I love the residents."
She was used to seeing changing faces most every day when she worked in a hospital. But long-term care offers time to love each resident like family, she said.
"When I come in, they say, 'Good morning Stephanie.' So that's nice," Pulliam said.
Many positive experiences at Grace makes it hard to select one memory to define her love of nursing there, she said. But she said it is her interaction with the residents that she cherishes most.
"I just love it. It's just different than any place I've ever worked," she said.
She learns about historical periods of our nation's history by speaking with war veterans and housewives who talk about everyday life from times gone by, she said.
"My husband is in the military, so it's kind of nice to hear some of the veterans stories," she said. "We have one lady. She's worked with a general as a secretary. She talks about some of the things that she did for him."
They will ask her about her own life. She tells them about her hobbies and home time when not at work. Pulliam mostly spends time with her three children and her husband, she said.
"I take them places. Oh my gosh, it's just busy now because my son has football and my daughter's in college and she works," Pulliam said. "So I'm running everybody back and forth. That's pretty much all I do. And we bought a house not long ago, so that's most of our weekends. It's just fixing up our house."
Her youngest daughter aspires to follow in her mom's footsteps by becoming a nurse. It's all she talks about, Pulliam said. Her daughter will find there are certain qualities that a nurse needs to bring to her career.
"I think patience is one," Pullium said. "You have many people with dementia and you just have to be patient with them. We have a lot of alert, oriented people living here, but some have dementia, and I'm sure that's true in all nursing homes."
She has learned to approach residents according to where they are in life. Each of the 80 residents has a different personality and history, she added. So the nurses must learn to adapt to different situations.
Pulliam was working in skilled nursing at Grace before her recent promotion as ADON. Today, she ensures that the staff's work is flowing like a well-oiled machine, flowing smoothly with patient care.
"I like working close with the nurses and helping them out when they need help," she said.