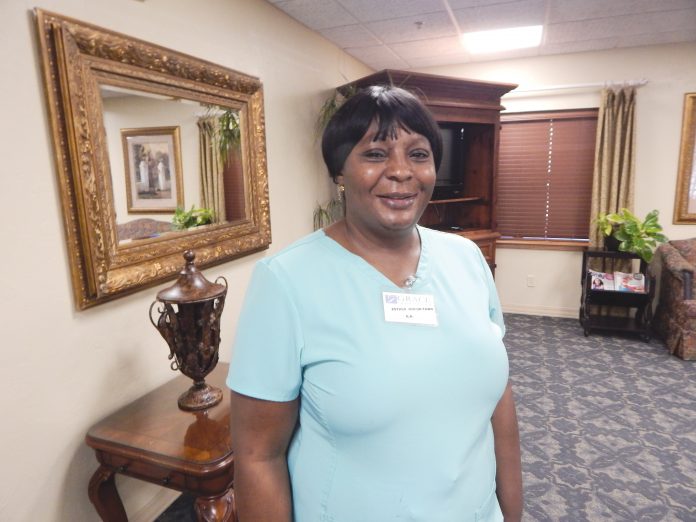 Bridges Skilled Rehabilitation at Grace Living Center Bethany offers compassionate rehabilitation services
Bridges Skilled Rehabilitation at Grace Living Center Bethany is a place where love finds ways to traverse limitations. It endures in simple yet profound ways that shine with grace.
Patients leaving a hospital often choose Bridges for the continued rehabilitation services they need to achieve their personal best. They want to go back home and continue with their daily living, said Esther Mofor-Tawo, RN, a Charge Nurse at Bridges in Bethany. "Those that are safe and those that have family members to take care, they get to go home with home health," said Mofor-Tawo, who studied to become a registered nurse at Platt College. A native of Cameroon, she joined the Grace Living Center team in 2008.
Mofor-Tawo works with an excellent crew at Bridges during the 3-11 p.m. shift. They flourish with the compassionate services they offer with the skill needed in a family oriented setting. Nurses work as a team and offer help regardless of their assigned hallway.
"You don't have to tell your aide or the other nurses, 'Can you do this or can you do that?'" she said.
A former school teacher, she switched careers to nursing when she came to the United States because she knew how her parents used to feel when they were sick in Africa.
"I wish I knew what to do for them," Mofor-Tawo said. "But when I got here I said this is an opportunity for me to do nursing, to be able to help parents back home in case things are happening."
Mofor-Tawo smiled when talking about meeting all of the people she has helped at Bridges.
"Some of them are very nice and they get to be like family members," she said. "We get to know them. I had a patient – he called me Queen Esther – and he kept on asking me right in front of his family and wife, 'Are you going to attend my funeral?' Then he wasn't even on hospice. So I promised in front of him that I will be there. And when he passed away, I was there at the funeral. But the wife and the kids, they were so happy."
Nurses get to feel their patients' pain, Mofor-Tawo said. There are times when family members cry and Mofor-Tawo will also cry with them, she said.
"We really get to be attached with some a lot," she added.
She works with therapists and other staff members. A therapist may come to her when they notice a sick patient needs evaluation. Mofor-Tawo said she has notices that when some patients are about to go home, they begin acting differently as if they want to stay at Bridges.
"So with suggestions like that we do everything to be on the safe side," Mofor-Tawo. "We will do some labs and assess the patient to really know if truly they are just acting out."
At the end of the day she will explain the lab work assessments to her patients to boost their confidence in leaving the rehab center.
"You see them coming back to themselves," she said. "You cannot just from the beginning say, 'I don't think there is anything wrong with you.'"
Mofor-Tawo feels good about something positive each day she leaves her working shift. She always has a positive mind moving forward to reach optimal care for every patient.
"I never walk into this building having a negative thought," Mofor-Tawo said. "I always have a positive mind. Nothing stresses me out. I always walk away from stress. I am the type of a nurse that I make sure everything is done and in the right way."
She knows that she has done everything possible to help, but not everyone will appreciate it, she said. But she makes families understand that when they entrust a loved one for care, they can go home with confidence that their mother or father is in good hands, she said.
"We are there and we are there to do our best," she said. "Understand that we are human and we are liable to make mistakes, but to error is human but to forgive is divine.
"But I come to work everyday knowing that I'm going to put in my best and that is what I do," Mofor-Tawo said.