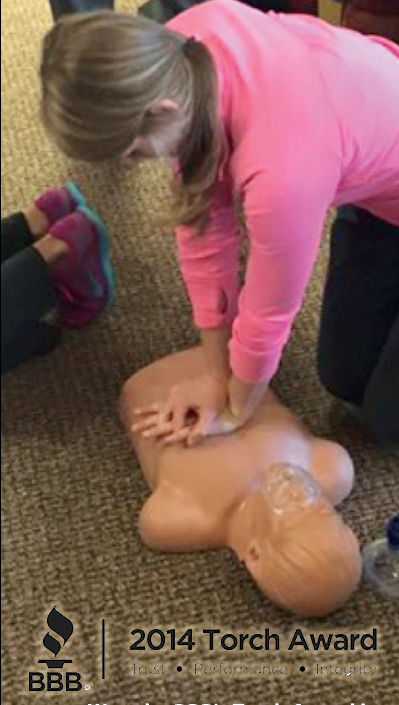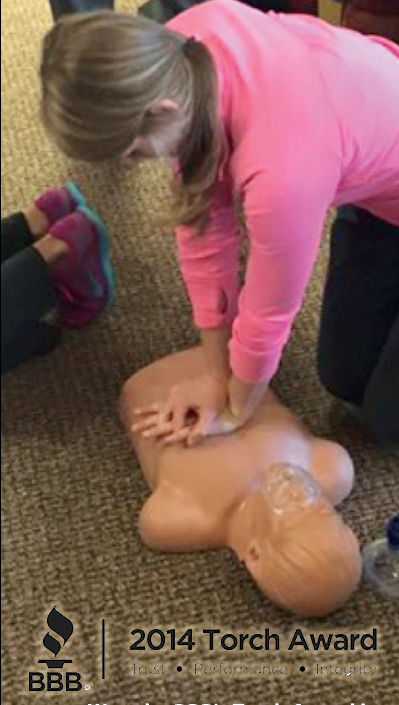 Chelsea Hixson grew up lifeguarding at an Oklahoma City neighborhood pool. Parents trusted her to be there for their children when lives were on the line.
Even though she's more than a few years removed from that summertime job, Hixson is still serving as a lifesaver for thousands of Oklahoma nurses working for Heartland CPR.
Heartland CPR's life-saving skills are now in demand year-round for nurses who need to earn their BLS, ACLS or PALS certification or recertification.
She is one of several employed by Ginger and Brian Davis, who started Heartland CPR more than a decade ago.
Brian's informative yet fun approach to training makes the difference. Now an EMS Chief for Edmond Fire, he continues to make sure Heartland's instructors are engaging when they teach how to save a life.
The Davises have built Heartland CPR into a successful business that revolves around providing life-saving skills in a fun, friendly environment.
Heartland CPR offers courses in CPR, AED, First Aid, Basic Life Support (BLS) for Healthcare Providers, Advanced Cardiovascular Life Support (ACLS), Pediatric Advanced Life Support (PALS) as well the addition of Pet First Aid + CPR.
Flexibility and customer service drive Heartland.
Ginger coordinates with individual travel nurses and travel nursing agencies who appreciate that Heartland provides training in multiple disciplines in a single weekend, and even have arranged with a nearby luxury hotel which offers discount accommodations to out-of-town overnight customers.
And it never fails that nurses need Heartland the most at the end of every month.
"It's terribly busy," Hixson said of those final few days. "We have people calling all hours of the day and night, emailing and texting. It is absolutely crazy."
But that's what Heartland specializes in, getting medical professionals the training and documentation they need when they need it.
One in-demand course is the S.T.A.T. program which stands for Sequentially Timed Accelerated Training. Nurses can renew the entire BLS, ACLS and PALS certification suite in a weekend.
Despite the demand, classes are limited to 10 people each. It's a Heartland tenet to insure the quality of the training and the ability for students to ask questions and truly grasp the material.
To keep up, Heartland simply adds more classes. And the company's ability to deliver training wherever the client needs it has made Heartland a nurse favorite.
From doctors to dental assistants to oil field companies, Heartland can put together a training package that fits the need.
"We love to be there for people," Hixson said. "They seem to love it. We've had customers coming back for years now. They love how welcoming we are."
So the next time you realize your certification is about to expire, give Heartland a call.
They'll be waiting.