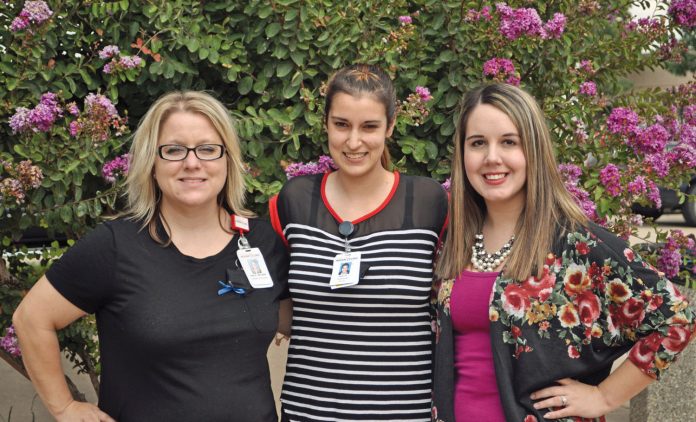 by Vickie Jenkins
A big shout out to Staci Deland, RN, BSN, Kelli Guinn, RN, MSN and Jessica Deaton, RN, BSN. These 3 outstanding women work at the Indian Clinic, 4913 W. Reno Avenue, Oklahoma City, OK.
It was December 2015, Robyn Sunday, CEO asked for nursing leadership to spearhead efforts in reducing the long waiting list of new patients. The goal was to eliminate the problem and a deadline was to be reached by December 2016. It would be a tough job, but these 3 nurses were ready for a challenge and began planning, brainstorming and working extra hard to come up with a solution. They were ready to conquer!
With the help of their co-workers from other departments, they all became a TEAM as they worked together. A database was created. Multiple staff members played important roles along the way. There were a total of 1200 new patients on the waiting list. This meant that the names of the new patients would have to be entered into the new database. This took a lot of work on everyone's part. Names were entered onto the computer, new patients were called, letters were written, postcards were mailed and follow-ups were done. This team made every effort they could to contact everyone on the list. Historical records were gathered and new medical lists were made. The Indian Clinic became one big team as everyone worked together, sacrificing their free time. What a heartfelt gesture! It wasn't long before the time frame of waiting to see a doctor went from 6-12 months to 1 to 2 days. This new plan evolved into something miraculous! The nurses had set out to accomplish a real milestone and they succeeded!
I asked these 3 nurses. Staci, Kelli and Jessica several questions about themselves and what they thought about working at the Indian Clinic.
Staci Deland's favorite thing about her job is the fact that she loves helping the patients improve on their health. "We really get to know the patients and their individual needs. It is nice to get feedback from the patients and know that they appreciate our care." Staci's greatest asset is that she is a great listener, which is important to the patients. She also has great computer skills and is very artistic which shows in some of the art work that is displayed throughout her office. When not working, Staci enjoys spending time with her 7-month old baby and still manages to find time to continue with her beautiful art work.
Kelli Guinn is the Director of Nursing at the Indian Clinic. She has been a nurse for 10 years and enjoys her job. Kelli likes investing her time in the patient care and is able to get the patients to open up about themselves. Kelli knew she wanted to become a nurse when she was little. She finds it is easy to speak with others and has a pleasant disposition, which is a real plus. She enjoys spending time with her husband and 3 children, which keeps her on the go. "There is something special about working here and I love everything about it," she comments.
Jessica is a perfect example of knowing just what a patient needs, making her a very caring person. One of her best qualities is her critical thinking and can handle all kinds of situations, no matter how big or small. Jessica is knowledgeable in cardio and is always willing to accept a challenge. When Jessica is not working at the Indian Clinic, she enjoys spending time with her family and friends, watching OU football and Thunder basketball games and trying out new restaurants in the OKC area. She has 2 dogs, Lexi and Rumble. "Here at work, I consider my co-workers family. It makes it nice on all of us," Jessica says with a smile.
These 3 nurses are able to encourage and motivate others, representing great leadership skills, knowing how to reach goals, even when the going gets tough. They are proud of their co-workers and consider them family. Staci, Kelli and Jennifer can all agree that they enjoy their job at the Indian Clinic and will continue to care for their patients, considering it as paying-it-forward. A big thank-you to all nurses for being the people you are and caring for others. What would we do without you?