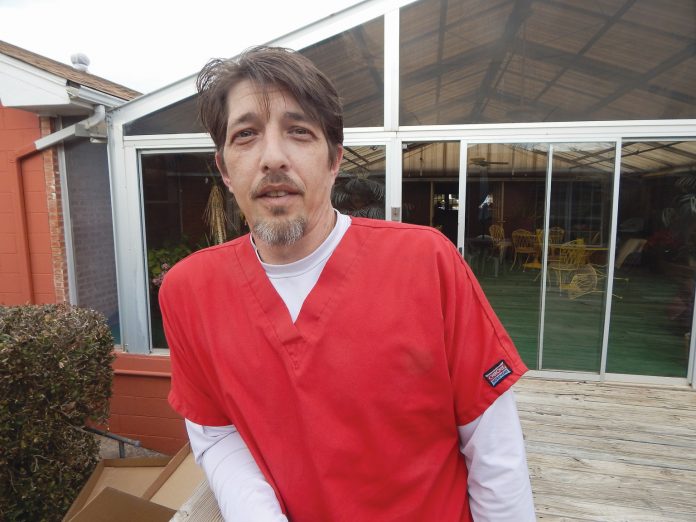 Earning respect: It's all about being a team for LPN
story and photo by James Coburn
John Cupp is on call 24/7 as an LPN, at Golden Age Nursing Center, located in Guthrie. His specialty and expertise as a staffing coordinator serves the residents and staff at Golden Age where he was first hired nine years ago.
His skills overlap with many rolls including admissions and staffing. When a staff member calls in unable to come to work it is Cupp's responsibility to get it staffed. He has been called into work many times in the middle of the night.
"That's one of the reasons I love it. Being a staffing coordinator means something is always going on," he said. "It's never that same mud and grind. It's very unpredictable. I can go home today at 4 o'clock and get a call at 11:15 needing staff in the building and I'm up here no later than 11:30 p.m."
The reason he chose a long-term care setting as the focus of his career is the residents. They sacrificed when they were young. What they need now is somebody to care for them. Cupp said.
"Everybody knows somebody in this small community. Either they grew up together or they were their teacher or babysitter when they were younger. It's just a community base and it's nice."
He knows they cared for his generation and kept the country safe by working hard and protecting the homeland, he said while sitting in a spacious garden room filled with ambient light.
Cupp has also been a diligent worker during his 17 years as a nurse. He set his course in nursing following in the footsteps of his mother who was a hospital nurse.
His entire nursing career has been set in long-term care. He had been an adult daycare aide before earning his CNA and degree at DeMarge College. Cupp worked at a nursing home in Jones on the night shift until he completed his school work necessary for becoming and LPN.
"When I got through with school, me and my ex-wife moved to Wyoming and worked on the Indian reservation for four years," he said. Cupp learned a lot working on the reservation working as a charge nurse at night.
"That was a different culture all itself," he said. "They've got their own set of rules."
He encountered a lot of diabetes related to alcoholism, he said. When asked what he learned from this experience he said, "Not to become an alcoholic. My father was an alcoholic, too, so I knew the background behind all that. But I learned a lot about diabetes out there."
Cupp fortified his skills at Golden Age knowing the value of working with a team and setting a good example. The nursing staff excels with various talents joined together as one.
"You have your dependable ones you know that no matter what's going to happen they'll be here. And that's nice being able to count on them," he said. "Of course you have a few that's always questionable. But anywhere you go that happens any place in life."
He advises families to be observant when considering any nursing home facility for a loved one.
"When you walk in the front door you'll know if it's a place you want your loved one or not," said Cupp, who enjoys spending his leisure time with his two daughters. "It's just the atmosphere. If you walk in and you see everybody scatter — it's like, 'Ok, nobody wants to help anybody.' You don't want your loved one there."
"You walk in the front door here and who is ever at the front desk, or if they're walking by, they're always asking, 'Can I help you with anything?'"
The point of Golden Age is the residents come first. They are kept safe in their updated community without having to travel in ice storms or being too hot in the summer.
"We have four big generators we put in the buildings. So if we lose power, we have power here," he said. "We'll send out myself or maintenance to get the close staff that needs a ride to work because of the weather. It is once again a small community. You get into the big city and you're not going to find the administrator send out the maintenance man to go to Oklahoma City to pick somebody up."
About 15 percent of the nursing staff at Golden Age live in Guthrie, he added. A few live in Edmond, Perkins and surrounding communities.
A few of the residence are on hospice. Having a sister company, Companion Hospice, that is also owned by the Chappell family makes the experience more streamlined with communication.
"When they come in here it's open arms," Cupp said.