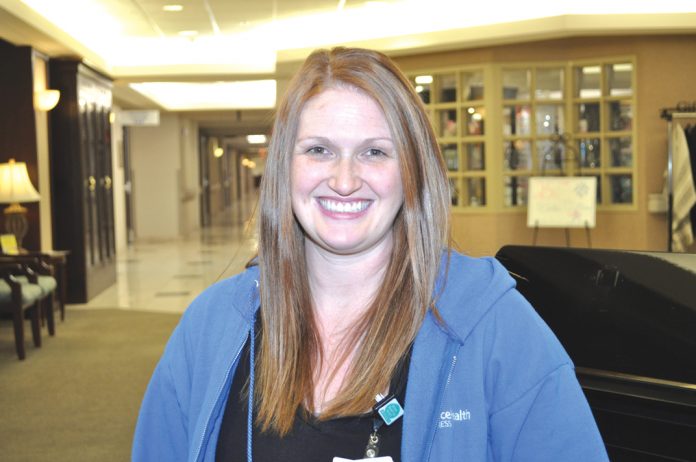 CAREERS IN NURSING
SMALLEST GESTURE – GREATEST REWARD: INTEGRIS DEACONESS
by Vickie Jenkins – Writer/Photographer
Meet Rachel Jones, RN, Team Manager at Integris Deaconess. Rachel is a nurse in the orthopedic and med-surge area. "Our office takes care of orthopedic specialties plus situations that are kind of like a hodgepodge of everything else," she said. "I enjoy working here and all of the patients are so appreciative," she added.
Asking Rachel what she wanted to be when she was little, she told me that she always thought she would be a pharmacist. "I never imagined that I would be a nurse," she said with a laugh. "After I started school to be a Pharmacist, I realized that a pharmacist was not what I planned on doing for the rest of my life. I am too much of an adventurous and besides that, I didn't want to be stuck behind a desk all day. After much consideration, I decided that being a nurse would be the right fit for me. I changed my path, received my Bachelor's Degree from the University of Oklahoma, and my nursing degree from Oklahoma City Community College," she replied. "In fact, I plan on going back to school to become a Nurse Practitioner within the next few years. That's my goal and that is something that I intend to do."
Rachel should be very proud of herself. She was recognized as 2018 Nurse of the Year! "I was so excited and surprised that I was chosen out of twelve nurses out of the whole hospital. What an honor!"
Did anyone have an influence on you going into the medical field? "No, I just decided on my own. It was meant to be and sometimes, I think it just fell into my lap. Being a nurse and taking care of others is such a rewarding job. Also, being a nurse offers many opportunities of where you can work and different choices of what field you want to be in. It is such a great feeling knowing that I make a difference in someone's life. It keeps me going," Rachel replied."
According to Rachel, the biggest challenge with her work at the hospital is seeing people at their worse and dealing with the pain and health issues that the patient face. "A nurse needs a caring heart for sure. I like to tell the patients that I will do whatever I can in able to make their life better and keep on keepin' on. Sometimes, the smallest gesture can be the greatest reward."
What advice would you give to someone going into the medical field? "I would tell them at times being a nurse can be rough; dealing with different and new situations yet that also means we learn new things about helping the patient. It also helps from the learning aspect of different people and what they are going through, giving plenty of room for growth," Rachel commented.
What is your greatest asset? "That would be dependability," Rachel said. "People always tell me that I have a way of calming people down; a real soothing effect. When things get a little chaotic and crazy, I am the one that stays cool, keeping things under control," Rachel replied.
Rachel enjoys spending time with her husband and her three year old son. "I will have another little one before long. I'm pregnant!" she said with a big smile. Rachel's hobbies include traveling, reading and coaching a National Volleyball Team consisting of 14 year-old girls. I've been a volleyball Coach for 13 years now," she said. "I played volleyball all through college. In fact, I had a volleyball scholarship,' she added. "Our team has ten tournaments out of the year, and we travel out of state for most of them. It is so much fun."
I asked Rachel to describe herself. "Well, I am definitely driven, I like setting goals and reaching them. I am active and I like to stay busy. I am very ambitious and consider myself a leader. I really do think it is ingrained in me. Right now, I would like to advance in the medical field, and become a Nurse Practitioner."
Rachel's typical day is full of making schedules and troubleshooting taking charge of any problem that might arise, seeing all of the patients throughout the day (20 beds) and taking care of patient discharges and transfers and last but not least, " keeping the nurses under control," she laughed.
Summing up Rachel's life in one word, she chose the word; EXCITEMENT! Rachel, your ambition and excitement show!