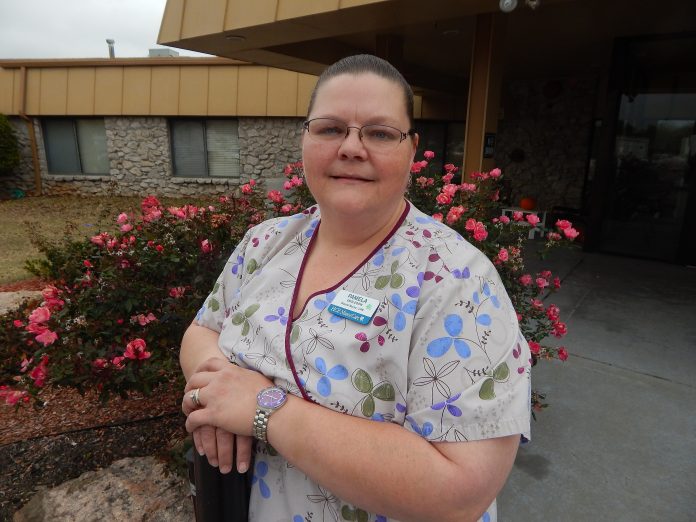 CAREERS IN NURSING
GENERATIONS OF CARE: GIFT OF NURSING EXCELS IN FAMILY
by James Coburn – Writer/Photographer
Pamela Engledow learned a lot from her parents back in Texas. She is a third-generation nurse. Her grandmother was a licensed vocational nurse.
"My folks talked shop at the table all of my life," said Engledow, LPN, HCR ManorCare, located in Midwest City.
Her father worked in an ICU for most of his career and her mother was a nursing supervisor at a Dallas hospital. She asked him one time if she would ever be smarter than he was if she would go to nursing school.
"He was like, 'No, because you never quit learning.' And that's true. I learn something all of the time," Engledow said. "Especially in wound care. I'm always researching and trying to educate myself on the new things. In this business, there's always something new coming out — something bigger, something better."
"Education is really key as far as that's concerned in keeping yourself up-to-date on the latest things."
She learned her work ethic from her dad. He never called in sick, but always worked, she said.
"I hardly ever call in sick and I always work," Engledow said. "I feel like if I'm not here to take care of them, who's going to?"
She became a Candy Striper at age 13 and never looked back.
"It takes certain people to do this kind of job," she said.
Engledow earned her nursing credentials in 2000 by graduating from Hill College in Cleveland Texas. She had been a CNA since 1989, which provided her a lot of practical insight about hands-on care.
"Whenever you're searching for a job, you're always looking for a home," she said of HCR ManorCare. "They have a lot of teamwork. Basically, this is my home away from home. These people are my family and I will do anything for them."
Her first three years of nursing was at a small town hospital. This opportunity brought an opportunity to hone her nursing skills in the emergency room, intensive care unit and working with obstetrics. So today, she recommends hospital work for any recent graduate of nursing school.
"I got into geriatrics probably about my fourth year of nursing," Engledow said. "I had done geriatrics prior as a CNA and I liked it better, because for some of these folks, you're all they have."
Being a CNA can be a thankless job, she said. But they are the back bone of the nursing home, she described.
"My momma always told me, 'Never forget where you came from.'" Engledow recalled. "But I was a CNA at one time. I've never asked anybody to do anything I have not, could not or would not do."
She was an experienced wound care nurse before accepting the role at HCR ManorCare. While some people tell her they would find wound care "gross", Engledow tells them it's exciting. It's nice for her when someone arrives at the nursing facility with a wound and she gets to be part of the wound's healing process, she said.
"That's always gratifying — always," Engledow said.
Turning patients frequently will diminish the possibility of a bed sore. And lotion is applied to the body after bathing to help maintain the elasticity of the skin, she said. Otherwise, dry skin can break down. Some soaps will dry the skin more than others, too, she said.
"So you want to use a soap that's not so drying," she said of keeping moist skin.
A wound care physician makes weekly rounds at HCR ManorCare to order treatments.
Engledow approaches her treatment of each resident as if they were her own parents or grandparents, she continued. She finds them to be loving and glad that she is there for them.
Nursing school students considering a field of nursing need to know they need to be compassionate to work in a nursing home, Engledow said. They need a good work ethic that includes teamwork to make patient care better.
"If they struggle, we all pitch-in to help," Engledow said. "That's a good thing. A lot of these nurses have a lot of good qualities. And that's one of them, because we're all here to do a good job and to take care of people."
She has met nurses during her career whose main goal is to receive a paycheck.
"Others are there because they care about the people and want to take care of them," she added.
Nurses who love their patients have longevity in their careers. Engledow spoke of two nurses who have worked at the nursing home for 12 and 20 years.
"We had one retire last year who had been here for 25," she said.
Engledow has become close to many of her patients. The only down side of geriatrics, she said, is that eventually her patients pass away.
"You always tell yourself of the fact that they are going to a better place than they are now," she explained. "Sometimes that doesn't help, but that's what you tell yourself."
Engledow takes time to care for herself, too. She likes to garden in the summer. She cans and likes to bake, she said.
"My children are grown so unfortunately I can't dote on them," she said.
Her daughter is 18, so she will have to wait on grandchildren. But her son is 25.
"I'm like come on now. But he's not married so I can be patient," she said. "But since they're not there, I dote on my husband," she said.