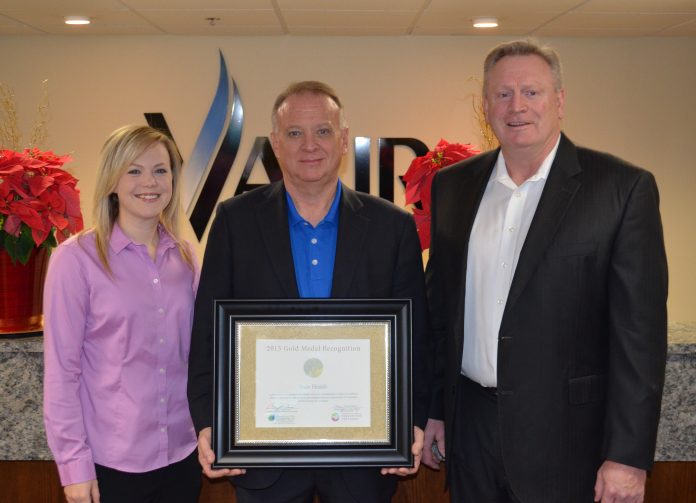 VALIR EARNS WORKHEALTHY HOSPITALS GOLD MEDAL AWARD
Valir Health was recognized by the Oklahoma Hospital Association's WorkHealthy Hospitals initiative for achieving the highest standard of excellence in worksite physical activity by providing and promoting access to physical activity opportunities for employees during work hours. The Oklahoma Hospital Association (OHA) partners with Prevention Partners in North Carolina through its Work Healthy AmericaSM initiative to assist hospitals in achieving worksite health improvement through the OHA WorkHealthy Hospitals initiative. Hospitals are awarded a Gold Medal for this achievement through Prevention Partners.
WorkHealthy Hospitals is funded by the Oklahoma Tobacco Settlement Endowment Trust (TSET).
This is Valir Health's second WorkHealthy Hospitals Gold status recognition this year. They were awarded a Gold Star for Tobacco Freedom in November for achieving the highest standard of tobacco-free excellence by providing high-quality tobacco cessation programs for employees. Valir is only the second hospital in Oklahoma to achieve gold status in two areas.
In order to receive this recognition, Valir Health has a policy for paid physical activity time/for employees to flex their schedule for physical activity, access to exercise facilities at or near the worksite, education and communication with employees about the importance of physical activity and motivation to engage in physical activity, in addition to benefits and incentives to encourage activity, such as gym discounts. These are among several evidence-based components recommended by Prevention Partners to become a physically active worksite.
"OHA is proud to work with Valir Health in helping them achieve this goal of receiving the Gold Medal," said Joy Leuthard, OHA health improvement initiatives manager. "The commitment of leadership and all staff has set a standard for Oklahoma hospitals to improve their own health and set that example for their community. We look forward to seeing health improvement continue in other areas as well."
Bill Turner, Valir Health vice president of human resources, stated, "The implementation of the physical activities policy provided a platform to formalize promoting physical activities at work. We historically provided incentives for participating in physical activities, however the program lacked the necessary elements to provide physical activity options for all staff throughout the work day. This policy allowed us to expand the scope of options and provides the ability to evaluate and further enhance the program going forward. Participation rates have increased by more than 65 percent after inception of the physical activities policy."
Prevention Partners works with the OHA to engage Valir Health's corporate leaders and staff to enhance and sustain employee wellness efforts. OHA's goal is to provide hospitals with the knowledge and resources to create a healthier employee population and extend that knowledge and health improvement to their communities in order to improve the poor health of all Oklahomans.
WorkHealthy Hospitals, launched by OHA in 2013 in partnership with Prevention Partners in North Carolina and funded by the Oklahoma Tobacco Settlement Endowment Trust, is a unique and comprehensive approach to hospitals improving employee health in Oklahoma. Through WorkHealthy Hospitals, OHA is currently assisting 35 hospitals to improve the health of their employees through four components: Culture of Wellness, Nutrition/Food Environment, Physical Fitness and Tobacco Free Environment. For information on this initiative for your hospital contact Sydney Tomlinson, WorkHealthy Hospitals coordinator, (405) 427-9537 or [email protected].
The Oklahoma Hospital Association represents more than 130 hospitals and health care entities across the state of Oklahoma. OHA's primary objective is to promote the welfare of the public by leading and assisting its members in the provision of better health care and services for all people. For more information, go to www.okoha.com.
The nonprofit Prevention Partners builds healthier communities through a suite of products that guide schools, workplaces, hospitals and clinics and addresses the leading causes of preventable disease: tobacco use, poor nutrition, physical inactivity and obesity. Read more at www.forprevention.org.