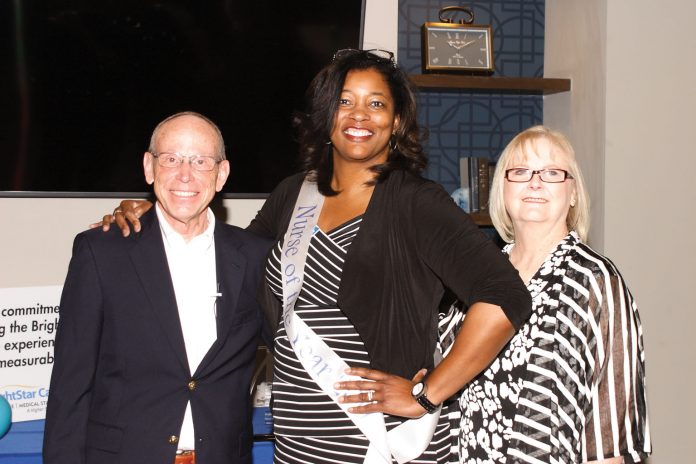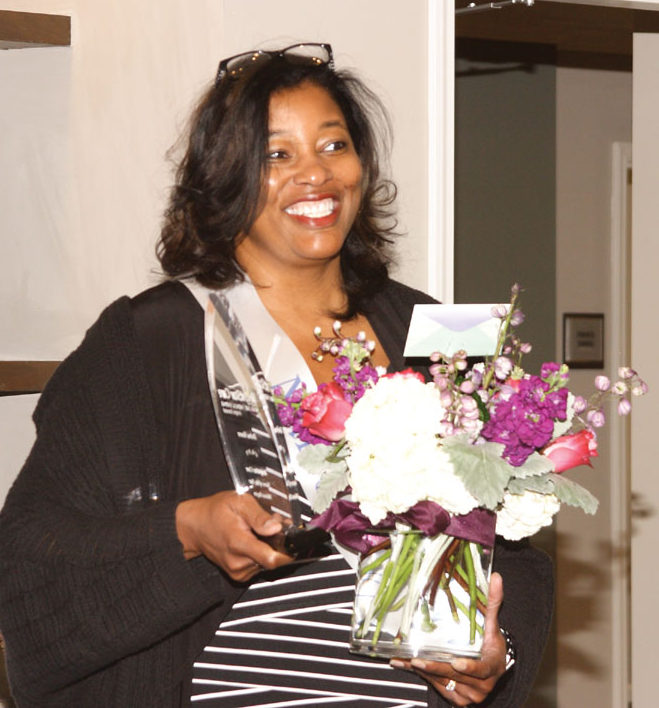 by James Coburn
Staff Writer
BrightStar Care knows how to show gratitude. Their Director of Nursing, Debra Moore, RN, was recently surprised with a celebration in her honor. BrightStar honored Moore with being the "2017 Nurse of the Year" after being nominated by franchise owner Kenneth Fearnow. Moore walked into work to learn she was selected as a Midwest Region Finalist for the Nurse of the Year.
But a nurse like Moore is no surprise for BrightStar Care. Her leadership represent the values and compassion extending through BrightStar, located in Oklahoma City.
BrightStar Care is a private home care company with two different sides, Moore said. There is a private home care side providing CNAs and companions for people in their homes and assisted living centers — "Just wherever your home is," Moore explained.
"We have a client in the hospital now where the client wants us to come and be with him at night because they don't want him to be restrained. So our CNAs go there and basically it keeps him calm."
BrightStar also has a skilled side to its care including nurses, physical and occupational therapists and LPNs. BrightStar has contracts with different companies for wound care, infusions, blood draws and different clinical studies, she described. There is a C. Diff infection study coming up involving bacteria.
"And this is what attracted me to BrightStar; I wanted a variety," she said. "I wanted something where I could continue to learn and continue to utilize my skills, too. I've learned a lot of skills in my nursing career."
Her mother used to take Moore as a little girl to help her grandmother and aunt in and out of the bathtub. And her mom would encourage her to become a registered nurse.
"I owe it all to my momma and God," she said.
Moore is a nursing school graduate of Oklahoma City Community College and has been a nurse for 18 years.
"I tell nurses, 'If you want to learn, this is the place to be. If you want to continue to learn, this is the place to be,'" Moore continued. "If you're the type of nurse that wants to learn, they will come on board."
Moore values her former hospital work. She learned a lot there. But she said the nurses would have from six to nine patients at a time. She came to BrightStar because it gives her more of an opportunity to provide one-on-one patient centered compassionate care.
She might be devoting some long hours. Every night her husband asks her what time she will come home at night. Moore said she cannot always tell him because each day is different.
"We have a chance to give good quality care to these people," Moore said. "It's almost in a way, no excuses."
Last week she was giving an intravenous infusion, and she likes having the time to call the company and verify settings and a prescription. Moore said she doesn't feel in a hurry. A human life is worth her time. She values them because they are just like her, she said.
Many patients in the health care industry do not believe they can participate in their care, she said.
"Basically they just want good care," she noted. "They want somebody they can trust. They want to be able to participate in their care. They want a say-so, and they want somebody to talk to and say, 'Am I thinking along the right lines?'"
BrightStar considers their clients to be the captain, Moore added. Moore wants to know when care does not feel right.
With National Nurses Week approaching, Moore said she admires the nursing staff for having the same compassion that she does. If they are needed at work, they are willing to serve, Moore said.
When a nurse is hired they are told that skills can be taught, but kindness cannot be taught.
"We can't teach you to have care, and that's what we're looking for," she said. "When I'm talking to them, I'm visualizing that person in front of the patient to see if they're going to have that smile, if they're going to have that true compassion in that patient's home."
Moore leads a full life. There's a seafood restaurant in Dallas she likes to dine at with her husband.
"I like to have a grilled Caribbean lobster," she said.
Her husband and their children that she describes as "The Brady Bunch" gives her an extra spark, she said.
"When I go to see my patients, that gives me that extra smile," she said.