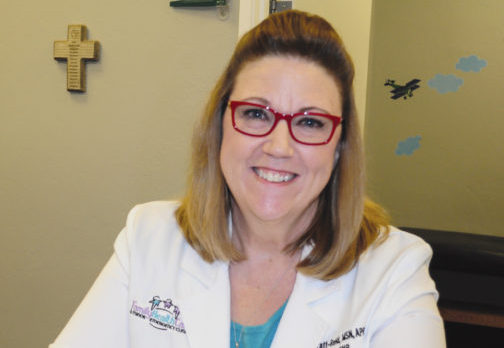 story and photo by Bobby Anderson, Staff Writer
For a second year a physician-led committee has refused to hear legislation that would allow Oklahoma advanced practice nurses full practice authority and expand healthcare access to thousands of Oklahomans.
House Bill 1013, by Rep. Josh Cockroft (R-Wanette) and Senate author A.J. Griffin (R-Guthrie), would have granted Oklahoma nurse practitioners (NPs) the freedom to practice to the full extent of their education and training, enabling them to serve Oklahomans where care is most needed.
Late last Friday, senators refused to schedule the bill to be read in committee this week, a procedural move that killed the bill.
Toni Pratt-Reid, APRN, president-elect of the Association of Oklahoma Nurse Practitioners, says it's been an uphill battle to advance the bill through both houses.
Pratt-Reid said a number of misconceptions about nurse practitioners are complicating the discussion. She was told one legislator mentioned to an NP during a recent visit nurse practitioners in Oklahoma could receive their training through the state's vocational-technical system or CareerTech.
"I think it's minimal on their understanding," Pratt-Reid said of general knowledge of NP training while pointing out the designation is a terminal degree. "We are graduate-prepared nurses who work on a foundation of holistic care. We treat the family and the population together with the individual. We have a model that is somewhat different from traditional medicine but our object and goals get us to the same place."
After passing the House 72-20, the bill was assigned on March 7 to the Senate's Health and Human Services Committee chaired by anesthesiologist Dr. Ervin Yen R-40. District 40 includes parts of Bethany, Nichols Hills, northwest Oklahoma City, The Village and Warr Acres.
Dr. Yen refused for the bill to be read.
Last year a similar bill, HB 2841 died in committee. The committee was chaired was Rep. Doug Cox, R-Grove, a physician.
Proponents of the bill say it is especially important in rural areas of the state that are medically underserved.
Rural areas have the hardest time recruiting providers due to their population so nurse practitioners are often the highest level of care available in a majority of Oklahoma communities.
Currently, advanced practice nurses in Oklahoma have full practice authority when it comes to diagnosis and treatment options but not full prescription authority.
A regulatory rule is in place that requires a supervising physician be available as needed for consultation.
The current system of securing a collaborating physicians has become one that physicians have a vested financial interest in maintaining.
Nurse practitioners pay between $2,000 and $7,500 a month for physician agreements, and $24,000 to $90,000 in annual fees and malpractice coverage for the physician.
Another key issue is that nurse practitioners accept all insurances and do not discriminate on policies that pay less.
The state's advanced practice registered nurses are primary care providers for Medicaid and keep open enrollment policies to increase access to care.
In addition, nurse practitioners are often asked to assume care of Medicare patients after they turn 65 because their primary care physicians do not take Medicare.
Earlier this year AARP Oklahoma announced its support of the bill.
"Oklahomans already face a shortage of primary care providers and that problem will only become more acute as our population ages," said Sean Voskuhl, state director of AARP Oklahoma. "The shortage means some Oklahomans are driving long distances and waiting days for appointments for primary care, not to mention a lack of consumer choice. Delays in care not only hurt the consumers, but place added stress on family caregivers, who are all too often overwhelmed with bearing the brunt of providing and overseeing the care of a loved one."
A January 2016 SoonerPoll surveyed 410 likely voters asking, "Do you support or oppose allowing nurse practitioners, who have advanced training, to serve as the primary or acute care provider of record for a patient?" In response, 86.7% said they support allowing a nurse practitioner to operate with full practice authority.
According to the American Association of Nurse Practitioners, more than one third of the nation has adopted full practice authority licensure and practice laws for nurse practitioners.