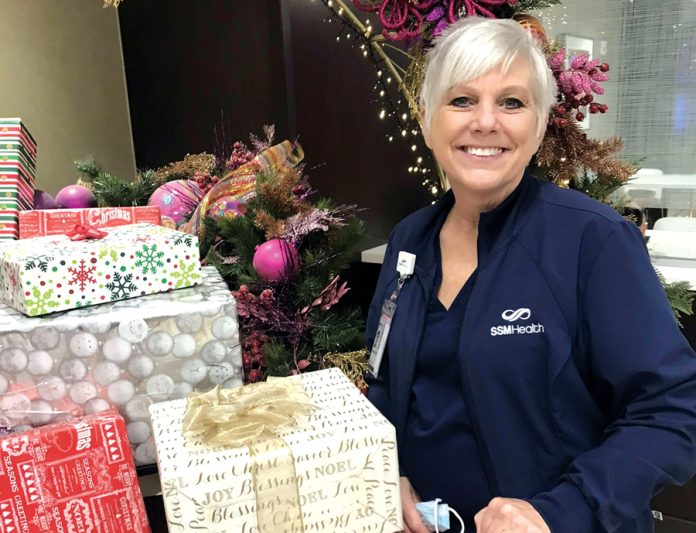 by James Coburn – staff writer
A big ball of love wraps around hospice patients. They can't help being more at ease. Hospice is more than a career for Melody McCormick, RN, and manager of SSM Health at Home Hospice.
McCormick has been a registered nurse for 26 years since graduating from nursing school at Rose State College, located in Midwest City. She has been a hospice nurse since 1999.
"I think you either love hospice or you find out rather quickly it's just not for you," McCormick said. "The reason I became a nurse is because I feel like I was called by God to do this. It's not just my career, it's my purpose. It's what I was born to do."
SSM Health at Home offers hospice services headquartered at 601 N.W. 11th Street, suite 200 in Oklahoma City, across the street from SSM Health St. Anthony Hospital.
A good hospice nurse should be compassionate and comfortable with the dying process, McCormick said. It's important to anticipate a patient's needs before they arise. They educate patients and families what to expect. (STORY CONTINUES BELOW)
"In that realm nurses have to work pretty independently because you're managing symptoms rapidly," McCormick said. "So, you have to have good communication skills so people can communicate with physicians what the patient's needs are with good assessment skills so you can relate back to them how effective medications are."
She loves and embraces the SSM Health mission of revealing the presence of God through exceptional health care services. McCormack was recruited to help with the palliative program four years ago. Rather than continuing to refer patients to other hospices, SSM Health St. Anthony Hospital created its own hospice care.
"We can take care of patients all the way from birth until death and take care of any health needs they may have along the way," McCormick said.
She believes the hospice is carrying forth the historical legacy of what the Sisters of Saint Mary started at the hospital by carrying for people in their most critical times.
"I believe we are just so blessed that we are able to continue what they started so many years ago," McCormick continued. "I have the most amazing team of coworkers."
Many of the nurses are seasoned with more than 20 years of hospice experience. They like to say they are walking people home by carrying for them in the final leg of their journey on earth, McCormick explained. She commends the nurses for being caring, professional and smart.
SSM Health at Home Hospice serves a 50-mile radius of patients from midtown OKC extending to Seminole, Blanchard, El Reno and Guthrie.
"We do have an office now in Shawnee, so eventually we could go 50 miles from that hospital as well," McCormick said.
People consider their hospice nurses as angels, she added.
An ability to take people from a place of desperation to a place of peace and calm with acceptance is a blessing, she said. Education is a huge part of hospice.
"There should be no surprises," she said. "Everybody should know what's coming, what to expect. It makes the anxiety that goes along with it a whole lot less."
It's not uncommon to find SSM Health at Home Hospice nurses praying with their patients by asking their Savior to intervene with peace and to walk with each person calmly in their transition.
Nurses shine with confidence to let families and patients bond. There is relief in knowing hospice provides symptom management, pain relief, chaplains, grief counseling, and providing social workers to navigate through end-of-life preparations.
"It's amazing what the Lord will do in those moments of crisis where we are able to intercede on their behalf, and He is always so faithful to help us in our moments of need," she said.
McCormick said SSM Health at Home Hospice meets patients wherever they are in life.
"There should always be peace. And we would have failed if there wasn't," she said. "I can't think of a time when there was not."
Her life is one of fulfillment. She and her husband have a foster child. The family enjoys traveling. McCormick seeks adventure by scuba diving, white water rafting and skydiving.
"I think one thing about being a hospice nurse, it has taught that none of us are guaranteed a tomorrow," she said. "And it's important for us to make those memories and start those traditions that are carried on to my children and will be passed on to my great grandchildren."
She is always planning her next trip.