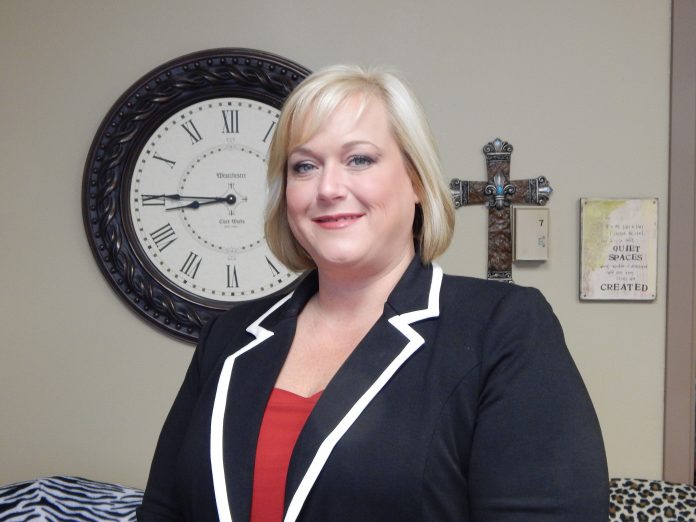 by James Coburn, Staff Writer
Good work brings great rewards in life.
Life Choice Hospice in Oklahoma City is joining with a company called Hospice Compassus, said Christy Coppenbarger, interim executive director of Life Choice Hospice.
"So within a few months, we will be Hospice Compassus, said Coppenbarger, RN.
"To me, that's exciting because I've practiced hospice for a long time," she said from her office at 50 Penn Place.
Coppenbarger will have the same duties as an administrator, but with the title of executive director. She has served as director of clinical operations here for four years.
Coppenbarger said she is excited about the means of support and education that Life Choice will receive under Hospice Compassus. There will be a lot of training that Coppenbarger looks forward to in further developing her leadership skills an well as the nursing staff, she said.
Hospice Compassus has 60 different offices in 32 states. Oklahoma City will be its first office in Oklahoma.
"They call us colleagues. We're their biggest asset so they really invest in our education and training," Coppenbarger said. "They want to keep us. They want to retain the people they have and train them to be leaders for the company. We give the best care we can to the patients. We want to tell the community all about it and let them know that we're blessed."
Hospice Compassus follows six Pillars of Success, Coppenbarger continued. Life Choice meets the criteria of those pillars, she added, but they have not been structured the same way.
The first pillar is Regulatory Compliance, which Life Choice has been successful in meeting all Medicare regulations, she said. Otherwise, a company cannot be a hospice without meeting ethical standards, she said.
The second Pillar is Colleagues and Culture. Hospice Compassus believes that communication should flow between the home office in Oklahoma City to the corporate office in Brentwood, Tenn.
"We should call if we need anyone. And everything should be transparent," Coppenbarger continued. "There's just this whole culture. We're doing a service to the community. We need to make sure that we're all doing it the same way, with the same standards."
The Quality Care that Hospice Compassus gives its patient's is another Pillar. Coppenbarger said the standard of care rendered by Life Choice is higher than most companies. In fact, the company won the Hospice Excellence Award and has maintained the vision the award represents.
"Without being compliant and without wonderful employees, we couldn't give that wonderful quality of care," Coppenbarger said. "So we're following those Pillars."
Service Excellence marks the fourth Pillars of Success. It shows the hospice is committed to its families and referral sources. Life Choice takes care of the people in the community it partners with, Coppenbarger said.
"They look at it as a partnership, that we want to take care of their patients," she explained. The nursing staff abides by all of a nursing homes rules when entering a facility. So the Life Choice staff will share its notes coordinated through computer charting.
"We are committed to providing care in a manner that exceeds the expectations of our patients, our families, our referral sources and our communities," Coppenbarger said. "When you go into someone's business, you want to make sure they stay in business as well."
Coppenbarger said she believes the company will grow by meeting these Pillars as set forth in the fifth Pillar of Program Growth.
"The goal of Hospice Compassus is to be the best," Coppenbarger said.
Growth is also a measure of the company's health and the response of the community, showing they trust the company to care for their loved ones, Coppenbarger said.
The sixth Pillar of Fiscal Responsibility enables Hospice Compassus to enhance its services and reach patients and families that are not receiving adequate hospice services, Coppenbarger said.
"When Hospice Compassus came to our office, they looked at everything we have already, because they wanted to know if they wanted to be here," Coppenbarger said.
They found that Life Choice was a good place to start in the state. Hospice can be a difficult endeavor, so it takes a strong team of caring people, she said.
"It's education and talking to one another to depend on each other that lets us go out there and support these families when they need it most," Coppenbarger said. "We have a good group here. It's important. It makes me want to stay around."
Coppenbarger said it's an honor to be in the Nursing Times.
"We want the community to know what we are doing," she said.