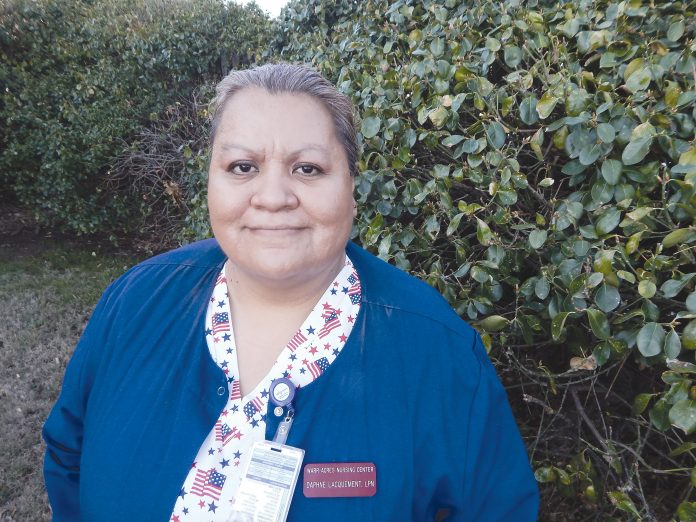 by James Coburn – Writer/Photographer
Daphne Lacquement has witnessed many seniors live life to their best during her 26-year-career as a licensed practical nurse.
Today, she shares her compassion, empathy and concern for the welfare of others at Warr Acres Nursing Center. Most of her nursing career has focused on the long-term care of the elderly.
"I just feel a need to take care of people," said Lacquement, a graduate of the Caddo Kiowa Technology Center in Fort Cobb. She has cared for the residents at Warr Acres Nursing Center for two years.
"I always wanted to work in the medical field," Lacquement said. "I've always been interested in science."
Lacquement stays dedicated to Warr Acres because she believes in the team spirit and the management of the facility.
Nursing Director Debi Sims leads a strong leadership structure. The department heads are experienced, she said. The layout of the building, is well suited for long-term care, skilled nursing and physical therapy. Warr Acres has about 100 licensed beds.
The size of the building makes it easier to wrap your arms around and get a strong pulse of what's going on, Sims said.
"I enjoy the people I work with and the people I take care of," Lacquement said. "They're very dedicated to their jobs. A lot of them have worked in this field for a while. On my hall, they know their jobs very well and I know I can count on them knowing the people they are responsible for are being taken care of."
The nurses have a love for their work with the patient population and their delivery of good care. They bring customer satisfaction for the families, Sims said.
"Give them a good orientation, encouragement, and check with them along the way for troubleshooting for any problems that they have so you can rectify those," Sims said.
Anyone who works in a nursing home needs to show compassion and empathy toward people, Lacquement said. Residents need one's time and attention.
A home should be a place where residents are comfortable if a nurse works from the premise that a nursing home is someone's home, Sims said.
It is a home where people congregate for social needs and eat together, Sims said.
"That's what I really wanted to see, especially more laughter in the halls," Sims said. "A happy staff makes happy residents."
The nursing staff brings in the news of the world. Nurses become the lifeline of the residents, their connection to the world, Sims said. There is always an open door for residents to bring their questions and concerns.
The staff mixes with the residents during monthly birthday parties with cake and ice cream, Lacquement said. Many of the residents like playing Bingo. There is a general store they go to and spend their paper Bingo money.
"I think they really enjoy having the little knickknacks and pretty things they have in the store," she said. "They have a little auction, also once a week, and they enjoy that, too. I always like to help with activities in some way to try and help them."
Lacquement said Warr Acres Nursing Center is family. And family keeps her motivated.
"There's a couple of ladies who remind me of my mom," Lacquement said. "Just the little things they say, their attitudes and their expressions remind me of my mother. She's living but she's an hour away so I don't get to see her that often. I see a lot of her expressions in them and it just makes me feel good to be close to them."
Among the residents are a few marriages that have lasted for a long time. Lacquement said it makes her feel good to be with people who are committed to one another with love in their relationships.
"We have a few that have been married for over 70 years," she said.
Every day brings new opportunities for both the residents and Lacquement. Each day is a little bit different, she added. She checks on all of the residents she is responsible for, noting if they are having a good or bad day.
She also takes care of herself by catching up on her sleep on her days off, she said with laughter.
"Usually I go home and put my feet up for a little bit. I usually just think of my day," Lacquement said. "I kind of ponder and think about the people here a lot."
She will watch a basketball game to unwind in order to take her mind off of work and relax, she said.