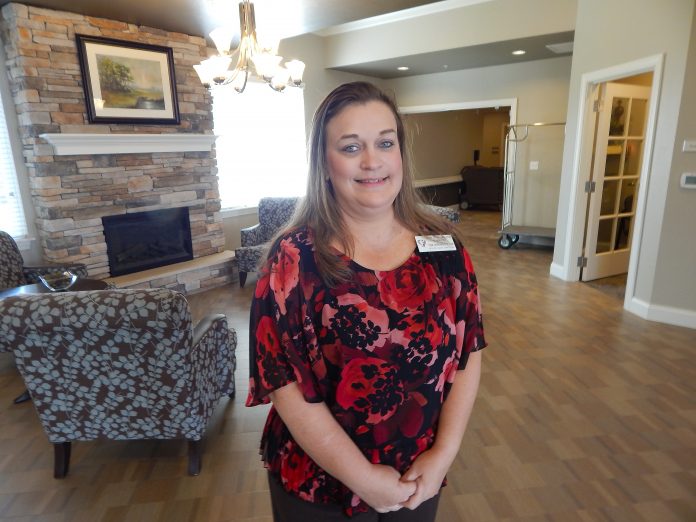 CAREERS IN NURSING:
SOLUTIONS IN CARE – LPN IS PART OF VIBRANT COMMUNITY
by James Coburn – Writer/Photographer
Tina Burkhalter is likely to be one of the first persons a patient or family member will meet when choosing skilled nursing at Baptist Village of Oklahoma City. Burkhalter, a licensed practical nurse, is the admissions and marketing nurse at Baptist Village.
"We take pride in what we do. We take care of the patients very well. You don't have to wait very long when you turn the call light on," she said.
Twenty years ago after graduating from Metrotech, Burkhalter began her nursing career and was hired at Baptist Village 16 years ago and works in the skilled nursing part of the village.
"I started out as a CNA and graduated up to a CMA here at Baptist Village," Burkhalter said. "Twenty-five years ago I worked here as a CNA, worked here for two years, quit and did something else, then went to nursing school."
A lot has kept her dedicated to patient care in the community through the years.
"We're doing the culture change. We're trying to make it feel more like home," she said. "We treat people the way we want to be treated and make it feel more like home than an institution or a spa."
She receives referrals from physicians who send patients for rehabilitation in her admissions role.
"I go out and do assessments at the hospital, meet with family members and answer any questions," she said. "I'll verify Medicare and insurance benefits.
She gets to know some of the families very well. Some patients have come for skilled nursing as far away as Texas and Tulsa, she said.
A new addition has taken place at Baptist Village with it's new state-of-the-art rehabilitation building.
The rehab center has 50 beds for post-acute patients who have been hospitalized but are not quite ready to return home. The total bed count at Baptist Village is 120.
So the new rehab enables the care center to reach out to a younger population of patients who may have had orthopedic surgeries and other procedures. Skilled nursing involves short-term stays at Baptist Village.
"Their goal is therapy and rehab with the goal to go home," said Michelle Billings, RN, administrator. The health care center is the home where the residents have chosen to live.
"We are a part of their family in their home," Boyd continued. "In the rehab side, they have specific goals in mind. They don't want to make us their home. They want to get to their home wherever that is."
It is Burkhalter who will do all the paper work when a patient arrives at Baptist Village. She will place all the orders for their medications. Burkhalter will notify the patient's physician that there is an admission, she said, and update the floor nurse that she has a new patient that day.
Her LPN career at Baptist Village began as a floor nurse on the long-term care side of the spacious community. From there she entered the realm of wound care nursing. She was a skilled nursing coordinator, and handled the minimum data set requirements for each patient.
She said changes in federal law regulations for skilled nursing have caused hospitals to discharge patients too soon. Some patients will enter skilled nursing and a day or two later will have to go back to the hospital for further care, she said.
All of her experience through the years has culminated into her high individual performance standard she adheres to each day.
"What inspired me was watching my grandmother take care of my grandfather," Burkhalter said. "He was really sick after he retired. And then I just wanted to be a nurse and take care of sick people. I have all my prerequisites done for my RN requirements. I just have to go back and finish."
Baptist Village tries to keep familiar staff members in a neighborhood so the patients and the staff form a bond, she said. This makes it easier for the nursing staff to notice changes in a patient's health that could indicate a health problem, she continued.
"I like taking care of people that need healthcare," Burkhalter said.
Noboby has to live at Baptist Village in order to enter its rehab facility. Baptist Village sets an age requirement of 55 or older, and for the skilled nursing unit, Medicare Part A or private insurance that the village networks with must be in place, she said.
"They come here for rehab. Therapy is Monday through Friday between 8 a.m. and 5 p.m.," Burkhalter explained. "We get a lot of stroke patients after knee replacements, hip replacements and shoulder surgery. You name it, we do it."
They can stay up to 100 days in skilled nursing. Medicare pays 100 percent of the cost for the first 20 days of admission. Medicare will pay for 80 percent of the cost for the remaining 80 days, she explained.
"Depending on what kind of Medicare supplement they have, most of them pick up the other 20 percent," she said. "And then we take Medicaid, too. Medicaid pays for skilled."
Outside of work, Burkhalter has a 5-year-old son at home. They play ball together outside.
"I like to read science fiction. I like to do crafts."
Burkhalter said she takes pride in the nursing staff for their listening skills. Nurses visit and at times will eat their meals with their patients.
She has witnessed a lot of positive outcomes as a nurse.