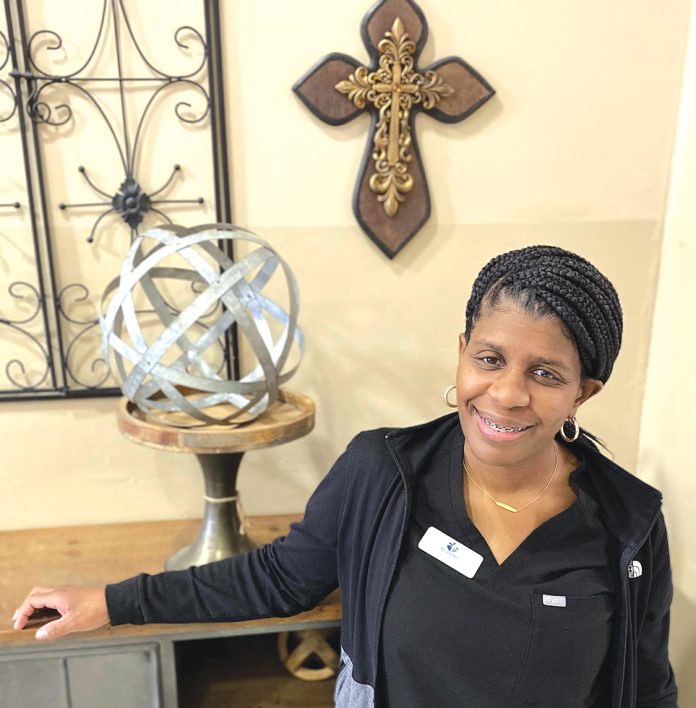 by James Coburn – staff writer
Erika Porter's career in health care has evolved from certified nurse aide and a certified medicine aide to licensed practical nurse and now a registered nurse during her 16 years at Bridges Health (formerly Grace Living Center Edmond). Porter serves as director of nursing at The Timbers Skilled Nursing & Therapy, a component of Bridges Health that is located in Edmond. She became an RN after graduating from OSU/OKC.
Bridges Health at The Timbers Skilled Nursing & Therapy offers benefits to exemplary staff members who are committed to continue their education. It is what helped Porter to go to school to become an RN. (STORY CONTINUES BELOW)
https://oknursingtimes.com/jobs/job/tulsa-office-home-care-registered-nurse-2/
"That's another reason that kept me at Bridges as well," she said.
The nursing staff is absolutely committed to making a difference when they walk through the doors every day. They receive fulfillment from caring for the elders.
Her loyalty to The Timbers derives from her love of the residents and the family-like environment instilled by the nursing staff. Some of the residents continue to have family coming to see them at The Timbers, and it helps the residents to have a second family to rely on for their needs.
The core staff at the Timbers has a lot of longevity, she said. They learn a lot from the residents.
Every day is a learning experience, even though she has been a nurse for a long time. She said there are always opportunities for her to learn something new. Her work allows her to know the residents on a more personal level than some fields of nursing. Some patients are there for therapy after recovering from a hospital stay. The nursing team helps make their transition of returning home easier. Family communication is a vital part of their jobs whether in rehab or long-term care.
Families feel confident when noticing the team spirit among the nursing staff. Working together brings progress.
A variety of patient needs are met from strokes to post-operative care. The nursing staff will do something to brighten a patient's day when hours become difficult.
One of the biggest compliments she can receive are all of the expressions of thankfulness given by former patients. And the nursing staff gets to reflect on the benefits of compassion and skills they have provided to the elders.
It was Porter's passion for serving others that inspired her nursing career. She wants to give back to an older generation who has done a lot for her life as well as the community, she said. Porter's grandmother was a licensed practical nurse who set a good example. Porter noticed her grandmother's work ethic when she would accompany her to work at times.
"What pushes me is being able to take care of people who at this point of their life are unable to do for themselves," Porter said. "Just knowing and giving that type of care that one day we'll all and one day I may need. That's my motivation."
Her days are brightened each time she sees a resident smile. Some of the elders may not have a close-knit family to comfort them in life, Porter said. So, The Timbers' staff resonates with a caring spirit.
"What I admire about my team here is their work ethic — their motivation," Porter said. "They're pushing through, even when they may not feel like it. But they continue just because of their passion and the love they have for our people."
Having been a CNA, Porter is empathetic about the hard work and energy they spend night and day for the health and safety of residents. The Timbers' CNAs are strong people who are driven to provide above and beyond the needs of the patients making The Timbers their home, Porter said.
"I worked myself up the ladder starting as a CNA," she said. "I know the hard work they put into it because I've been there," she said.
Always go with your heart if choosing a nursing career, Porter said. Being passionate about a nursing career you have, makes nursing a calling that transcends a mere job, she said.
Porter likes to settle in. She described herself as being a homebody who likes to spend time with her family which includes a daughter. The holiday season will be a special time at her home as well as The Timbers.
"Most of my time I was a floor nurse, so I spent most of my time up here with the residents," she said. "When I got off, that was the time I spent with my family."
The Timbers always serves delicious Thanksgiving and Christmas holiday meals. There is Christmas music and hot chocolates for the residents. Residents wake up on Christmas morning and open their gifts.