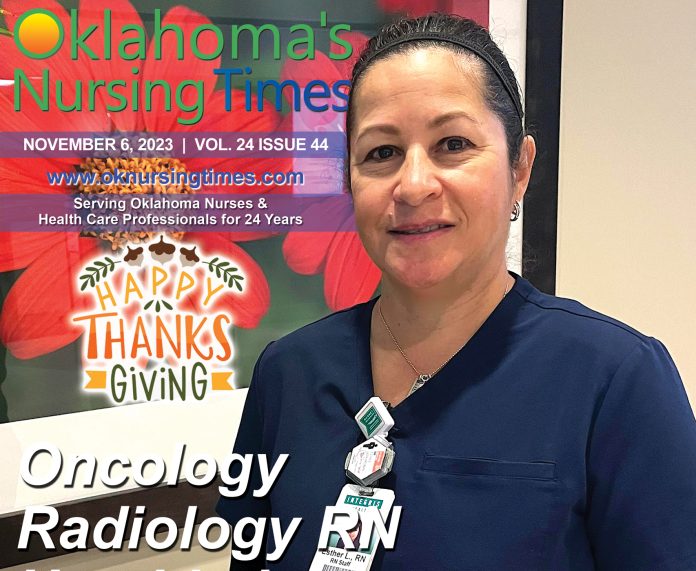 Ether Lara-Wedman, RN
Radiology Department at INTEGRIS Health Cancer Institute
story and photo by James Coburn, Staff Writer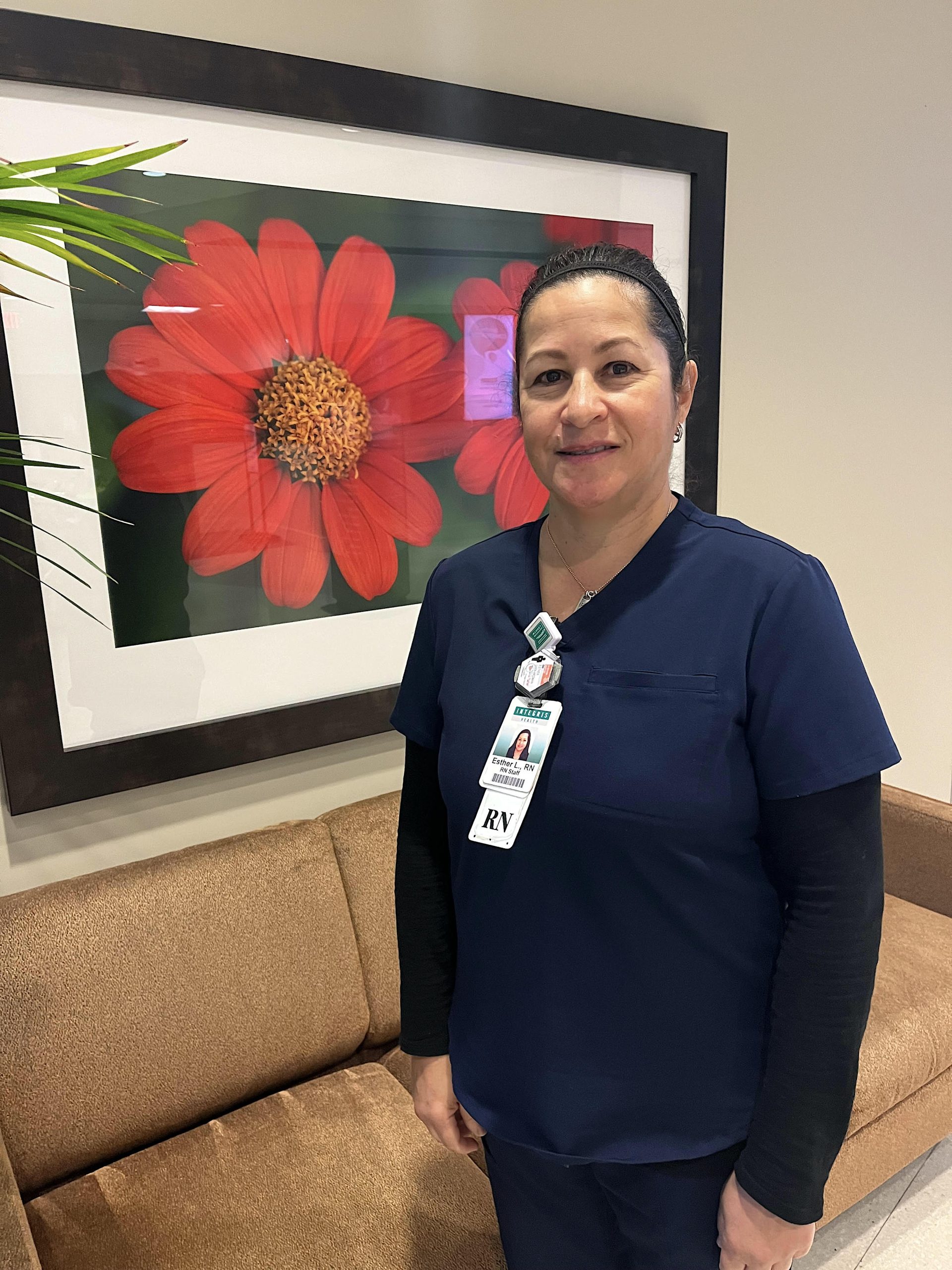 Esther Lara-Wedman's experiences with cancer patients tells her that living a long life is a gift.
"I will say that cancer patients are probably the nicest people that I've ever worked with," said Wedman, a registered nurse at INTEGRIS Health Cancer Institute, located in northwest Oklahoma City.
Her 17-year nursing career has taught her that everyone has problems. But when she sees people her age or younger living with cancer, who are parents like her — Wedman thinks her own problems are not a big deal.
"You see your patients and get to know them. You see when they're doing really well and then you see them when they're not doing well," Wedman said.
She studies patients' charts to see their medical history to see what was happening as their symptoms began. It helps her to know them in a better way without being intrusive.
"There's some that I feel closer to, that I talk to a lot. And it's just really hard to see them later and their prognosis is not great. Or they're getting worse, and they're scared," Wedman said. (story continues below)
But she also knows that cancer is definitely not a death sentence. Many people recover and there is hope. She said it's great to be able to help patients understand their journey. Sometimes she sees patients after a five-year absence of their disease process.
"I worked with a gal who had cancer as a child. And now she is married and has two kids," Wedman continued.
She grew up thinking about ways to help people and animals feel better. Her father was only 55 when he passed away of congestive heart failure in 1996. And Wedman's momentum grew to become a nurse. Today, Wedman said she is humbled to serve the radiology department at INTEGRIS Health Cancer Institute.
A nurse for 17 years, Wedman rose quickly to a registered nurse when graduating from nursing school at OSU/OKC. During her early thirties, Wedman was hired by INTEGRIS Health Baptist Medical Center where she worked for four years in the pre- and post-liver transplant unit. She continued her career for seven more years assisting Dr. Clinton Wallis, a gastroenterologist at Digestive Disease Specialists Inc.
She incorporates all her skills as a radiology nurse at INTEGRIS Health Cancer Institute. Wedman provides patients information regarding EGD's, colonoscopies, colon polyps, Barrett's esophagus, and other GI issues. She will celebrate her seventh year at the institute in March.
All patients from the Nazih Zuhdi Liver Transplant program at INTEGRIS Baptist receive MRI scanning at the INTEGRIS Health Cancer Institute.
"Many are pending a liver transplant. It's so rewarding to see them come in for a check-up scan after receiving their 'new' liver. The body is an amazing thing," Wedman said.
Wedman has always preferred being busy on her feet. She takes patients to be scanned and go over their schedules for the day. Wedman assists with ports, IV's, labs, and EKGs. She provides allergic reaction intervention, checks vitals, and gives medication directed by a radiologist, documents, and keeps her area clean and stocked.
"If any patient is having an issue, whether it be a seizure, oxygen levels, fainting, etcetera, I come running," she said.
Wedman shares her institutional knowledge by answering questions from patients living with cancer, or even curious about ulcerative colitis and other gastrointestinal diseases. And she's able to learn new things about imaging.
Continuing education is a proven resource for nurses when learning about the most up to date technology and advancements in cancer care.
"I just like to learn," she said.
Wedman isn't shy about asking questions to staff members in other areas of the radiology department. She learns a lot by being observant.
For a nurse who likes being busy on her toes at work, Wedman remains active at home with her two boys, ages 8 and 10. She takes them to practice and play soccer and basketball. And their pet dog keeps them active outdoors, too.
"I am a single mom. I share our kids with my ex-spouse. When I don't have them, I usually take our dog for an hour-long walk. We walk around the neighborhood for an hour," she said. "I used to run a lot and need to get back into that. When I have my boys it's always, go, go, go. There's always something. I love what I do."
Everything about INTEGRIS Health Cancer Institute was designed to benefit the patient. The modern campus offers a 200,000-square-foot facility that includes radiation oncology, imaging, infusion therapy, a wellness center, Jim Thorpe Outpatient Rehabilitation, a meditation garden and a medical office building.
To become part of the INTEGRIS Health team visit https://integrisok.com/careers.