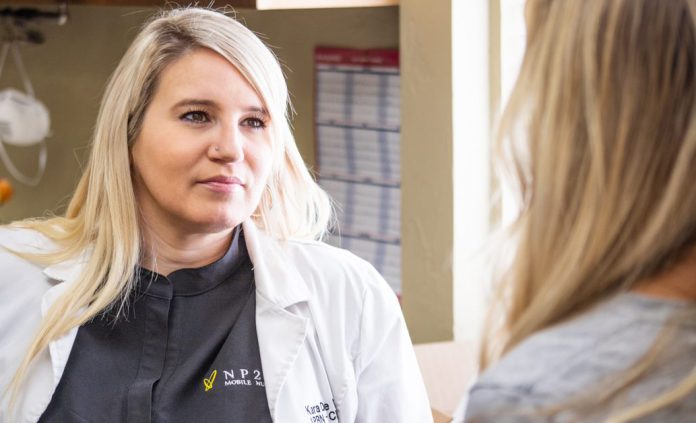 Story Van Mitchell, Staff Writer
Kara De La Pena said with more people getting deliveries at home, it only made sense that healthcare delivery should be a part of that.
The result was the creation in 2019 of NP 2 Go, located at 800 W 18th St Ste 140 in Edmond, a mobile urgent care practice for homebound patients, on-the-go parents and families with scheduling available online, by text or phone. An advanced practice registered nurse delivers convenient, urgent care to a patient's home
"We're getting so many things delivered nowadays. We've got Amazon, you've got your groceries, dry cleaning delivered, everything's being delivered, so then it just made sense that the next thing, in healthcare, would be that, it would be being delivered to your house," De La Pena, APRN-CNP, said. "I think when I first started, I was really scared about what people might think of this crazy idea. We're going to go back and do house calls. I know it's silly, but it might work." (story continues below)
NURSING OPPORTUNITIES AT COMMUNITY AND NORTHWEST SURGICAL HOSPITALS
De La Pena provides in-home urgent care visits, migraine treatment, weight loss consults, IV vitamins/hydration.
"I think one thing that makes us stand out is that, one thing that we really pride ourselves on is our customer service," she said. "When I started out my company, we worked with being able to text message every patient, check on them the day after they had their appointment. So that has kind of stayed along with us, and we still create an open line of communications with patients through text messaging. Our nurses are really good at building rapport with the patient from the moment that you call us or text us, to the nurse practitioner doing the virtual visit before the nurse arrive. We just really care about our patients."
De La Pena was born and raised in Enid. She earned her associate's degree in nursing from Oklahoma City Community College in 2012, and her bachelors of science in nursing from Northwestern Oklahoma State University in 2014.
In 2019, she earned a master's degree in nursing while graduating as a family nurse practitioner from Maryville University in St. Louis. The school, founded 150 years ago, provides a technology-driven, mentor-inspired education.
Along the way she has been a certified nurse's aide and licensed practical nurse before becoming a registered nurse.
She says her mother prompted much of this by being a mentor and role model.
Her mother, Karla Brock, an RN since 1991, has worked at St. Mary's Hospital in Enid for over 28 years.
De La Pena has a combined 15 years of experience helping patients throughout her years of basic patient care, nurse tech, CNA, LPN, RN, and now APRN-CNP status.
"My mom is the hardest working person I've ever known, and I think just always seeing her work hard, and she also got her RN degree. I remember, I was 13 years old when she graduated," she said. "She's been a nurse for over 30 years, but she's very hardworking. That's all I've ever known, that's all I've seen, and that's the only way I know how to act, is just hardworking, get up every single day and give it your all."
Nurse practitioners in Oklahoma need only a supervising physician to oversee their prescriptive authority.
De La Pena and her supervising physician have agreed on specific medication protocols for her outpatient emphasis at NP 2 Go. They went over her business plan extensively before she started her private business ventures.
De La Pena believes that patients deserve to have transparent billing and to know the costs of services before booking their appointments. NP 2 Go works with local companies to provide the most cost-effective labs, medications, or radiology. She says this provides a thorough solution to the patient's needs.
"We are private pay, but you will never get stuck with a bill that you weren't anticipating," she said.
De La Pena has lived in Edmond for more than 11 years, marrying Jason in June of 2014. They now have three daughters. The family attends Victory Church in Warr Acres and enjoys boating at Lake Arcadia often.
De La Pena said NP 2 Go is a family-friendly environment.
"I think that the most important thing, to any of us, is our family," she said. "Our employees are hardworking, but we are able to balance family-work life with our employees."
De La Pena said she is proud to be a female business owner, as well as mentor to future generations of female leaders.
"I would say that I feel very confident in our place, in our community and the community that we get to serve," she said. "And, the coolest thing that has come out of this, is being able to be a female CEO and actually think about all the patriarchal things I've been taught before, now, as far as running a company. I can run my company how I want, and it doesn't have to be on anybody else's terms. I see it (NP 2 Go) just growing and hopefully inspiring other young or other females to, especially young girls, to believe in themselves that they have the power to have an idea, go through with that idea and be successful at what they do."
For more information about NP 2 Go call (405) 696-7003 or visit https://thenp2go.com.