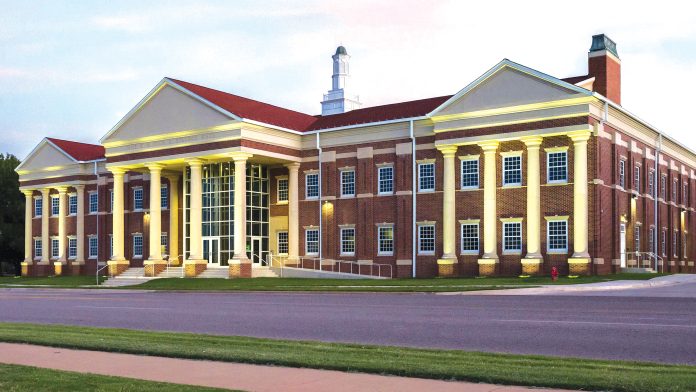 OBU's Dual-Credit and Dual-Enrollment Programs Empower High School Students for Success
Oklahoma Baptist University's dual-credit and dual-enrollment programs offer high school students unique opportunities to earn college credits while still in high school.
OBU has partnered with faith-aligned institutions, Christian Heritage Academy in Del City and Oklahoma Bible Academy in Enid, to bring college-level courses to high school campuses. These partnerships allow students to earn both high school and college credits concurrently. Since the launch of this program in Fall 2023, 108 students have participated, representing a total of 139 enrollments in courses.
"Our dual-credit program is about more than affordability; it's about integrating faith and academics, preparing students not only for their careers but for a lifelong mission," Dr. Micah Meek, OBU's associate dean for online, nontraditional and graduate education said.
With tuition as low as $65 per credit, these courses offer an affordable pathway to higher education. OBU welcomes new partnerships with high schools interested in helping their students excel academically.
"OBU's commitment to Christian education at all levels is exemplary," Dr. Susan DeMoss, Associate Headmaster for Christian Heritage Academy, said. "Their investment in CHA goes beyond dual-credit opportunities for students at a greater reduced rate than what we had. It extends to the investment in teachers through training and continuing education opportunities. The OBU faculty has made the dual-credit process more simplified and streamlined. Having two children of my own attend CHA and OBU, I know firsthand the likeminded mission and commitment to distinctly biblical education. I also have been blessed by the genuine care and concern of the OBU faculty for students."
OBU's dual-enrollment program offers high school students the chance to take college courses taught by OBU faculty, either on the Shawnee campus or online. The online component, introduced this fall, has already attracted 48 students with 56 course enrollments. Seven students are currently participating in in-person classes in Shawnee.
Kalyn Fullbright, director of admissions, emphasized, "Our program provides a personal transformation wrapped inside a rigorous education. It's about finding your purpose while pursuing academic excellence."
Tuition for dual-enrollment courses is $100 per credit, ensuring quality education that prepares students for their future.
For dual-credit inquiries, please contact Dr. Meek at [email protected]. For information about dual-enrollment, please contact Fullbright at [email protected].
About OBU: With its campus located in Shawnee, OBU offers nine bachelor's degrees with more than 80 fields of study and four master's degree programs. OBU has been rated as one of the top regional colleges and universities in the West by U.S. News and World Report for 32 consecutive years and as Oklahoma's highest rated regional college or university in the U.S. News rankings for 30 years. Forbes.com consistently ranks OBU as a top university in Oklahoma and the Princeton Review has named OBU, of the southwestern region, one of the best colleges and universities in its region of the United States for 19 consecutive years.
For more information about the Oklahoma Baptist University Nursing program CLICK HERE.