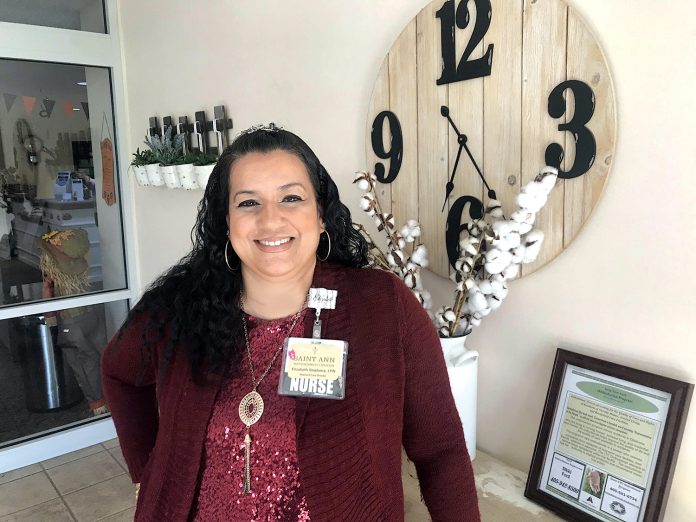 by James Coburn, Staff Writer
Elizabeth Stephens, LPN, has a knack for providing love and attention to the elderly.
"I treat them like they are my mother or father. I just feel like they are a family to me," said Stephens, the resident care director for Saint Ann Retirement Center's assisted living.
Saint Ann Retirement Center offers independent living, assisted living and a convent in Oklahoma City. The not-for-profit is owned and operated by the Catholic Archdiocese of Oklahoma City.
"I love the atmosphere," she said. "It's a very Christian atmosphere and I'm very close to God. God is my No. 1. If I put Him first everything else falls into place, and as soon as I came here, I felt like I was at home. I felt the atmosphere of God. I feel the love from the residents." (STORY CONTINUES BELOW)
The love she receives from the staff is a plus, she said. Love abounds in a working environment when staff members know and love God, she said. She admires the strong endurance among the nursing staff. They are resilient and keep pushing for the higher good of the residents, she said. And the residents are very loving and treat her like a daughter, she continued.
"It's nice to know somebody loves you in return when you give them love," she said.
Familiar faces from various walks of life greet her as she walks down the hallways. Several priests call Saint Ann Retirement Center home.
"It's very interesting to see a fellow nurse that's here who still has a lot of vibe in her," she said.
She has an open-door policy for residents and staff. Stephens loves that both residents and staff can always come and speak with her about anything. The staff is free to share their personal problems or any concern about the facility.
"They feel comfortable to say this is what's going on, and they know that I will take care of it," Stephens said.
Stephens' nature is that of a problem solver with a heart for those in need. Her former husband became ill with diabetes as a child. His disease progressed into adulthood, so he went on dialysis while Stephens cared for him at home.
"I liked how I was taking care of him, and he was appreciative of me taking care of him at that time," she said. "And so, I felt like I had a calling and went into nursing shortly after."
Stephens earned her nursing degree at Platt College in Oklahoma City and has been with Saint Ann Retirement Center since July. Besides assisted living, Stephens has done everything from urgent care, long-term care, worked in retirement centers, dialysis, and rehab nursing.
As the resident care director, she oversees the responsibilities of the nursing staff. The staff helps with the residents' daily needs of getting dressed in the morning so they can make their way to the dining room for breakfast, lunch or dinner. Certified medicine aides make sure the residents receive their prescription medications. Certified nurse aides assist with showers and make sure the residents have their meals whenever they are not feeling well. The activities director comes up with daily activity ideas to engage the residents.
"We do have some good participation. The other thing I like is when people come and tour." Stephens said. "Everybody comes together."
Stephens' nursing career gives her a daily sense of accomplishment.
"When you are entrusting me with your loved one, you're trusting that I'm going to take care of them as if they are my own family," Stephens explained. "What's very rewarding is the fact that families are appreciative, too. They thank you so much for letting them know things. And, I've even had emails sent to me stating that, 'We feel very comfortable with our mother being under your care because we feel like she's under the best direction of nursing, and we don't have to worry about our mom.'"
One of the families living in Tulsa has reached out to say they don't have to worry about their mother's welfare because Stephens is meticulous about reporting what transpires in their mother's life.
"Communication is key. If you can communicate with the families and let them know what is going on with their loved one, their worries are no more a worry because they know somebody is really taking care of their family."
Assisted living means the resident is still ambulatory but needs just a little bit of assistance.
Christian fellowship is representative of many denominations. There is a Sunday service welcoming all denominations.
For more information about Saint Ann Retirement Center visit:
www.saintannretirementcenter.com.