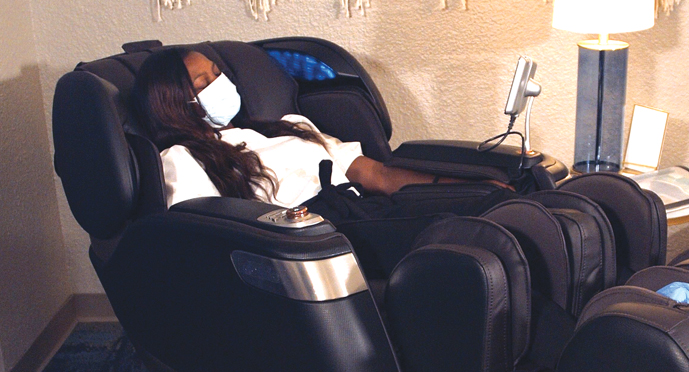 The sound of ocean waves and the smell of lavender essential oils fills the room as Amy McIntire takes a seat.
She's come to the Wellness Oasis at Valir Health to enjoy a moment of solitude.
"When you walk in you can feel immediately your body begins to relax a little bit," said McIntire, a Senior Accountant at Valir Health. "They did a great job making sure the scents and sounds are very calming."
It is just one of the ways Valir Health has worked to prioritize caring for those who care for their patients.
"Our employees have dedicated their careers to caring for others. In turn, it's important that we care for our employees so that they are best equipped to care for their patients and for participants in our PACE, Program of All-Inclusive Care for the Elderly," said Valir's Chief People and Culture Officer Kelli Adams.
A large massage chair, a yoga mat and reclining chairs await those needing a place to unwind during the workday. There are also healthy snacks available just outside of the room for employees to enjoy on their way in or out of the room. The Wellness Oasis is open to all Valir employees.
"The Wellness Oasis shows us that Valir really cares about us as employees and our wellbeing," said Brenda Hood, RN, BSN, chief nursing officer at Valir Health's Rehabilitation Hospital.
And Valir Health didn't stop there. On its downtown campus, you will also find a specially curated Mother's Room to welcome those needing a private space to pump and store breastmilk.
"It is a wonderful space where new mothers feel comfortable and don't have to worry about privacy issues," Hood said.
"I love our Mother's Room," said Christina Tilford, a mother of two and site director for Valir's PACE program. "It is a thoughtfully made, quiet, private space with relaxing music, snacks, a refrigerator and lockers for me and the other mothers."
Prioritizing the people who make up the Valir Health team is just part of the daily culture, explained Adams.
"Our team researched what would be needed for a mother's room and then made sure to find a location that would not have too much traffic, to allow for privacy," she said.
Adams said, in addition to the two rooms, Valir offers employees great benefits, an on-site gym with free classes, giveaways of holiday meals and other items throughout the year, as well as other benefits.
Employees are grateful and definitely notice the special steps Valir's leadership team has taken to show them they care.
"It's just the little things that mean a lot and we appreciate it," said Racheal Hudspeth, a Health Information Management Specialist at Valir Health.
For more information about Valir Health or to join, visit: https://www.valir.com/careers.