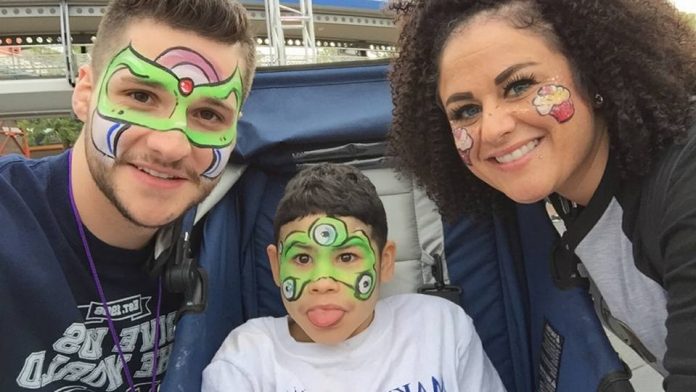 by Bobby Anderson, Staff Writer
Tiffany Hartfield, LPN, made a wish upon a star for her special needs son at the end of 2015 – and it came true like she never imagined.
Hartfield and her son are just a couple weeks removed from the trip of a lifetime to Orlando and a host of theme parks courtesy of the Make-A-Wish Foundation.
"I cried for like a week," said Hartfield, who also serves as the director of nursing at Timberwood. "That's expensive. It was like a $10,000 trip. There's no way I would have ever been able to afford that."
Ten years ago, the director at Timberwood Assisted Living in Del City was blessed with her son, Cainaan.
With that birth came multiple developmental issues that will all but insure he will live with Hartfield for the rest of her life.
At four months old, Hartfield was told her son would be deaf, blind and never able to walk.
Two months later, the two embarked on a journey of intense therapy that continues today.
Fourteen surgeries later, Cainaan's major diagnosis is epilepsy.
Cainaan now has 20/20 vision, does not require hearing aids and started walking before he was six.
His diagnosis did make him eligible for the trip of a lifetime, which Hartfield applied for in October. She quickly learned that her application had been accepted.
And since she had no immediate family available, she was told she could take life-long friend Justin Hanshaw.
Cainaan didn't quite grasp the news until they set foot inside of Disney World.
"It was one of those things when he got there he realized," Harfield said. "He understands a lot more than what people give him credit for."
"He was bright-eyed and bushy-tailed."
One night, Hartfield was able to drive Cainaan to Cocoa Beach so he could feel the ocean on his feet for the first time.
Hartfield credited partner organization Give Kids the World for helping make Cainaan's dream come true.
The story of Give Kids The World began with a little girl with a wish and the desire of one man to make that wish come true.
The little girl's name was Amy. Amy had leukemia and one wish – to visit the theme parks in Orlando. To facilitate Amy's wish, the request of a complimentary stay was made to a respected hotelier. As he had done many times before, the hotelier gladly obliged and Amy's wish was that much closer to being realized.
Sadly, the remainder of Amy's travel plans took too long to arrange and her wish was never granted; Amy had passed away. Time simply ran out.
This unfulfilled wish inspired a man, the hotelier, to make a vow that no child in need would ever be failed again. That man was Henri Landwirth and his desire to ensure that Amy's story would never repeat itself is where the story of Give Kids The World began.
Landwirth enlisted the support of colleagues in the hospitality industry, including our world-famous theme parks, to assist him in bringing these special families to Central Florida within 24 hours if need be. He called the project "Give Kids The World," because that is just what he intended to do – provide memorable, magical, cost-free experiences to children with life-threatening illnesses and their families.
As the program expanded and the number of families continued to grow, it was apparent that Give Kids The World would need to create a place that could better serve the special needs of families. The gates of Give Kids The World Village opened in 1989.
Today, the Village is a 79-acre resort complete with 144 Villa accommodations, entertainment attractions, whimsical venues, and fun specifically designed for children with special needs.
With the help of many generous individuals, corporations and partnering wish-granting organizations, Give Kids The World has welcomed more than 143,000 families from all 50 states and 75 countries.
One of the best parts was Cainaan was able to celebrate his 10th birthday January 3 at the happiest place on earth. Hartfield said the staff at Give Kids The World showed up that night with a cake and a memorable celebration.
"It was the best thing ever," said the nurse of 11 years. "When he got to see Mickey Mouse he didn't want to let him go."
Hartfield understands her son will never go to prom or drive a car or likely have a girlfriend.
But for seven days Hartfield and her son were on top of the world.
"Just that smile on your little boy's face," Hartfield said of what she'll remember most. "There's different things you go through when you have a special needs child that unless you have a special needs child you'll never understand."
Unless you wish upon a star and others know exactly what you're going through.