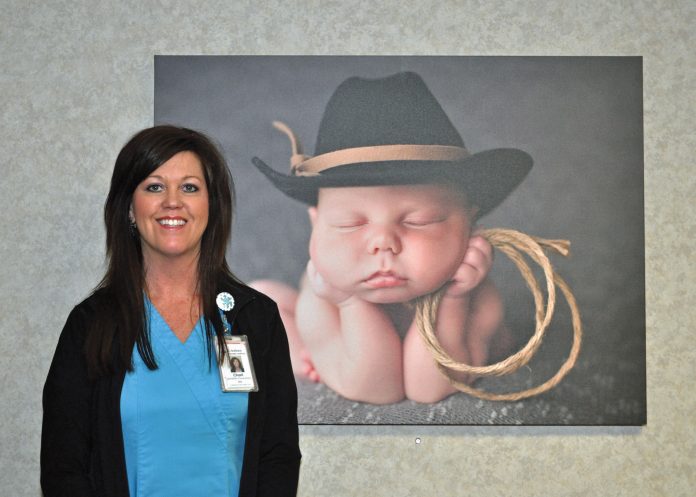 by Vickie Jenkins
What a pure delight in meeting Charli Hull, RN, BSN, IBCLC. Charli has been a nurse for 22 years at St. Anthony Shawnee Hospital. "I love my job here and can't imagine working anywhere else. I have worked in different areas in the hospital but moving to Labor and Delivery was my calling. Now, I am a Lactation Consultant and I like caring for the new mothers and their babies," she comments.
"What made you become a nurse?" I ask Charli. "It was when I was in fourth grade when I thought about it. I grew up in a neighborhood full of kids. One of the moms was a nurse; wearing the starch white uniform and the starch white hat. She was always talking about her experiences as a nurse and telling us kids the 'coolest' stories. Each story was so interesting! I remember that I wanted to do the same thing when I grew up. Thank you Jackie Owen for having such an influence on my life. She is the reason I became a nurse," she answered with a laugh.
Charli went to Shawnee High School and then went on to OBU, where she graduated nursing school. "Most of my mentors in nursing school were my classmates and study buddies. It was one of the ways we could encourage each other. When I started at Shawnee Hospital, there were a lot of LPN's that I looked up to. One particular nurse that I have known over the years was Christy Bernard and I knew that I could always count on her. Today, Christy Bernard is the director of the Women's Center, here at St. Anthony. The two of us still work together," Charli replied. "It is all of those people that helped me become the nurse that I am today. They helped define who I am, as a person and as a nurse," she adds.
"Living in Shawnee, it's like everyone knows everyone. As a nurse, I have to be willing to give a piece of myself so I can form a relationship with my new moms. Being a Lactation Consultant is a very personal thing. It needs to be personal so I can connect with the mom and they can connect with their newborn, which isn't always easy. The mom and I share moments together. Sometimes, the mom and I just talk about the situations they are having, whether it be good or bad. I have laughed with my patients and I have cried with my patients and sometimes, both," Charli says.
"What is your favorite thing about your job?" I ask. "I love helping mothers be successful, when they are able to complete their job. They deserve a lot of recognition for that. Even if the mothers don't succeed at breast feeding, they have tried. Sometimes, it just doesn't work out but when that happens, I assure the mother that it is not their fault and they have succeeded just by trying."
Describing herself in 3 words, Charli said, "Well, I guess that would be feisty, confident and compassionate, " she said with a smile. Charli stays busy at work and at home. Her husband, Larry, is a cattle rancher. Her son Gus is active in sports and her 2 daughters, Franki and Jessi stay busy with sports also. "I am always trying to make it to one of their games," Charli replies. "My 17-year-old daughter is taking some classes in nursing right now and plans to be a nurse. That makes me feel good that she is following in my footsteps. I am so proud of all of my kids," she added.
Charli's accomplishments include: Top nurse for Patient Satisfaction Team, Excellence in Team Work and Super Trainer for Exceptional Experienced Representatives, and top honor for Customer Satisfaction. "Is there anything you would change about your job here at St. Anthony?" I ask. "No, not anything. I love my patients and I love my co-workers so I wouldn't change anything," she replied. "Oh wait, there is one thing that I would like to change," she adds. "I would like to have a window in my office," she laughed.
I agree with Charli when she described herself as feisty, confident and compassionate. Those three words shine through as she stays positive for herself, her patients and their sweet little babies. The words of wisdom that Charli lives by are: ATTITUDE IS EVERYTHING. Apparently, it's working. Kudos to Charli!