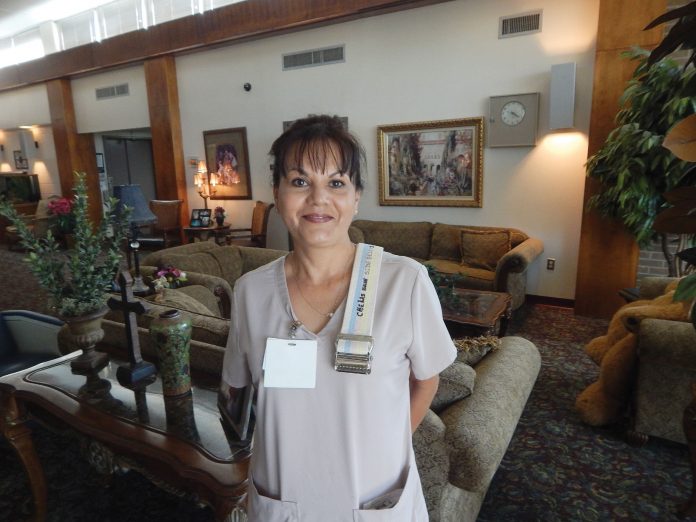 The art of giving – CNA works wonders with long-term care
story and photo by James Coburn, Staff Writer
Graciela Tomlinson has been part of the family at the Willow Creek Nursing Center in Guthrie for a little over a year. But each hour she spends there is timeless because of her warmth and compassion with the residents.
Her gentle approach to the residents is worth more than a paycheck. Her kindness is a gift. And by giving she reaps much more from the smiles and friendships she receives from the residents.
Tomlinson has been a CNA for 18 years and she has always worked in a setting of long-term care and skilled nursing.
"I was always interested in the medical field," Tomlinson said. "I went to school for office work but I found out very soon that wasn't my thing. So then we took care of grandma back in 1996."
She recognized that she does not like sitting at a desk. Tomlinson likes interacting with people and making a positive impact on humanity. She began looking into the field of being a CNA. What she likes about Willow Creek's nursing staff is reflective of her own persona of care.
"What I like is how they interact with the residents, how they care for them," she said. "A lot of times that little smile and 'Good morning' makes a difference in lives. It's just that they take them in like a family member. They take them in like it' their grandma. Some of them call them grandma, grandpa, papa."
The interaction by the Willow Creek nursing staff is what the residents need, Tomlinson said. They feel they are still accepted in someone's life."
She also continues her restorative work at Willow Creek which is something she has done for 16 years of her career. Restorative care gives her one-on-one time with the residents. Tomlinson said she doesn't have to rush. She takes her time getting to know them during the exercise training she does with them.
"I must get to know them before I can push them to do certain exercises," she continued. "My goal is to keep them independent as possible. So that's my thing and I like helping other people."
"These residents — they took care of us. In one way or another they made this wonderful country," Tomlinson noted. "This is our payback to them for keeping our country up to what it is."
The residents are the generation of people that Tomlinson and others looked up to when they were children.
Willow Creek is a likable place to work, she said, in part by the nursing staff. Whenever she needs assistance there is always a willing nurse or CNA to help her in any given situation.
"If you're a giving person, a caring person, this is your field," she said,
Her gratification may come from a simple kick, an effort made by a resident in strength training. A slight kick of the leg is something that the majority of people going about their daily lives take for granted.
Tomlinson assists the residents in exercise and extending their range of motion. The biggest efforts by some residents may be the smallest of movements that lead to more expansive movements in time.
"If I get them to assist me — that's like 'wow'. I go home and brag about it," Tomlinson said."
Many of them are not very flexible with their movements when they start the program, she explained. She can feel when a resident is helping themselves and is no longer limp.
"When I feel the resident is actually assisting by raising their arm — that's a wow," she said. "Or if I've had a resident who has been having issues standing and they start standing for a minute when they couldn't do it for three seconds, those are things that are rewarding to me because I know I am making a difference by keeping them as strong as possible," she said.
Tomlinson works on their level by sitting on the floor in a humbling way. And she will get a response from residents who have not responded to other people.
"I'll say okay let's kick. And a lot of times these residents will barely go. But hey, I got them to kick," she said.