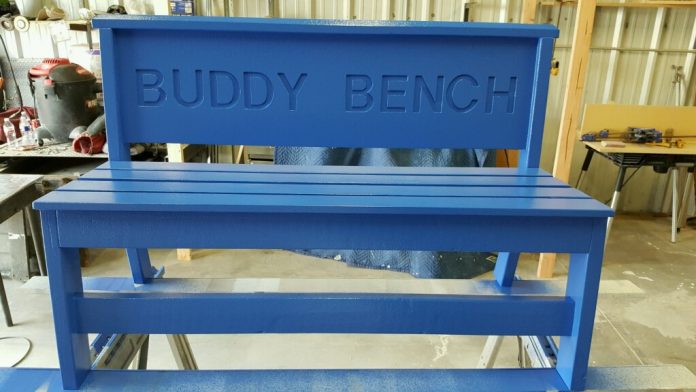 They're called buddy benches, and they'll soon be on the playgrounds of several metro elementary schools thanks to the students and supporters of Stanley Hupfeld Academy at Western Village.
The rules of the buddy bench are simple. Within a few minutes, any student sitting on the bench will be approached by a fellow student and asked to play.
The bench was created to be a safe haven for a child who is feeling bullied, left out or is simply in need of a friend. Classmates who see a child sitting on the bench are taught to sit with them and befriend them.
When the student council at Stanley Hupfeld Academy heard about the Buddy Bench program, they immediately wanted to get one for their school. They started a fundraiser to buy a bench of their own. Students paid a dollar each to be able to wear a non-uniform shirt to school. They ended up raising $250.
Angie Ritter is a teacher at the school. Her husband, Dustin, is a carpenter/contractor. He was so touched by the students' eagerness to do something nice for each other, that he made a buddy bench for the children free of charge. And when he told his friend, Paige Sheller, about the Buddy Bench program, she donated enough money to purchase four additional benches. The students used the money they had originally raised to buy a fifth bench and collectively decided to donate their extra benches to area elementary schools.
A buddy bench was installed at Stanley Hupfeld Academy this week and the following delivery schedule is set: Wednesday, Sept. 21 – Britton Elementary School, Thursday, Sept. 22 – Greystone Elementary School, Friday, Sept. 23 – Dove Charter Elementary School and Monday, Sept. 26 – Johnson Elementary School & Fillmore Elementary School.