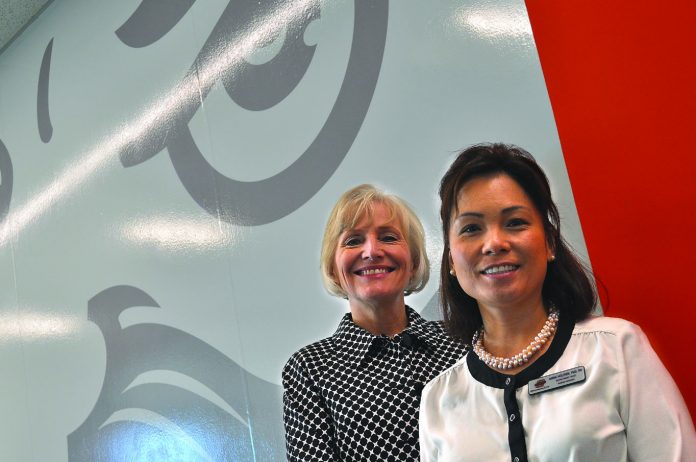 by Bobby Anderson,
Staff Writer
Anna Nguyen, PhD, RN is a believer in Orange Power.
As a student in the late 1990s, it was OSU-OKC where she earned her Associate's Degree in Nursing that would eventually lead all the way to her PhD.
Two decades later, Nguyen holds the title of director of an OSU-OKC Department of Nurse Sciences that is turning out nursing students with some of the highest NCLEX pass rates in the nation.
"We have the graduates that have a great deal of clinical experience, lots of hands-on guidance and mentoring by our nursing faculty," said Nguyen, who noted a 98 percent job placement rate among OSU grads within six months of graduation. "When they are out in the field wearing that orange it definitely has a reputation that our students take great care of their patients.
"It's a reputation local hospitals definitely do look for."
And OSU-OKC is growing.
Nguyen moved into the department's new $13 million digs on August 22, the first day of classes.
Nguyen has spent the last year as department head after teaching full-time for seven years and spending two years as an adjunct.
It was the NCLEX pass rate back in the 1990s that originally drew her to OSU-OKC. Plus it was close to home in Yukon.
Today, OSU-OKC boasts pass rates nearly 10 percent higher than the national average.
"We have wonderful, dedicated, committed faculty members here," Nguyen said. "It's funny that some of the faculty who were my instructors are still here. The longevity of our nursing faculty here speaks loudly."
The Nurse Science Department offers a program of study leading to an associate in applied science degree. The Program is fully accredited by the Accreditation Commission for Education in Nursing (ACEN), formerly National League for Nursing Accrediting Commission (NLNAC), and approved by the Oklahoma Board of Nursing.
Graduates are eligible to take the National Council Licensure Examination for Registered Nurse licensure (NCLEX-RN). The course of study is a 72-credit hour program, which includes classroom and laboratory instruction on campus, as well as supervised clinical experience at affiliating health agencies. Because there are more students applying for nursing courses than it is possible to enroll, a Nurse Science Admissions Committee selects students for the program. Two classes are admitted to the nursing program each academic year and Nguyen says the school has been increasing the number of students accepted each semester.
A retention grade point average of at least 2.5 on college work completed is necessary in order to be considered for the nursing courses.
The recently completed Allied Health building features a 7,500 square-foot advanced simulation center with the latest training equipment available and a full-functioning Variety Care community health center open to the public.
Construction of the 45,000-square-foot building began in May 2015 and was completed in time to welcome students for classes on August 22.
The building is home to OSU-OKC's Health Sciences Division, which includes nursing, diagnostic sonography, nutritional sciences, health care administration, and radiologic technology. OSU-OKC will also host training and continuing education classes for experienced healthcare workers employed throughout the Oklahoma City metro area.
"Because of the reputation of our health sciences programs, we have seen an increase in demand that we couldn't meet," said OSU-OKC President Natalie Shirley. "Now we have greater capacity to give our allied health students the foundation to be the very best in their chosen field. I am excited because this prime learning space means OSU-OKC will play an even greater role in addressing the local and national healthcare professional shortage by producing graduates who are ready to work immediately in the field."
The proximity of the Variety Care health center provides OSU-OKC students the chance to directly interact with physicians and patients, and the opportunity to learn and work as part of a healthcare team in a clinical setting.
An advanced Simulation Center is at the heart of the new Allied Health building and uses life-size human "manikins" that can be programmed to provide a realistic replication of a clinical situation. Students administer care to the simulator manikin as though it is a real patient and the simulator responds accordingly, with all scenarios developed and evaluated by faculty.
Mary Malaska, DNP, RNC, CNE is the division head of the Health Sciences Department and says the power of orange is strong in the metro.
"We have quite a reputation in the area," said Malaska, who has been with the program for 20 years and, like Nguyen, is also a graduate. "It has been amazing. At this point we are in the 98 percent board pass rate for nursing."
And that, more than anything, may be the true result of Orange Power.