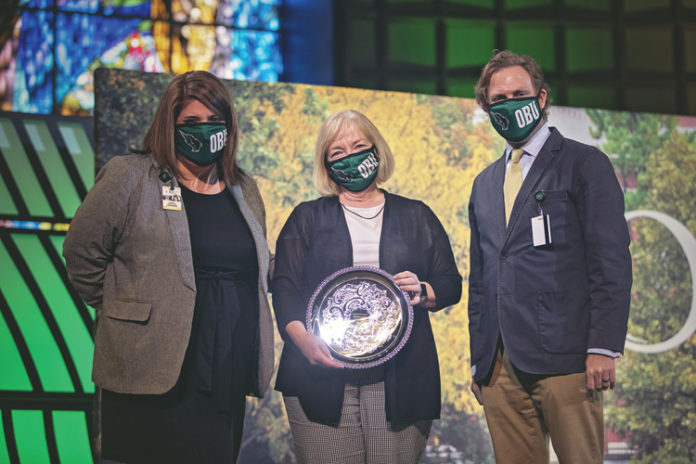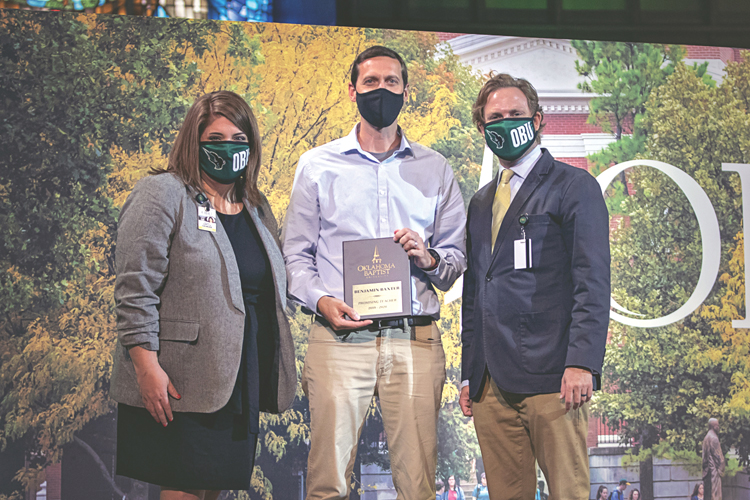 OBU presented its annual faculty and staff awards Friday, Aug. 7, during the University's back-to-school employee meeting in Raley Chapel's Potter Auditorium on the OBU campus in Shawnee. OBU President Dr. Heath A. Thomas presented the awards along with Dr. Susan DeWoody, provost, and Mike Johnson, director of human resources.
The meeting was physically distanced, with all employees wearing face coverings while spread a minimum of six feet apart throughout the auditorium. Specially designed stickers marked which seats were available for use and which were not. A number of employees opted to join the meeting online via Zoom in lieu of attending in person. (story continues below)

Each year, OBU presents its three most prestigious awards to recognize quality teaching and faithful service: the Distinguished Teaching Award, the Promising Teacher Award and the Meritorious Service Award. Nominations for the awards are made by alumni, current students, faculty, staff and administration. In addition to public recognition and a token of the university's appreciation, the recipients receive cash awards provided by OBU graduates John and Janet Hudson of Edmond, Oklahoma.
The University typically presents these three awards during Spring Commencement ceremonies in May. However, the presentation was moved to the employee meeting after the coronavirus pandemic shifted Spring Commencement to an outdoors location held Aug. 1.
Dr. Robbie Henson, dean of the College of Nursing, received the Distinguished Teaching Award. This award is presented to a faculty member who has taught at OBU for five consecutive years or more and has displayed excellence in the classroom. Henson earned a Bachelor of Science in nursing from OBU, a Master of Science in Nursing from the University of Texas-Arlington, and a Ph.D. from the University of Colorado. She has clinical experience in a wide range of specialties including adult medical-surgical, intensive care, home health, psychiatric-mental health and maternal-newborn nursing. She previously received both the Oklahoma Nurse Educator of the Year award and the Promising Teacher Award at OBU.
Teri Walker, degree counselor, received the Meritorious Service Award. This award is presented annually to a faculty or staff member who has invested a substantial commitment of years and service, and who has been a loyal and faithful faculty or staff member. Walker began working for OBU 37 years ago. Before settling into her current position, she worked as the Howard Residence Center director and Geiger Center director. She is known for actively participating in various aspects of life on Bison Hill including attending sporting events, theatre productions and fine arts concerts, making a lasting impression on generations of Bison students and alumni.
Benjamin Baxter, chair of the Division of Communication Arts and assistant professor of animation and media production, received the Promising Teacher Award. This award is presented to a junior faculty member who has taught at OBU less than six years and has demonstrated outstanding potential as a teacher. Baxter joined the OBU faculty in 2016. He earned a Bachelor of Arts from Ouachita Baptist University and a Master of Fine Arts from the Savannah College of Art and Design. He has worked as a freelance photographer for more than 15 years and has experience in 3D modeling, lighting, texturing and rendering.
For more information about OBU, visit okbu.edu.
With its campus located in Shawnee, OBU offers 10 bachelor's degrees with 88 fields of study and five master's degree programs. The Christian liberal arts university has an overall enrollment of 1,868, with students from 35 states and 34 other countries. OBU has been rated as one of the top 10 regional colleges in the West by U.S. News and World Report for 28 consecutive years and Oklahoma's highest rated regional college in the U.S. News rankings for 25 consecutive years. OBU is one of three universities in Oklahoma and the only private Oklahoma university listed on Great Value College's rankings of 50 Great Affordable Colleges in the Midwest. The Wall Street Journal ranks OBU second in the nation for student engagement among all U.S. colleges and universities. Forbes.com consistently ranks OBU as a top university in Oklahoma and the Princeton Review has named OBU one of the best colleges and universities in the western United States for 15 consecutive years.