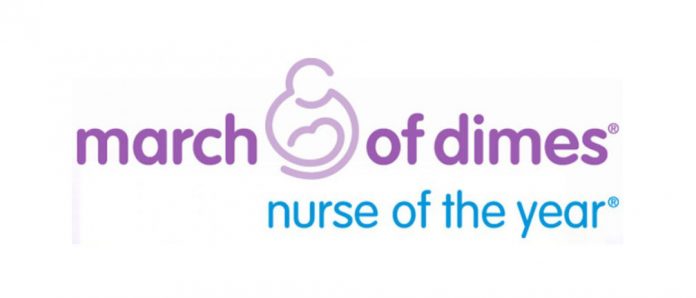 Twenty Nurses Honored at 2016 March of Dimes Nurse of the Year Awards
Oklahoma City, Oklahoma, September 27, 2016–The Oklahoma March of Dimes, in partnership with the LeNorman Family, honored 20 outstanding nurses at the 2016 Nurse of the Year Awards.
Through Nurse of the Year Awards, the March of Dimes recognizes nurses who demonstrate exceptional patient care, compassion, and service. Whether serving as a health care provider, educator, or volunteer, these nurses have played a critical role in improving the health of Oklahoma's residents.
"The winners of this year's Nurse of the Year awards are a testament to the caliber of nursing talent that is in our state," said Laurie Applekamp, Executive Director for the Central Oklahoma Market. "We know that not only the winners, but the nominees and finalists alike, are truly committed to their patients and profession and are all making great strides in their respective fields."
The event, chaired by Jerod Waters, Executive Nursing Officer, Chickasaw Nation Medical Center, had over 300 attendees and raised over $80,000, making it one of the top Nurse of the Year events in the country.
Event partners included Title Sponsor, the LeNorman Family, Platinum Sponsor Chickasaw Nation Medical Center and Silver Sponsor St. John Medical Center. Nurse of the Year Awards are given annually in approximately 20 award categories. More than 500 nurses were nominated in Oklahoma and 52 of those were selected as finalists. Award Recipients were announced at a special awards event held on Thursday, September 22, 2016 at the Riverwind Casino's Showplace Theatre in Norman.
Oklahoma's 2016 Nurse of the Year Award Winners
Susan George, INTEGRIS Advanced Cardiac Care, Category: Advanced Practice
Stacie Willoughby, OU Medical Center, Category: Charge Nurse
Latisha Beames, INTEGRIS Canadian Valley, Category: Critical Care
Karen Peters, OUHSC, Category: Education
Kimberly Carroll, INTEGRIS Canadian Valley, Category: Emergency Services
Marinn Byers, INTEGRIS Southwest Medical Center, Category: General Medical/Surgical
Angela Gray, INTEGRIS Southwest Medical Center, Category: Infection Control & Occupational Health
Kristin O'Neal, INTEGRIS Southwest Medical Center, Category: Managed Care
Mike McCoy, Lead Neonatal Nurse Practitioner at the Level II NICU at Comanche County Memorial Hospital / Dept. of Pediatrics, Neonatal-Perinatal Medicine at OUHSC, Category: Neonatal/Pediatrics
Liz Klingensmith, Mercy Hospital, Ada, Category: Nursing Administration
Tonya Faires, Norman Regional Hospital, Category: Nursing Management
Kathy Stilwell, INTEGRIS Southwest Medical Center, Category: Other Specialties
Loren Stein, OU College of Nursing, Category: Public Health & Ambulatory Care
Annie Gonzalez, INTEGRIS Canadian Valley, Category: Quality & Risk Management
Sarah Bailey, Saint John Medical Center, Category: Rising Star
Nicole Nichols, Duncan Regional Hospital, Category: Surgical Services
Jamie Leonard, INTEGRIS Canadian Valley, Category: Women's Health
Madalene Smith, Mercy Oklahoma City, Lifetime Achievement
The award recipients were determined by a distinguished selection committee comprised of health care professionals who screened the nomination forms in a blinded review process.
About March of Dimes
The March of Dimes is the leading nonprofit organization for pregnancy and baby health. For more than 75 years, moms and babies have benefited from March of Dimes research, education, vaccines, and breakthroughs.
For the latest resources and health information, visit our websites marchofdimes.org and nacersano.org. To participate in our annual signature fundraising event, visit marchforbabies.org.
If you have been affected by prematurity or birth defects, visit our shareyourstory.org community to find comfort and support. For detailed national, state and local perinatal statistics, visit persistats.org. You can also find us on Facebook or follow us on Twitter.