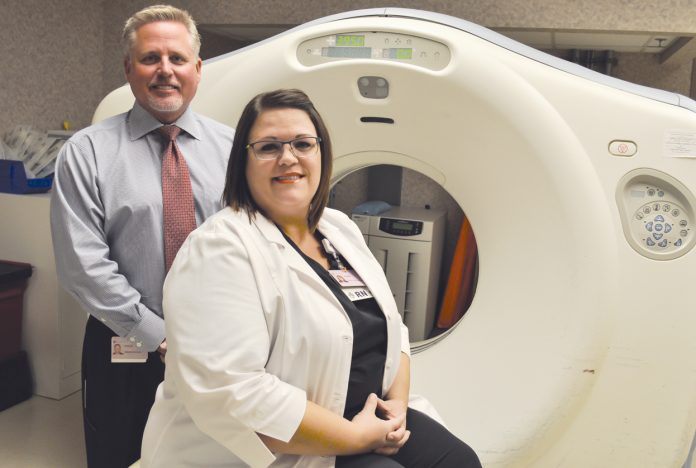 by Bobby Anderson, Staff Writer
Norman Regional Health System Lung Navigator Sherri Jo Johnson, RN, is a cancer survivor.
That trauma is permanently ingrained in her mind as well as her DNA.
So she wants to do everything possible to make sure that everyone she reaches has a fighting chance against cancer.
It's a major reason why she's involved in the health system's new low-dose CT lung scan program.
Phillip Dobbs is the manager of diagnostic imaging services and a key player in the new screening.
Dobbs explained that the screening tool reduces the amount of radiation to the patient versus a normal chest CT by 90 percent.
"But the protocol we use we are able to detect even the smallest nodules down to just a few millimeters," Dobbs said. "The radiologist can look at that and only about five percent of nodules end up being cancerous."
The peace of mind that monitoring carries with it is worth its weight in goal.
"Six months after any scan I'm fantastic," Johnson says of her mindset while she's in remission.
The program has been under development for two years.
The screenings involve pathologists, radiologists, oncologists, a nurse navigator, and thoracic surgery.
"A lot of people have to be at the table," Mobbs said.
But the whole process can begin simply with a phone call to make an appointment to come in. No referrals are required. No insurance is billed with a cost of $79.
After the test is done, the results go to Johnson. Based on a radiological assessment scale Johnson can determine if the patient needs to return at three months, six months, 12 months or needs to progress faster.
"I put it into my system and I'm virtually you're reminder," Johnson said. "If you are intentionally coming in to get it done you're a lot easier to track because you're actually wanting us to watch this for you."
Monitoring is power, especially when dealing with lung cancer.
"Most cancers are found in Stages III and IV when we don't have very many opportunities to do anything about it."
Johnson said often cancers that are found in the later stages are accompanied by previous CT scans when the patient or provider failed to follow up on nodules that were noted.
"Whenever it's brought to them in a nonchalant way it doesn't have the same importance," Johnson said.
Johnson says anyone who is a previous smoker, spouse of a smoker or anyone who has been around second-hand smoke for an extended period of time needs to have a scan done.
Lung cancer is by far the leading cause of cancer death among both men and women; about 1 out of 4 cancer deaths are from lung cancer.
According to the American Cancer Society, each year, more people die of lung cancer than of colon, breast, and prostate cancers combined.
Lung cancer mainly occurs in older people. About 2 out of 3 people diagnosed with lung cancer are 65 or older, while less than 2% are younger than 45. The average age at the time of diagnosis is about 70.
Overall, the chance that a man will develop lung cancer in his lifetime is about 1 in 14; for a woman, the risk is about 1 in 17. These numbers include both smokers and non-smokers. For smokers the risk is much higher,
Black men are about 20% more likely to develop lung cancer than white men. The rate is about 10% lower in black women than in white women. Both black and white women have lower rates than men, but the gap is closing.
The lung cancer rate has been dropping among men over the past few decades, but only for about the last decade in women.
Statistics on survival in people with lung cancer vary depending on the stage (extent) of the cancer when it is diagnosed.
Despite the very serious prognosis of lung cancer, some people with earlier stage cancers are cured. More than 430,000 people alive today have been diagnosed with lung cancer at some point. The American Lung Association is trying to draw more attention to early screening because one reason why lung cancer is so serious is because by the time you have symptoms, it may already have spread and become more difficult to treat.
The Association cites a study that between a chest x-ray, sputum cytology and low-dose CT scans, only the low-dose CT (LDCT) scan reduced the risk of dying from lung cancer in high-risk populations.