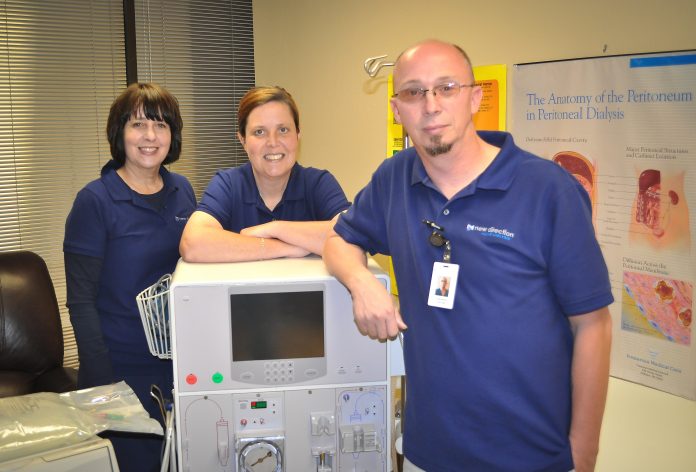 Chronic dialysis may feel like a life sentence but it doesn't have to be that way.
New Direction Home Dialysis gives patients their freedom back with in-home dialysis services.
It's a game-changer according to Director of Nursing Vikki Howe, RN.
"They have much more freedom," Howe said of her patients. "They can work around their own schedule. We have some patients that work and they can kind of change their schedules. If they get home later or they have to go in earlier, they just get on earlier at night."
And it's thanks to New Direction that these patients – who range from their 20s to their 70s – can enjoy a level of freedom they never thought possible. New Direction offers In-Home Peritoneal Dialysis and Home Hemodialysis.
Leslie Whiles is the administrator of New Direction. With nearly 30 years of dialysis experience she's seen these patients flourish when they are able to take control of their lives again.
As one of the last remaining independent dialysis companies in Oklahoma, New Direction provides a host of dialysis services in patients' home.
She likes the fact that being a smaller company allows New Direction to be more nimble and responsive when it comes to client concerns.
Whiles said New Direction staff will go to a patient's home to draw their labs. If they have mobility issues staff can train them in their home or at the clinic.
"We don't want them to stress out," Whiles said. "We'll come to them. That's what we do."
Howe worked for two of the largest dialysis companies in the world before she met Whiles and came to work for New Direction.
"It's a lot more impersonal," Howe said of working for larger companies. "You see your patient and you love your patient to a T but you don't know your upper bosses as much. You get policies and you don't understand as much as why you are doing what you are doing.
"With an independent company you are one-on-one with your bosses. You are involved in making policies. You are involved in the why."
Peritoneal dialysis (PD) is the most common method of home dialysis. While many dialysis patients in the United States go to a dialysis center for hemodialysis three times a week for about four hours per treatment, PD offers more flexibility by allowing patients to dialyze wherever they may be – at home, at work or on vacation. Benefits include: greater flexibility and freedom in treatment schedule, fewer dietary restrictions than in-center hemodialysis, and fewer negative side effects (such as nausea, vomiting, cramping, and weight gain) than in-center hemodialysis.
Home Hemodialysis (HHD) allows a patient to maintain a more streamline therapy without causing interruptions to the lifestyle or work schedule of a patient. Additionally, as a result of recent research, it has been proven to increase quality outcomes and patient survival by two times that of typical in center therapies.
There are two types of home hemodialysis, short daily and traditional. One of the major benefits of Home Hemodialysis is that treatment schedules can be tailored to a patient's specific health condition and lifestyle.
Short daily home hemodialysis is generally performed four to seven times a week for two to three hours per session. Traditional home hemodialysis is very similar to in-center hemodialysis.
Traditional Home Hemodialysis treatments are generally performed three times a week for four or more hours per session. These sessions can be altered to fit the patients' individual needs.
Howe swore she would never work in chronic dialysis. That was before she met Whiles.
"I thought it would be very depressing to see a patient three times a week. When I got involved it was totally the opposite. You feel like you really have an impact and get to really know them. You can really have an impact on their whole life. They see you more than they see anyone else."
"I don't think a lot of patients out there realize they have a choice," Howe said. "I didn't (know) before. A lot of patients have a tendency to be told and automatically signed up for a clinic. But the patient really does have a choice as to where they dialyze."
Howe met Whiles through Sooner Acute Dialysis, which specializes in inpatient dialysis in a hospital setting.
She had never worked for an independent before. Now she wonders how she ever did anything else.
"I was looking for a little more personal touch," Howe said. "I was looking for more flexibility and I was looking for a change."
And now her and her patients have more freedom.