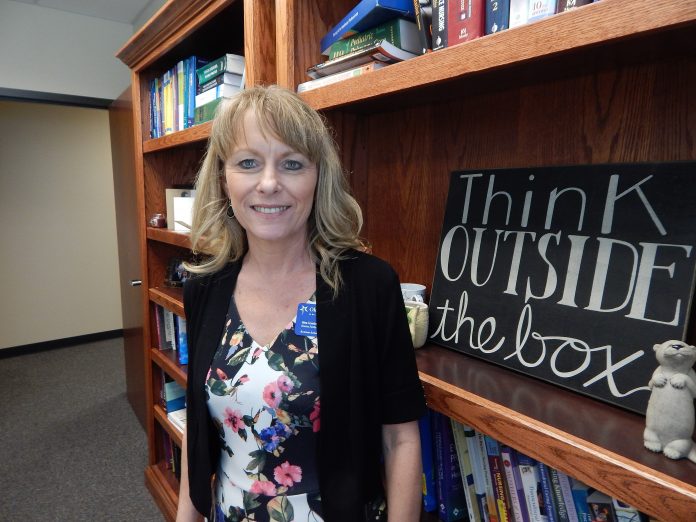 A new beginning – Kramer School of Nursing to offer first adult acute care tract in Oklahoma
by James Coburn
Staff Writer
This fall Kramer School of Nursing will be offering an acute care tract, said Gina Crawford, DPN, APRN, FNP-C, director of the Family Nurse Practitioner Program and assistant professor of nursing at the Oklahoma City University campus. There is not an acute care program being offered in Oklahoma at the present time.
There are a lot of family nurse practitioners or adult nurse practitioners out there, who work in primary care in rural communities. They are responsible for going to the small hospitals in the rural communities to see patients or to perform a shift in the emergency room.
The Oklahoma State Board of Nursing wants the nurse practitioners to be prepared to handle these acute care challenges.
So in order for these advanced nurse practitioners to continue, they need to have specific education for the acute care environment. Kramer will be offering both a post masters certificate in the acute care track and then the full bachelor's to DNP program to those who know their primary call to work is going to be in acute care facilities as opposed to primary care in an individualized practice.
"That will be for people who have a bachelor's degree in nursing that want to become acute care practitioners," Crawford said.
Kramer will be starting with a small group of these nursing professionals this fall. Inquiries about the program have already started for Kramer. Crawford expects quite a number of applicants will respond to the program.
"I will be overseeing the advanced practice programs of the two tracts of students," she said. "We already have the family nurse practitioner tract. Students will have an option."
The new tract will appeal to those nurses who like working in an ICU or an ER by choosing the adult gerontology acute care tract.
A family nurse practitioner who wants to get an education in acute care can come to Kramer to earn the acute tract to get the courses needed to take the certification exam for the adult gerontology acute care tract, she continued. They would have the double certification.
"So that's a really cool option and vice versa," Crawford said. "Say a nurse practitioner or an adult practitioner or a pediatric practitioner wants a certificate as a family nurse practitioner — they can do the family nurse practitioner certificate as well."
This tract will bridge the medical care gap in Oklahoma. There is a huge need for family nurse practitioners because they function as primary care providers, Crawford said. Many of them work in under-served rural populations in the state.
"So that's one need that we meet," she said. "The acute care will fill another need. There's not an acute care program in the state of Oklahoma."
As a result there are a sparse number of acute care practitioners of adult gerontology, Crawford said. Most of those who are practicing here had to go out of state for their acute care education.
"So it meets a need for our state in educating our acute care nurse practitioners," she explained.
There are a lot of health care problems in Oklahoma and the health care system is in need of providers to bridge some of that gap. Enrollment for the program is anticipated to grow this summer with a small initial group of candidates for the first cohort of students.
"We're just getting off the ground," she said.
Crawford grew up in a rural area of Oklahoma in Okarche where she practiced for years.
"The expectation was that we take care of our patients while they were in the hospital," she said. "But we didn't have that acute care educational opportunity. So I learned working with my father all the acute care pieces so we could manage all of our patients. He was a family practice physician. So it would have been fabulous to have had that opportunity when I was a new nurse practitioner. I didn't know it was out there."
Crawford said there has been a lot of interest about the acute care tract at Kramer as they get a lot of questions.
"I think it will be competitive and we will have to look at those applications pretty closely," she said.