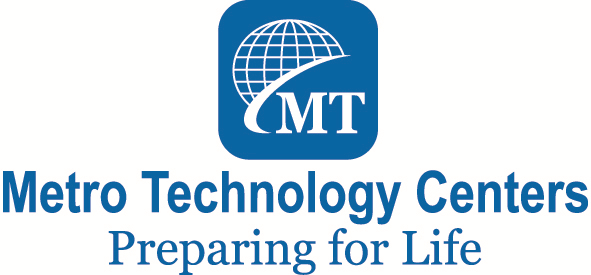 Eight years ago, the Health Careers Center (HCC) started a project-based learning experiment called MetroCare Hospital Day that has since evolved into a multifaceted success involving several career programs and community partners.
For many years, HCC students practiced classroom curriculum by setting up a mock hospital and "treating" fellow students and staff members who had simulated injuries. But last year, HCC Lab Simulation Coordinator and MetroCare organizer Josie Scott wanted to take the project to another level.
"Last year we decided to add a mass casualty component that could include more career programs and outside partners. This made the project even more engaging for students," Josie said.
The scenario was a bus crash full of students from one of Metro Tech's sending high schools. Since these students weren't yet enrolled at Metro Tech, this also served as a unique recruitment tool. Whereas in years past "victims" simply walked into the mock emergency room, last year Paramedic Program students from OSU-OKC transported patients by ambulance.
In 2016, the scenario was a school shooting, which allowed participation from even more Metro Tech career programs and community partners. This scenario was also used as a high-level drill for the Metro Tech Incident Command Team, which is comprised of employees trained to handle crisis situations at the district level.
First responders to the emergency call of a school shooting were the Oklahoma City Fire Department and the Shawnee County and City Police Departments who were assisted by the Metro Tech Law Enforcement Services students. Students observed building clearance and crowd control as they learn in their classroom curriculum.
The victims wore tags identifying their injuries and were transported to the mock hospital at HCC by OSU-OKC Paramedic Program students. Victims were then admitted and treated according to severity of injuries by students from Information Technology Center (ITC) Medical Office Program; HCC Health Careers Certification Program, Practical Nursing Program, Medical Assisting Program, Surgical Technology Program, Advanced Unlicensed Assistant Program and Radiologic Technology Program. MetroCare Hospital Day was filmed by South Bryant Campus (SBC) Video Design Program students who also interviewed victims, medical personnel and event organizers.
Josie plans to continue expanding MetroCare Hospital Day each year.
"Students tell us it helps them connect theory and practice. It helps them think outside the box and work on skills in a chaotic situation. These are skills we can't teach them in a classroom alone," she said.