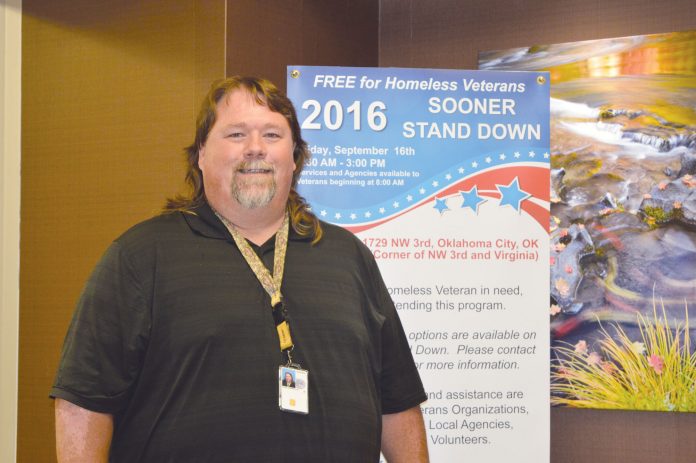 by Traci Chapman
Darrell Long is not just someone who provides care to veterans in his job as an Oklahoma City VA Hospital LPN – he knows about his patients' service, their sacrifice and just how much they have given for their country.
He's one of them, after all, a 46-year-old who served in the U.S. Army for seven years, a man who comes from a military family going all the way back to World War I.
"My great-grandfather, my grandfather – they served in World War I and II, my father served before then but was of the Vietnam era, I served during the First Gulf War," Long said. "I know that dedication to service, I feel that dedication to service."
For Long that began right out of high school, when he enlisted in the U.S. Army. He served for seven years, working as a multichannel transmission systems operator, both on American soil and during a deployment to Korea.
"It was a really interesting job, but it wasn't just what I wanted to do with the rest of my life," he said.
The answer to what Long was meant to do would be a while coming. After his discharge, he worked "all over the place," providing security for IBM, as a warehouseman, a commercial/residential landscaper, even an over-the-road truck driver. But, it was always a way to pay the bills, and there was something missing. That's when the Moore native decided to go back to his roots and take a look at his past – and, there, he said, he found his future.
"My mom had suffered from medical complications; we lost her in 2001 – I just couldn't get past the 'what ifs' of that," Long said. "In high school, I loved science and biology, and I realized that what I should do is go to nursing school."
That's what Long did, enrolling in Platt College in 2008 and graduating as an LPN the next year as class valedictorian. Long said the next step was easy.
"I always knew I wanted to work at the VA," he said. "I felt the connection – after all, I'm a veteran too – and I know what the military is like, what our patients are going through, I just knew I could make their lives better."
Hospital administrators agreed, hiring the new LPN first to work on the cardiac floor. It was a great routine, fulfilling work and a chance to bond with patients every day, but it was about to change, a slight detour in his expected journey, thanks to an idea posed to him by VA Hospital Specialty Clinic Chief Terri Sharp.
"It was a new position, "specialty clinic float nurse," something never tried and a one-of-a-kind opportunity to work throughout the VA's 19 specialty clinics, which serve thousands of veterans each day.
"My day typically starts with a text – where they need me today," Long said. "It might be radiology or oncology, outpatient infusion, cardiology – anywhere."
Beyond never knowing what is in store for him on a particular day, Long said the position offered him exactly what he wanted – being able to work with as many patients as possible, at the same time training in several specialties.
"It's unique because there are six different teams so there is also that teamwork dynamic," Long said. "You have to go in with the attitude you're here to help them, you're a relief pitcher who's there to make everyone's life easier."
It's a position that fits Long's personality perfectly, he said. He gets to use his medical training, learn new things and work with people who are always happy to have his help – and he gets to spend his days with the patients he knows rely on the VA and its staff to get the best care possible.
"Veterans deserve the best care, the best advocates they can get, and that's something all of us take very seriously," Long said. "When I worked on the floor, I felt limited in my capacity to help them, but with this job I connect with vets all over the hospital.
"If I can control that 15 minutes, that 30 minutes, I might spend with a patient and make that patient's life a little better, then I've done what I know I've always been meant to do," he said.