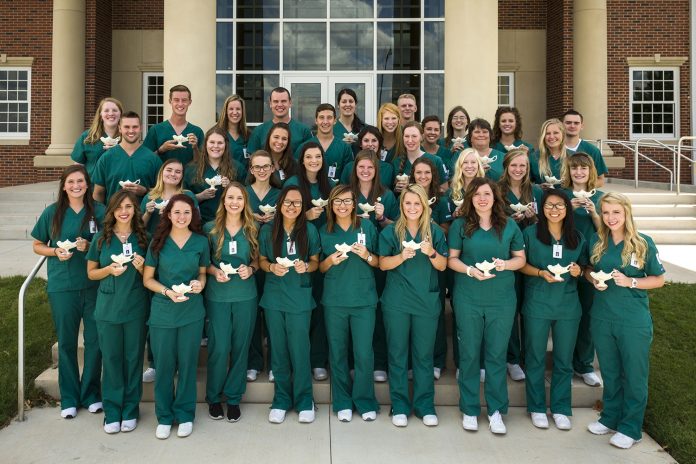 Oklahoma Baptist University's third annual College of Nursing Commissioning Ceremony was held Thursday, Aug. 25, in the Craig-Dorland Theatre inside Shawnee Hall on the OBU campus. During the ceremony, the new class of nursing students graduating in 2018 was welcomed and initiated. The ceremony focuses on patient-centered care and affirms that the obligation of putting patients first begins on the first day of nursing school and continues throughout each nurse's career. The ceremony also promotes a culture of respect, dignity and compassion in both patients and health care professionals.
A total of 37 students from the College of Nursing class of 2018 participated in the ceremony, including Hannah Adams, Alex Akers, Whitney Allen, Kaitlyn Bailey, Lauren Baustert, Marina Berkley, Natalie Buzan, Blake Compton, Marsha Davidson, Krysten Denney, Courtney Diehl, Jared Fink, Landry Forth, Miranda Granger, Ashleigh Gruns, Anna Hollingshead, Meaghon Hollyfield, Dani Ingle, Sarah Klerekoper, Aleksandra Miletic, Ashley Morris, Cayla Munroe, Katrina Nguyen, Gregory Orr, Baylee Owen, Sarah Pruitt, Kyle Reich, Sarah Robbins, Tanner Robertson, Ashlynn Salyer, Chelsea Sehorn, Ellen Smith, Maysn Ungerer, Alexandra Vestal, Sydney Ward, Olivia Williams and Cacy Wyatt. For more information, visit www.okbu.edu/nursing.
With its campus in Shawnee, and locations in Oklahoma City and Broken Arrow, OBU offers 10 bachelor's degrees with 88 fields of study and five master's degree programs. The Christian liberal arts university has an overall enrollment of 1,986, with students from 40 states and 35 other countries. OBU has been rated as one of the top 10 regional colleges in the West by U.S. News and World Report for 24 consecutive years and has been Oklahoma's highest rated regional college in the U.S. News rankings for 22 consecutive years. OBU is one of three universities in Oklahoma and the only private Oklahoma university listed on Great Value College's rankings of 50 Great Affordable Colleges in the Midwest. Forbes.com consistently ranks OBU as a top university in Oklahoma and the Princeton Review has named OBU one of the best colleges and universities in the western United States for 11 consecutive years.