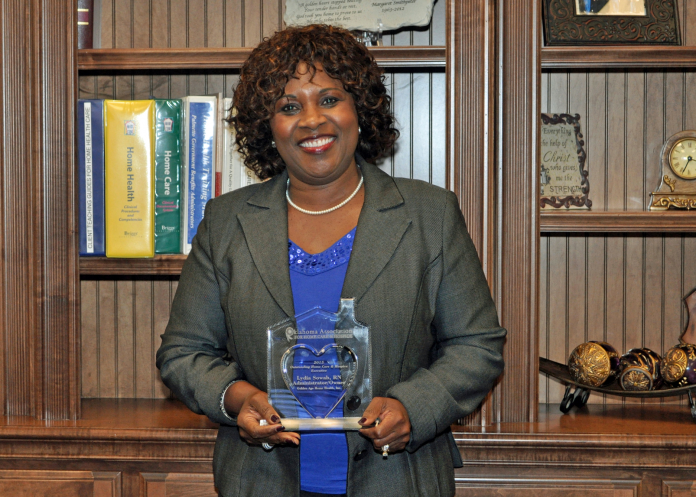 by Vickie Jenkins
"So in everything, do to others what you would have them do to you, this is the Law and the Prophets. Matthew 7:12. This is a scripture that has been the driving force behind the success of Golden Age Home Health, Inc. and its staff," comments Lydia N. Sowah, RN and Administrator of the facility.
In 1996, Golden Age Home Health, Inc. was established, owned and operated by a registered nurse, Lydia N. Sowah, RN and Administrator.
Lydia has been a nurse for over 36 years. She spent 15 of those years working in critical care as a critical care nurse at Southwest Medical Center. She and her husband, Nathan Sowah, co-own Golden Age Home Health. The company's mission is to provide quality, safe, timely and cost effective health care in the privacy of the patient's residence.
Lydia and her team strive to create a lasting bond with every patient while ensuring their safety in the comfort of their own home. Golden Age Home Health offers skilled nursing services, home health aide services, speech therapy, occupational therapy, social services, physical therapy, and Advantage Case Management.
Lydia's vision for her home health agency has always been to provide excellent care to each patient and their families, and to improve outcomes and prevent frequent readmissions to the hospitals. Because of this vision, Golden Age consistently focuses on continued staff education and coordination of care.
The golden Rule of treating others the way you wish to be treated is the foundation on which Lydia has built her business. Golden Age Home Health is proud of their professional staff. As the Administrator, Lydia is goal driven, hard-working and a perfectionist and she has a way of instilling those qualities into each of her employees. Recently, Lydia was honored with the 2015 Home Health and Hospice Home Health Executive Award in the state of Oklahoma for her hard work in the industry.
Lydia's success and career can be attributed to her upbringing as a young girl born and raised in Accra, Ghana. Lydia attended elementary and high school in Ghana. Her family moved to Stevenage, in Hertfordshire England in 1962. In 1974, Lydia joined her family in England, where she completed her final year at Heathcote Secondary School. "I always had a dream of being a fashion designer and knew this was what my future would hold," said Lydia. "Little did I know that my father had different plans for me and his words of wisdom would change my life forever."
"I had just graduated high school in 1975 when on a beautiful Sunday afternoon, my father wanted to meet with me and my 2 sisters." Lydia explained. "Standing in front of him, he said that he wanted one of us to be a nurse, though he had no preference at the time on which one of us would become one. It was up to my sisters and me to decide and get back with him. My immediate thought was that I don't want to be a nurse; I want to be a fashion designer. My sisters didn't want to be a nurse either. I was confused and all I could think to myself was, what's going on here?"
"A week later, the 3 of us met with my father again. Not knowing what was going to happen, my father handed me an envelope. Inside, was a filled out application for me to get into a nursing program. All I had to do was sign it and return it to him. I wasn't sure why he handpicked me, but I assumed it was because of me being the eldest of the 6 children. I simply did as my father said."
"Six weeks later, I received a phone call from the School of Nursing at Lister Hospital for an interview. My interview lasted less than 10 minutes. The Dean of Nursing, who conducted the interview, asked me why the signature on the completed application was in a different handwriting. I told her it was because my father completed the application and asked me to sign it. I left the room, knowing that I would never be accepted. Six weeks later, I received a letter that read, 'We are pleased to inform you that you have been accepted into the school of nursing at Lister Hospital in Stevenage, England.' Apparently, God knew what He wanted me to do. It was my destiny. This is how I got into nursing."
"I started the nursing program and received my LPN Certificate within the required 18 months. My first clinical experience was on the Orthopedic Unit, where I had the opportunity to develop a one-on-one relationship with patients, most the elderly population. I felt so much compassion, taking care of the sick and critically ill patients and it was at that time when I really fell in love with nursing as a career." While working full-time and managing a family, Lydia received her RN License in 1984.
Today, Lydia's business is a huge success and has been for the last 20 years. She took her father's advice and became an LPN and loves every minute of her job. Although it was not meant for her to be a fashion designer, caring for others and servicing others in their time of need became the calling of her life. She is thankful for her loving parents and knows that because of them, she is where she is today. Her biggest blessings thus far have been her faith in God, her family and her amazing staff.
Apart from various community services, Lydia is actively involved in volunteering at Crossings free clinic on behalf of St. Luke's United Methodist church where she serves on the medical team. She enjoys spending time with her family and has been blessed with two children and two granddaughters. Her hobbies include traveling, dancing and watching sports. Along with her husband, they are supporting 3 orphan boys, living in Ghana after the death of their parents. The Sowahs have big hearts and lots of love that they share with others.
When asking Lydia what qualities make a good nurse, she replied, "A nurse has to have a good heart and a genuine interest in caring for patients. The love and compassion has to come from within. They have to have a desire to take care of sick people, have strong work ethics and be knowledgeable about any situation that they may encounter."
I admire Lydia for her dedication and determination through the years. Lastly, Sowah wants to share the fact that she owes everything that she has accomplished in her life to her Heavenly Father above.