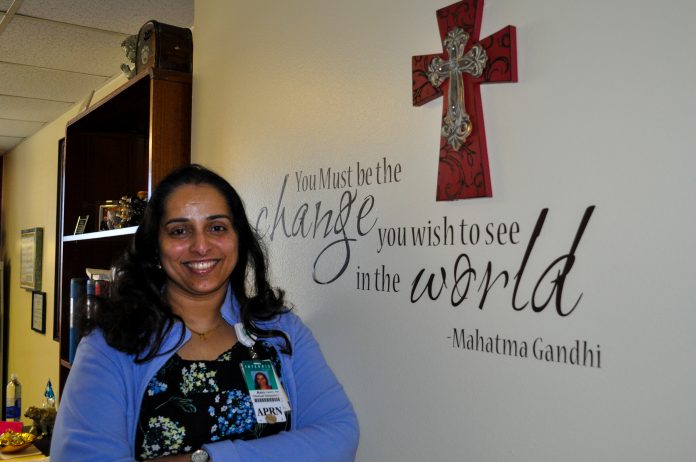 A family affair: Nurse has deep ties to Integris
story and photo by Mike Lee
A few decades ago, Ann Kappen, APRN-CCNS, MSN, CMSRN came to the U.S. with her family with the promise of a new life.
Kappen made the trek to the U.S.A at four-years-old. Her mom was recruited from India as a medical surgical nurse by Integris.
It was the beginning of a multi-generational love affair that has supported generations of her family.
Kappen is going on 25 years employed at Integris Southwest Medical Center after graduating from Southern Nazarene University.
Her father retired from Southwest Medical from the X-ray department and her brother-in-law still works at the campus located at 4401 S. Western Ave.
Her mom just retired a few months ago and it's not a surprise that Kappen's husband also works for Integris.
In short, if you prick Kappen's finger she bleeds green.
"My mom always told me this hospital gave her everything she really ever needed so she felt at home ever since she's been here," Kappen said. "I've come here off and on ever since I was a little kid to visit my mom or be here with my dad. Everyone has always treated me like I was a part of their family.
"Being at this hospital in particular has always felt like being at home."
For a long time Kappen steered away from nursing. She saw the hard work her family members put in and thought there must be an easier way.
"But when I started working here as a (unit coordinator) I got to interact with doctors and nurses and got to see how rewarding it could be being a nurse," Kappen said. "I still wasn't sure that's what I wanted to do and my father kept telling me to be a doctor."
"Nursing provides the best of pretty much all the worlds. I get to be with my family. I get to be a mom. I get to be a wife and I get to take care of people which is something I really, really love to do."
Working at the desk, Kappen found herself asking questions. She would talk to the doctors and the nurses to get her questions answered.
"I wanted to go into nursing because I felt like nurses are with the patients more and they have more one-on-one time with them," Kappen said. "Not that doctors aren't involved in healing but it's a different kind of involvement in the healing process which I find very rewarding and very fulfilling."
Kappen always knew she wanted to pursue her master's degree but just not until her kids were old enough to function on their own. She talked it over with her husband and went through Liberty University's online offering.
Kappen did spend a little over a year living in Texas – away from Integris. Her husband was recruited by Alcatel after he earned his computer science degree from the University of Oklahoma.
A year later, he was recruited back to Oklahoma by – you guessed it – Integris. "I called my old boss and she said 'come back, you can have your old job,'" Kappen said. "I was lucky. I've been lucky this whole time with Integris. I'm really, really pleased with everything."
Kappen has been in management much of her career. She thought floor nursing might be the way to go but for some reason she's always gravitated to leading others.
It's something she finds that she really needs.
"I realized that I missed coming in and not being in charge," she said. "I was a good nurse. I was good at following whatever was told to me but I realized that just being a nurse is not something I'm ever going to be happy with."
As luck would have it her boss was retiring and she stepped into the role of clinical director. She oversees two different departments.
"Maybe in five years I hope to be farther along," Kappen said. "If there's an opportunity to be an administrative director or something like that. I like the administrative side of things but I also like the fact here at South they still let me have interactions with patients."
"If the nurses need help starting an IV or give my opinion about things they're not afraid to come ask me. I like that people find me approachable and come ask. As long as that doesn't change and the opportunities are still there I think the possibilities are limitless."
And if you're a betting person, the safe bet would be that years from now Kappen will still be with Integris.