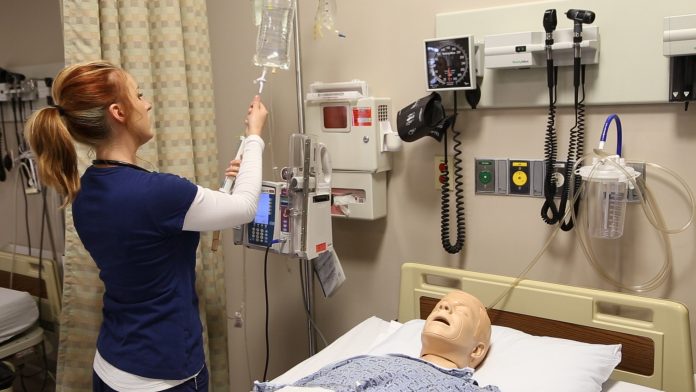 Oklahoma City University has partnered with Duncan Regional Hospital to offer a Bachelor of Science in Nursing program at the hospital beginning in Fall 2016.
The hospital will provide up to 15 scholarships annually for students who enroll in the program and agree to work at DRH following graduation. Qualified students can complete the program in two years. Among those eligible for the program are students who have earned associate's degrees in allied health services from Cameron University.
Jay Johnson, president and CEO of Duncan Regional Hospital, said the program will address an ongoing need for baccalaureate prepared nurses at the hospital.
"We are excited about this partnership to bring the highly respected OCU BSN degree to a community like ours," Johnson said.
The hospital will provide $14,000 in tuition expenses per recipient per year, leaving students with an annual tuition of between $8,000 and $13,000. Scholarship recipients will be required to work at Duncan Regional Hospital as a full time nurse for at least two years following graduation.
"We are pleased to bring our baccalaureate nursing program to Duncan Regional Hospital and look forward to growing the availability of accessible, professionally delivered nursing care in the community," said Lois Salmeron, dean of OCU's Kramer School of Nursing. "Our mission has long been to prepare graduates to practice professional nursing in a variety of settings in rural or urban areas."
A member of the OCU faculty will reside in Duncan to teach classes and labs. The program will also utilize an innovative Polycom Communications online platform so that students in Duncan will be able to participate and interact with classes in Oklahoma City in real time.
OCU's MSN program also will soon be offered in Duncan via live streaming.
Duncan Regional Hospital will host an open house session at its Learning Center from 4 to 7 p.m. Feb. 17 to provide more information about the partnership program. Those who are interested in attending may RSVP by Feb. 12 online at okcu.edu/duncannursingopenhouse.
Oklahoma City University's nursing program consistently exceeds state and national averages on the RN licensure exam. The school boasts 1,370 alumni who are practicing in every major health field.
For more information, contact Debbie Taber at 405-208-5924 or [email protected], or visit www.okcu.edu/nursing.