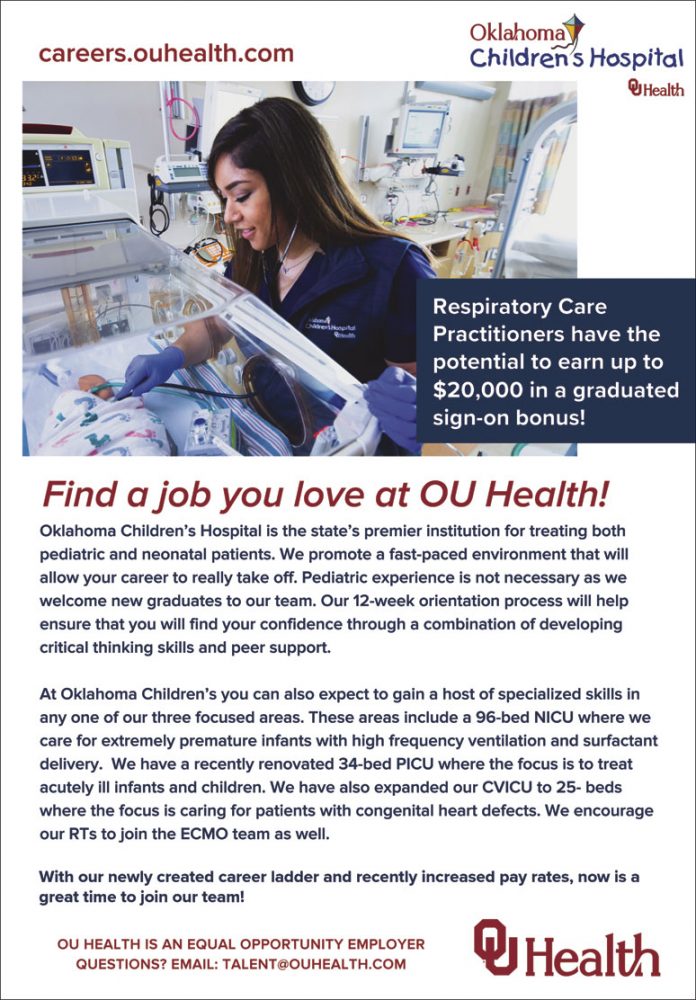 Oklahoma Children's Hospital
OU Health
Respiratory Care Practitioners have the potential to earn up to $20,000 in a graduated sign-on bonus!
Find a job you love at OU Health!
Oklahoma Children's Hospital is the state's premier institution for treating both pediatric and neonatal patients.
We promote a fast-paced environment that will allow your career to really takeoff.
Pediatric experience is not necessary as we welcome new graduates to our team.
Our 12-week orientation process will help ensure that you will find your confidence through a combination of developing critical thinking skills and peer support.
At Oklahoma Children's you can also expect to gain a host of specialized skills in any one of our three focused areas.
These areas include a 96-bed NICU where we care for extremely premature infants with high frequency ventilation and surfactant delivery.
We have a recently renovated 34-bed PICU where the focus is to treat acutely ill infants and children.
We have also expanded our CVICU to 25- beds where the focus is caring for patients with congenital heart defects.
We encourage our RTs to join the ECMO team as well.
With our newly created career ladder and recently increased pay rates, now is a great time to join our team!
OU HEALTH
OU HEALTH IS AN EQUAL OPPORTUNITY EMPLOYER
QUESTIONS? EMAIL: [email protected]