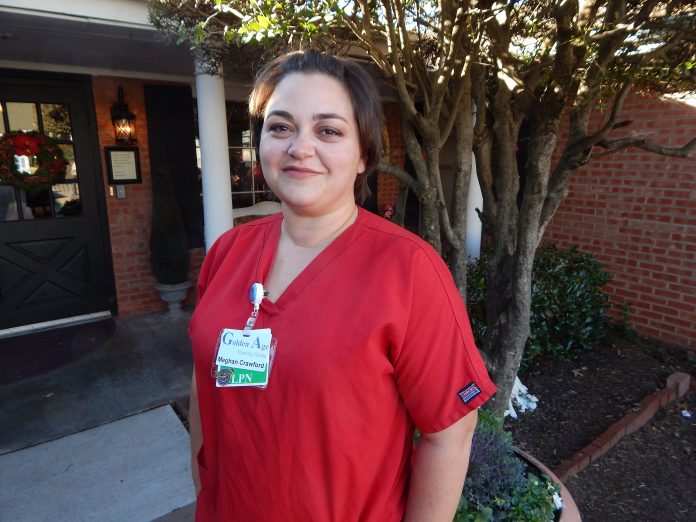 by James Coburn – Writer/Photographer
Meghan Crawford likes a lot of things about working at Golden Age Nursing Center, located in Guthrie, she said.
"I love the elderly people of course," said Crawford, LPN. "They're a lot of fun. I like that they maintain their own personality. I think a lot of people outside of health care, outside of geriatrics, thinks every elderly person has a personality like a grandma making cookies. But they're not like that."
"They'll have their personalities and some of them are really wild and fun. And some of them tell jokes."
She also stays in long-term care because she loves the company she works for, all the way from the owners to her bosses and other coworkers. This team spirit makes it easy for her to stay there.
"They're good to us," Crawford continued.
She has been a licensed practical nurse for 14 years. She graduated from Meridian Technology in Stillwater and pursued a career initially in assisted living before switching to long-term care. She has been with Golden Age since 2008.
She admires the Administrator and her Director of Nursing because they care how the home operates. They take their jobs seriously and want to see that everything is done in the best interest of the residents, Crawford said.
They are compassionate, not just to the residents, but also to the Golden Age staff, Crawford said.
"They both really care about the people they are in charge of, and that's very admirable," said Crawford, who serves as the facility's educator.
She trains the new staff and provides the annual education of staff members who are already licensed. She helps with those who are struggling in an aspect of their career.
"I also work on the floor sometimes if we need somebody to work," Crawford said. "I'll pick up the shifts."
Crawford also teaches CPR to the staff and assists the DON when needed. She also does all of the coordination and organization that helps certified nurse aides to know they are professionals.
The nurse aides do more than focusing on the hygiene of the residents. The career of a CNA should be taken seriously because of its difficulty and also the fact that they are the eyes and ears of the nursing staff.
Crawford focuses on staff retention of CNAs by improving their work environment, she said.
"We have peer mentors for the CNAs and the CMAs. They go through training with an online course and learn how to properly train them, make them feel welcome and want to stay at Golden Age," Crawford said. "Its great and is something that nurses need to know."
Crawford has always been motivated about achieving her personal best as a nurse. Her mother is also a nurse. She credits her mother's work ethic and the care she gave her children to being a good role model.
Crawford was working at a sister facility in Stillwater named Golden Oaks. Crawford was a young housekeeper when one day her mother told her she would make a fine nurse.
"My mom inspired me and pushed me in my career," Crawford said.
Her mother now works at a nursing facility in Durant. She instilled the value of family in Crawford's life. So when Crawford is not at work, she spends most of her time enjoying the time she and her husband spend with their five children.
"We have a micro farm. We've got some miniature donkeys, a miniature horse," she said. "We've got a lot of pigs and chickens, and dogs and cats. So that's pretty much what I do with my spare time, running a household. My husband works a lot."
Some of the residents at Golden Age grew up working on farms and can identify with Crawford's farm life. There is always someone with a funny story about their life as a farmer.
Crawford said that one day one of the residents gathered some chairs in front of him to demonstrate how he would handle cattle. He was in a wheelchair in the dining room providing entertainment to others.
"He had herded up all the chairs and was pushing them along in his wheel chair," Crawford said. "It was pretty funny. It was good stuff."
Looking ahead to the new year, Crawford said she looks forward to another good year at Golden Age where she is in good company with the residents.