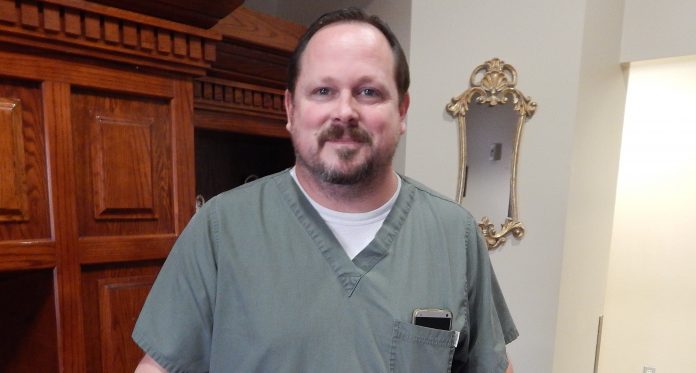 CAREERS IN NURSING
CONNECTING WITH GRACE: LPN ENJOYS FAMILY SETTING
by James Coburn – Writer/Photographer
Mike Hammack, LPN, has a lot of family in the medical field. When his brother started going to nursing school, it motivated Hammack to join him. He was working odd jobs putting himself through college in Kentucky
Today, Hammack serves as the prospective payer source case manager at Grace Living Center Edmond. And, Hammack has a lot of faith in Grace to keep him dedicated to the residents' needs.
"There's a lot of tenure here," Hammack said. "The staff has been here for quite some time and they can be flexible with schedules. It's kind of a family environment."
As a case manager, he follows the skilled nursing component that is available at Grace Living Center. This involves Medicare and insurances. He also works on the floor serving residents' needs in long-term care. Hammack coordinates the care between therapy and nursing. People come to Grace Living Center perhaps with pneumonia or a fracture of the hip or knees. Orthopedic needs are common reasons people need skilled nursing after being discharged from a hospital.
"I monitor their nursing needs plus therapy to get them to where they need to be so they can go home, hopefully, or follow their prior arrangements, whether that be assisted living or something like that," he said.
He has developed a variety of skills at Grace as a charge nurse and the MDS long-term care aspect of computer work.
The nursing staff he works with are caring people, Hammack continued. "They are here to help people. In this field you have to be a caring person. You come in and it's something you want to do. It makes you feel good about yourself."
Hammack has known some of the residents since he was hired by Grace Living Center nearly eight years ago.
The nursing staff kind of becomes their new family, he said. Some of the residents continue to have family coming to see them at Grace, and it helps the residents to have a second family to rely on for their needs.
"It's just somebody to talk to and kind of connect with you on a personal level," Hammack said. "This is their home and you're here every day. You're a family member here."
Of course it's important to have a life outside of one's career. So Hammack and his wife spend a lot of time following sports events that involves his sons.
"It's pretty much what we stay busy doing," he said of their football, basketball and baseball play.
His youngest son is also interested in lacrosse, but with his baseball schedule, Hammack doesn't know when his son will have time to fit the sport into his sports activities. He plays baseball and keeps Hammack active with sports.
Hammack also played sports when he was a teenager growing up in Altus, he said.
His oldest son shares an interest in health care with Hammack. He attends the Bio Science Academy at Francis Tuttle. He'll be a junior this year and has a range of options that he is considering in the medical field.
Grace Living Center recognizes that people love to maintain daily activities. They do not give up on life. So the residents can go on outings to places such as a casino or the Oklahoma Science Museum at the Kirkpatrick Center in Oklahoma City and they go to movies.
Sometimes new residents will recognize someone living at Grace Edmond that they already know. One of the patients in the skilled nursing unit recognized someone in the therapy gym who lived down the street from them in Perkins, Hammack said. People have their routines.
"Right now there is a group of six or eight guys that sit around in the common area to socialize," he said. Residents of Grace are there because Grace is their home. And the nursing staff gets to reflect on the benefits of compassion and skills they have provided to the elders. The personal rewards are tangible.
Activities are ongoing at Grace allowing the residents to live their lives with enrichment, she said. They will go to a circus or some might enjoy fishing. The elders go to the park for a picnic.
Resident Council meetings are provided for the elders to state what they want to do on a given day. A peer mentor group will help with fund raisers devoted to activities. The mentor group of staff workers also do activities on their own such as bowling.
Long-term care is highly regulated, but it's a rewarding field. They are special, special people and Grace Edmond is a 5-star facility. The nursing staff does the work that a lot of people aren't interested in doing or don't want to do. So it's a gifted group.