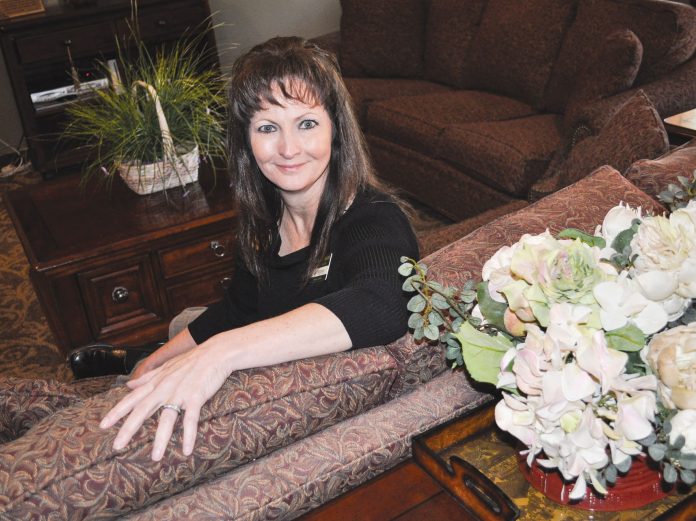 CAREERS IN NURSING
A PLACE TO CALL HOME: EMERALD SQUARE ASSISTED LIVING
by James Coburn – Writer/Photographer
Pattie Waggoner, RN, has put her husband on notice, the Yukon Denali with 150,000 miles has got to go.
A new Suburban will soon be in the Waggoner garage. With seven grandkids Waggoner needs the space.
But aside from the space, Waggoner needs something a little more reliable as she burns up the miles each month as the executive director at Emerald Square Assisted Living in Oklahoma City.
Waggoner is closing in on three years as executive director and most of those miles have come during that time.
Emerald Square offers both independent and assisted living options.
The State of Oklahoma requires a registered nurse consultant do quarterly reports, all admission assessments and sign off on the monthly orders for assisted living residences. Waggoner does all those duties for Emerald Square as well as a sister community, Willowood at Mustang.
So she stays busy?
"All the time," she said.
But in the midst of the hustle and bustle, Waggoner makes sure her staff takes care of the little things. If the paper doesn't come that morning a staff member is dispatched to get an armful.
If a resident runs out of an item it's no trouble to run to the store and pick it up.
That's why residents from 60 to 103 call Emerald Square home.
And even with her hectic schedule it's one of the joys Waggoner takes from her role.
"Because they are still in a time of the life that was simple," Waggoner said. "We're so fast-paced now that it's pleasant to come around these folks who are OK with sitting down and having a nice conversation or just saying something very pleasant when they come by."
"They still have a very good religious foundation to them and that's very comforting and pleasing to us the staff."
Waggoner relies heavily on Lesa Mercier, LPN, whom she's worked with for years and who takes care of the medical needs for the residents.
"She's extremely good at what she does and you have to be in this business," Waggoner said. "She's the major clinical person. We know how each other is going to think about different situations. You have to know and be ready for interventions to anything that happens."
Waggoner started off cooking in a nursing home and doing the laundry. She earned her certified nurses assistant certificate and then become a medication assistant.
From there she became an LPN followed by an RN and then administrator school.
Her daughter is going to LPN school at Canadian Valley Technology Center at Redlands Community College.
"It's always been the love of helping the elderly," Waggoner said.
When the Waggoner grandchildren would ask what nanna did at work she always enjoyed telling them she took care of grandmas and grandpas.
"They just think that must be the coolest job ever and it really is," Waggoner said. "It's like having a whole group of loving people here to care for."
In the Waggoners' spare time they farm 2,000 acres of wheat. But the majority of her time is spent with the residents at Emerald Square.
"I want them to come here and I want them to have the best quality of life they can have," Waggoner said. "It's a simple life for them and it's not hard. That's really what they want."
Before becoming an administrator, Waggoner was a surveyor for the state going into residences and making sure everything was ship shape.
But before all that she was a nurse. With 25 years in nursing Waggoner knows it's all about caring for people.
"I think they enjoy that we are always available for them so we're not so tied up with business," Waggoner said. "I always have time no matter what. I'll make time for them even if there's other responsibilities on my shoulders. When they feel a problem it's a big thing for them. "They honestly know we're going to take care of everything for them."
"Our main focus here is care."
That was abundantly clear last winter when the power went out. Instead of going home to their families Waggoner and Mercier spent the night roaming the halls with flashlights to make sure everyone was OK.
The power was off for more than 24 hours without an incident as more than 70 people spend the night at Emerald Square.
"If it's the call of duty we're going to be there," she said.