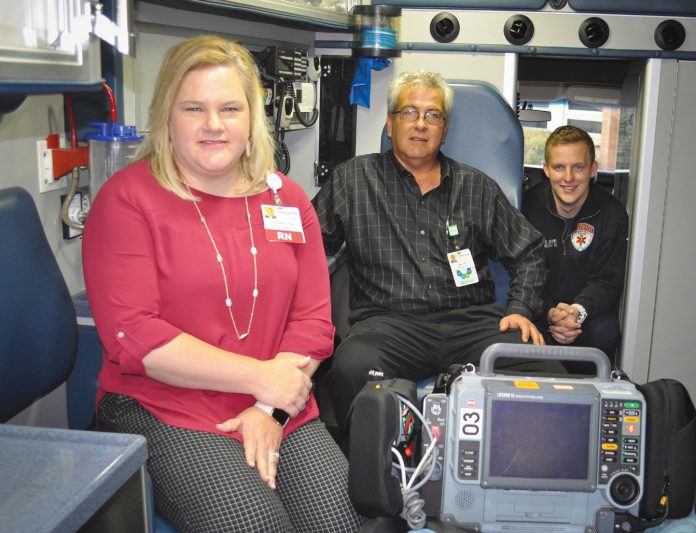 by Bobby Anderson, Staff Writer
More than two years of work and planning by multiple AllianceHealth Midwest departments culminated recently in a prestigious accolade that will benefit patients throughout the metro.
For the first time, the hospital received full Chest Pain Center with PCI (Percutaneous Coronary Intervention) Accreditation from the Society of Cardiovascular Patient Care.
To receive accreditation, AllianceHealth Midwest demonstrated its expertise and commitment to quality patient care by meeting or exceeding a wide set of stringent criteria and completing on-site evaluation by a SCPC review team.
AllianceHealth Midwest is the only hospital in the state of Oklahoma to receive this level of accreditation.
"This accreditation is another large step in our commitment to providing superior emergency and cardiac care to the residents of Midwest City and Eastern Oklahoma County" said Damon Brown, CEO, AllianceHealth Midwest. "This accreditation was made possible because of the dedicated work and commitment of a multi-disciplinary team that included employees, physicians and paramedics."
Cardiology Director and Chest Pain Coordinator Mark Macklin, RN, BSN has spent the last 12 of his 22 years in nursing in cardiac care after an emergency medicine and trauma background.
"The most important reason to pursue this is it's the right thing to do for patient care," Macklin said. "It's a standardized system for evaluating and treating patients from the lowest risk patients to the care and treatment of the STEMI patient."
"It encompasses the entire gamut of cardiology and chest pain."
It is estimated that over 60% of all cardiac arrests are directly caused from an acute myocardial infarction.
The addition of the Resuscitation designation to Chest Pain Center with PCI accreditation enhances outcomes because the facility will have initiated early strategies such as early recognition, CPR and defibrillation, early intervention with Primary PCI simultaneously with post arrest hypothermia treatment.
"It standardized our practice, making sure we used evidence-based practice, best practice protocols and we're all doing it the same way, every time with no deviation," said Amy Baden, RN, BSN, MBA, and AllianceHealth's network director of cardiology services. "It's our roadmap that every patient will be given the exact same care no matter who their cardiologist is."
Baden said that resuscitation element is one all employees are trained in.
"Any type of employee is also educated in the signs and symptoms of an early heart attack," Baden said. "From a kitchen worker to a nurse on the floor – even the valets – have all been educated. It's a multi-faceted education process."
That education has been introduced to the surrounding communities.
AllianceHealth Oklahoma, in partnership with the American Heart Association, donated CPR kits to high schools throughout Oklahoma.
Locally, AllianceHealth Midwest donated one to the Mid-Del School District and one to the Choctaw school district.
Nurses are also going into the schools and educating students and teachers on how to properly perform CPR.
Macklin said each week the board room was filled with representatives for nearly all departments.
"We were empowered to do that," Macklin said. "Our administration and the board signed off … and we went in there every Monday with a sense of empowerment that we need to get from here to there and who's best to drive the bus to get there."
"Some days it was our Chief Nursing Officer (Gloria Ceballos, PhD, RN) who could roll out to all of nursing what needed to be done. Sometimes it was the Chief Medical Officer (Dr. Rockey Talley) who needed to get our hospitalist team on board with the protocols we were rolling out. It changed from Monday to Monday to get from where we started to where we ended."
"It really kind of brought our whole hospital around that table with a single focus."
By achieving SCPC's Chest Pain Center with Primary PCI with Resuscitation Accreditation status, AllianceHealth Midwest demonstrated expertise in the following areas and others:
– Integrating the emergency department with the local emergency medical system
– Effectively treating patients at low risk for acute coronary syndrome and no assignable cause for their symptoms
– Supporting community outreach programs that educate the public to promptly seek medical care if they display symptoms of a possible heart attack
Baden said with the help of AllianceHealth Midwest's EMS service door-to-balloon intervention time has dramatically decreased.
"We've had STEMI's that come directly to the cath lab," she said. "There's a lot of elements … and we're trying to rule in these patients quicker. We're decreasing the amount of damage and decreasing the length of stay."
"Through this we're all doing it the same way and the patients are happier. We're all talking the same talk. Patient satisfaction scores in these units have elevated as well so we're excited about that."
The SCPC is the accreditation services arm of the American College of Cardiology.
AllianceHealth Midwest, located in Midwest City on the eastern edge of Oklahoma City, is a 255-bed acute care facility with nearly 300 primary care and specialty physicians.