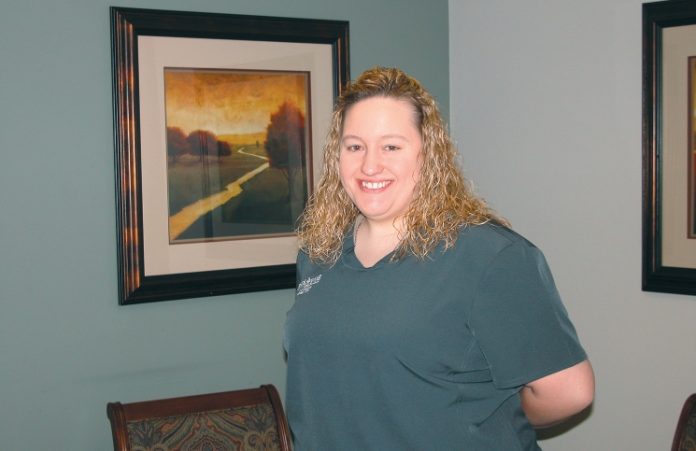 by James Coburn – Writer/Photographer
Lana Adkisson's favorite part of nursing is getting to know her patients as a registered nurse at Bone and Joint Hospital at St. Anthony.
"I like talking to our patients. I like to hear their story," she said. "A lot of our patients are older, so they've had tons of life experience. And they have all kinds of crazy stories that you would never picture them being associated with. They like to reminisce, too, about their younger days."
She serves in the Joint Replacement Center on the second floor of the midtown Oklahoma City orthopedic hospital. But she will occasionally work on the acute care floor.
"We mainly do hip and knee replacements, post surgical care," Adkisson said. Most of her patients are older adults but there are also younger adults.
Orthopedic surgeons are specialized in sports medicine. People also come to the hospital for shoulder injury procedures, hands and feet, anything orthopedic in the body.
Several surgeons have clinics in the Oklahoma City area, but go to Bone and Joint to conduct their surgeries.
Before the patients even go to sleep for surgery, an injection of medication will be given around the nerves to feed the joint, the arm, whatever the surgeon is working on, to render that numb.
Less anesthesia is given as it proceeds, so patients will have fewer side effects from things like nausea and sleeplessness.
The pain is blocked for several hours following surgery. Many of the patients return home pain free and begin a regiment of pain medication taken orally. This helps the patient to stay ahead of the pain curve. It's important for a patient not to wait to be in a lot of pain before trying to control pain.
Adkisson loves the nursing profession, she said. It's a wide-open field where everybody can find something they like.
"Family members and friends will say, 'Oh, I don't like the blood and needles.' But there are jobs you can find that don't involve that. So I've tried to push everybody into it since I started."
Adkisson graduated from nursing school in March at Oklahoma City Community College and past her examination in April of last year. At OCCC, she went through the accelerated program.
"I loved it. It was fantastic," she said of meeting her educational needs. "So it was quick. It only took 10 months. They are pretty organized. And I'm told they have the highest pass rate at the lowest cost."
Prior to going to nursing school, Adkisson earned a Bachelor of Science in Microbiology degree, which allowed her to go through the accelerated program.
She knew about Bone and Joint because her father had been a patient at St. Anthony Hospital. He had always seen Saints physicians, so it was a natural tie-in for Adkisson to find somewhere within the Saints umbrella, she said.
"I think that is why I became a nurse, to understand what was going on with him," Adkisson explained. "A lot of the stuff he went through was over my head even with the science degree. So it was encouraging to go to nursing school and understand more."
She enjoyed the surgical aspect during school. So Bone and Joint became the closest path as a new graduate without jumping straight into surgery.
Bone and Joint made the process smooth for Adkisson with 12 weeks or orientation.
"Everybody was great. They were so nice and helpful," she said.
Adkisson is part of a team of professionals who have been recognized for exemplary care. In 2014 Bone and Joint earned the Joint Commission's Gold Seal of Approval for its total knee and total hip replacement program by demonstrating compliance with The Joint Commission's national standards for health care quality and safety in disease specific care.
The certification award recognizes Bone and Joint's dedication to continuous compliance with The Joint Commission's state-of-the-art standards.
"Other than it's a great place to work, we'd love to have them here. They don't have to be here, but we'd love to have them," she says about people considering the nursing profession.
She enjoys coming to work each day. It's not a job people dread going to every day, she said.
"Everybody here is so nice. It's almost like a family of coworkers. We get along very well, and like to have a good time while we work," she continued. "We always help each other out as much as we can."
Her typical day in The Joint Center involves doing a morning assessment of her patients. She will change dressing and at times, even help out with therapy, she said.
"Morning is the busy part and then it kind of tapers off," she said.
Adkinsson said she has a good balance between work and home. On some days she will relax and be lazy, but she also likes to spend her leisure time gardening and entertaining.