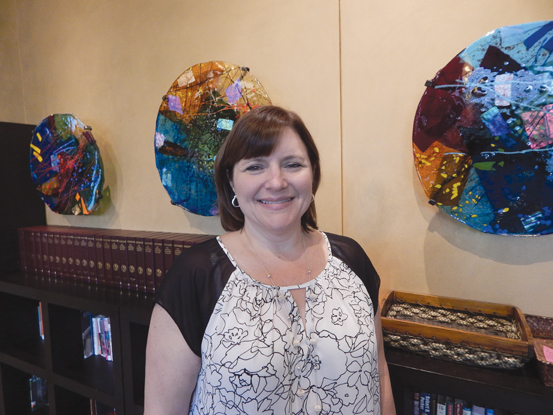 Nurse navigator at Stephenson Cancer Center addresses patients' concerns
story and photo by James Coburn, Staff Writer
Stephenson Cancer Center in Oklahoma City is like a lighthouse on the shore offering guidance and a plan to patients living with a diagnosis of cancer.
"We're trying to be a bright light of hope and we let them know they're not alone," said Dee Delgado, RN, a nurse navigator at Stephenson Cancer Center in Oklahoma City.
A nurse for 30 years, Delgado earned her Bachelor of Science in Nursing degree at the University of Central Oklahoma when it was called Central State University. Today she works in the ears, nose and throat clinic at Stephenson.
Cancer can be a confusing diagnosis for new patients who are not familiar with the scope of their treatments offered in a modern world.
"We had over 800 new cancer patients last year that I helped navigate," she said of her clinic at Stephenson. "So we're a very large clinic. So basically when new cancer patients come in for their first appointment, that's when I go in and meet with them and their family, introduce my role and give them information."
There is a comprehensive evaluation that takes place among a group of experts including surgeons, medical oncologists and radiation oncologists.
Endrocrinologists attend the meetings when thyroid cancer is discussed at the Tumor Board twice a month.
Delgado likes to be there when their doctor talks to them to discuss the treatment plan. Her job is also to help coordinate the Tumor Board meetings. They want to make sure they have all the information available when presenting a new cancer patient, she said. They get a lot of outside referrals so it's important to know of any related scans that have been downloaded into their system.
"My job is after our meeting, I am getting in touch with the patients and letting them know what the recommendations are," Delgado said. "If the recommendation is for surgery then I'm letting the surgery schedulers know so they can start looking for operating room times."
Her clinic is like a chain. Everyone has a link and they all depend on one another, she continued. She makes arrangements when patients need chemotherapy or radiation treatments.
"Sometimes we get patients from Texas or Arkansas as well. So I have to coordinate those therapies back to their home town or near to them," she said.
Patients today are consumers who do their shopping in the world of the Internet. Most patients investigate their malignancy online, so many of them know about the course of their diagnosis when they first come to Stephenson Cancer Center. Anything caught early is much easier to deal with in terms of the disease spreading.
"When you're dealing with head and neck cancers it's so much more obvious sooner than if it was abdominal or something," she said.
The warning signs for throat cancer include coughing when eating or or drinking food, she said. After a meal they may be aspirating into their lungs. There could be something wrong with their vocal cords. A lot of patients are hoarse and have not improved when being treated by antibiotics prescribed by their primary care physician.
"They say they have a sore throat or say, 'You know I've had this knot in my neck,'" Delgado said. "Sometimes patients have had it for an extended period of time. By the time they decide to come to us for treatment, you have to deal with patients in the grieving process."
Delgado looks beyond their fears to let them know that Stephenson Cancer Center is there to help comfort them. She lets them know they are not alone and the center will be there for them to do everything it can.
"We're all about hope," Delgado said.
In a broader sense, Stephenson Cancer Center is always on the innovative edge of research. New patients are screened to see if they are appropriate for a study. Then a team of research nurses working with Stephenson doctors follow the patient through the research process.
"It's amazing what is out there," Delgado said.
Stephenson ranks in the top three cancer centers for clinical trial enrollment in the nation. The National Cancer Institute sponsors trials. It offers more clinical trials than anyone in the state.
It also has the only phase 1 clinical trials in the state offering cutting edge therapies coming to the market. Patients no longer have to go out of state to M.D. Anderson or the Mayo Clinic for treatment. Since Stephenson Cancer Center opened five years ago, it has recruited more than 30 physicians who are specialized in their field. Stephenson invests in recruiting these experts from the best institutions in the country.