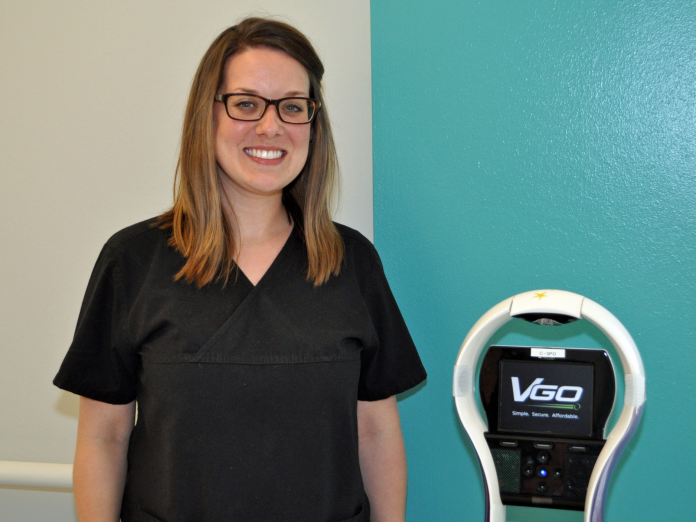 by Vickie Jenkins
Starlight Children's Foundation and Astellas USA Foundation are partnering to advance children's health and education through technology with the placement of two VGo robots at The Children's Center Rehabilitation Hospital in Bethany, Oklahoma. Patients and staff gathered at the facility to unveil and celebrate the new technology.
VGo robots offer hospitalized children the convenience and ease of telecommuting into a school or health care setting. Remote control access with 2-way audio-video motorized mobility puts students with injuries, extended illnesses and other physical challenges back in the classroom, and gives doctors, nurses and child life staff the ability to care for patients over long distances. VGo robots allow users to easily move about in real-time through the school or hospital environment by means of a laptop or handheld remote control.
The VGo robots are funded as part of a $250,000 grant from Astellas USA Foundation that will have a positive impact on quality of life for thousands of patients and staff every year at more than a dozen pediatric Starlight community partners across the nation, including children's hospitals and pediatric rehabilitation centers, such as The Children's Center Rehabilitation Hospital.
"We feel blessed to be chosen as a recipient of the VGo robots. These robots will allow the patients an opportunity to enjoy life outside of a hospital room," said Melissa Richey, Director of Communications and Marketing, The Children's Center Rehabilitation Hospital. "The robots will also allow siblings of patients, who aren't able to sit bedside, the chance to communicate, which will drastically strengthen that bond between them."
Remote controlled through a laptop, iPad or iPhone, VGo robots allow a patient or a doctor to navigate and interact with people in a different location. VGo is uniquely integrated with a camera, microphones and a video display – all on a light-weight, motorized and stylish platform. VGo robots are optimized at 4 feet tall so they work equally well when interacting with people who are sitting or standing.
"Astellas USA Foundation supports creative ways to positively impact patients and their families," said Jeff Winton, president of the Astellas USA Foundation. "We are proud that, through our work with Starlight Children's Foundation and VGo robots, we are giving hospitalized children a chance to experience the classroom alongside their peers."
"It's critically important for hospitalized children to stay connected to the outside world, to continue their education and to simply have fun while receiving medical care or rehabilitation," said Amy Stillion, Senior Director, Global Impact & Philanthropy of Starlight Children's Foundation. "We are so pleased to partner with Astellas USA Foundation in supporting the critical needs of patients at The Children's Center Rehabilitation Hospital. This generous gift by Astellas USA Foundation will transform the healing experience for thousands of children in Oklahoma City and all across the US."
In 2016, Astellas USA Foundation is funding the placement of 22 VGo robots in 13 Starlight community partners' locations in Massachusetts, Illinois, Oklahoma and California. Previous support from Astellas USA Foundation to Starlight has funded the renovation of two state-of-the-art, family-friendly healing environments — a pediatric dialysis unit in Oklahoma City and teen lounge in Chicago — both of which opened in the past few months.
VGo was founded by veterans of visual communications and robotics industries who invented a simple and secure solution to enable a person in a distant location to replicate themselves in another location. VGo was acquired in 2015 by Vecna, a leader in autonomous logistics and IT solutions for healthcare.
Astellas USA Foundation is a tax-exempt, nonprofit corporation that awards grants to support charitable scientific, literary and education programs.
The Children's Center Rehabilitation Hospital is an innovative leader in offering medical services that can only be found in the region while also providing a promising pathway from hospital to home. The Children's Center Rehabilitation Hospital is more than a place where children come to heal. They come to learn and grow in a supportive, caring environment.
Starlight Children's Mission is on a mission to improve quality of life for children, families and communities. We harness the power of giving to advance children's health through a global network of community partners. Starlight supports kids and families in 11 countries and territories around the world.