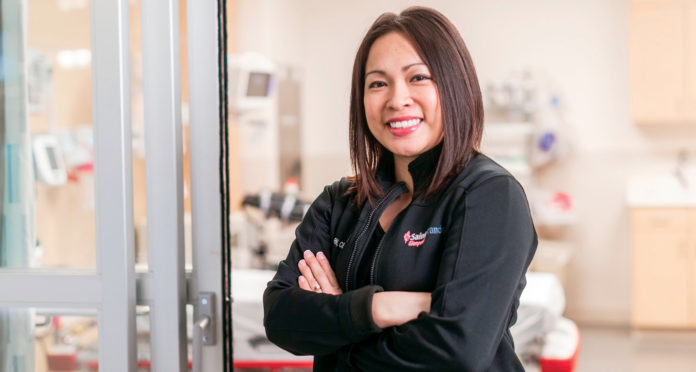 State's largest healthcare provider encourages its nurses to grow professionally
Saint Francis Health System, Oklahoma's largest healthcare provider, has more than 10,000 employees at more than 100 locations throughout eastern Oklahoma. Nurses in the Saint Francis Health System network—which includes Warren Clinic, the state's largest physician group—can pursue careers in large communities (Tulsa, Broken Arrow, McAlester, Muskogee) and small (Vinita, Glenpool, Coweta, Owasso, Sand Springs).
Wherever they choose to work, nurses can enjoy the benefits of a locally owned, locally led and locally focused not-for-profit health system dedicated to high-quality, patient-centered care. To this end, Saint Francis Health System offers a wide range of programs and services to help its nurses grow professionally, which ultimately serves to help maintain the health system's high standards of clinical excellence.
__________________________________________________________________
Education Opportunities in Action
Kaytie Hull, RN, BSN, is currently a charge nurse at Saint Francis Hospital's patient tower and trauma center. She started working for Saint Francis Health System in 2011 as a nurse technician and has since worked her way up to Clinical Ladder III. Along the way, she has made the most of the nursing opportunities, flexible scheduling and incentives offered by the health system, including the nursing school scholarship, the extern program and tuition reimbursement for her BSN. Last year she began working on her MSN, which she is scheduled to complete in 2020. "Saint Francis provides a great work/life balance and many opportunities for employees to grow and achieve their goals," she says. "I wouldn't work anywhere else."
__________________________________________________________________
The Pursuit of Excellence
Nurses can take advantage of Saint Francis Health System opportunities even while they're still pursuing a degree.
The health system offers a registered nurse scholarship that funds up to $8,000 in tuition at an accredited school of nursing. There is also the Saint Francis Extern Program, a nine-week shadow program designed for students in their final year of an accredited RN program. Both the RN scholarship and the extern program are great ways for aspiring nurses to get their foot inside the door.
Making the Transition from School to Vocation
Once accepted into the Saint Francis Health System nursing program, new nurses embark on a yearlong nurse residency program (NRP), designed to help in the transition from the classroom to clinical bedside experiences and real-world professional nursing practice. The NRP includes professional nursing orientation, unit-specific orientation with a preceptor, specialty classes and a variety of nurse residency seminars.
The NRP is tailored to the education needs of newly licensed nurses, and is based upon Quality and Safety Education for Nurses (QSEN) competencies. During orientation, new nurses become familiar with the health system's policies, procedures and equipment, and participate in specialty classes specific to the patient population they will be caring for.
Help Along the Way
Saint Francis Health System provides reimbursement for the RN NCLEX (National Council Licensure Exam). Each year, there are three KAPLAN (RN NCLEX) review courses held at the Saint Francis Education Center: in January (for December graduates), May (May grads) and August (July grads). These courses are free for those who have accepted a position; full registration fee is required for all others. For new hires who cannot attend the courses, they can receive reimbursement of up to $350 for specific courses, such as HESI, ATI and KAPLAN.
Other educational benefits for RNs include specialty classes offering patient-focused content (e.g., pediatric, ICU and cardiac classes); nurse residency seminars that focus on communication and teamwork, critical thinking, patient/family-centered care, case management, discharge planning and more; baccalaureate- and graduate-level continuing education classes; and national certification programs that include IABP, CRRT, LVAD and ECMO.
Saint Francis Health System invests heavily in its nurses and encourages them to grow professionally in order to fulfill its mission: To extend the presence and healing ministry of Christ in all we do. For more information visit: SAINTFRANCIS.COM/NURSING