SSM Health St. Anthony Hospital – Midwest is recently announced Stacy Coleman as President of the health ministry. Coleman is SSM Health Oklahoma's current Regional Vice President of Strategy and Business Development.
As President, she will lead strategy and operations to help expand high-quality health care services in eastern Oklahoma County and surrounding areas. She will also maintain her responsibilities for strategy and business development for SSM Health's operations in Oklahoma.
"I have had the privilege of working with Stacy Coleman for 28 years, and I have seen the passion with which she expands our healing ministry to as many Oklahomans as possible," said Joe Hodges, Regional President, SSM Health Oklahoma. "I know she will bring the 'digging in and building up" spirit to eastern Oklahoma County and create the best possible experience for our patients, employees and the community as a whole." (STORY CONTINUES BELOW)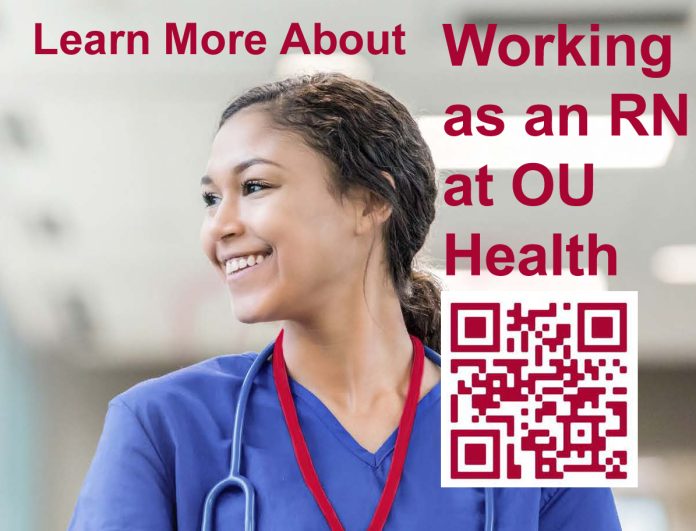 More About Working as an RN at OU Health
Thursday, March 9 – 6-8 p.m. Chicken N Pickle, 8400 N Oklahoma Ave. Oklahoma City, OK 73114
Attend and you'll be eligible to win one of two $100 Amazon Gift Cards.
Experienced nurses are invited to join OU Health for a hiring event at Chicken N Pickle on Thursday, March 9 from 6-8 p.m.  Enjoy food, time on the pickleball courts and talk to nursing leader from across the OU Health enterprise. We're hiring experienced nurses in all areas of OU Health, including inpatient, ambulatory, adult, children's, cancer and more. Search for opportunities by visiting careers.ouhealth.com Scan or click the QR code to RSVP and reference the March 9 event.
Coleman received a bachelor's degree in marketing from Oklahoma State University before completing a Master of Health Administration at the University of Oklahoma. She has served in multiple roles within SSM Health during the past 28 years. She created a strategic plan that included the redevelopment of the St. Anthony Hospital campus in Midtown Oklahoma City, bolstered the number of physicians serving central and eastern Oklahoma and has led significant infrastructure improvements. Additionally, Coleman developed the business strategy and plans for the transition of two hospitals to SSM Health during the last two years, including St. Anthony Hospital – Midwest, where she will serve as President.
Coleman has been recognized with the Journal Record's "Oklahoma's 40 under 40" and OKCBusiness.com's "Forty under Forty" awards. She has served on numerous professional and community boards during her time with SSM Health.