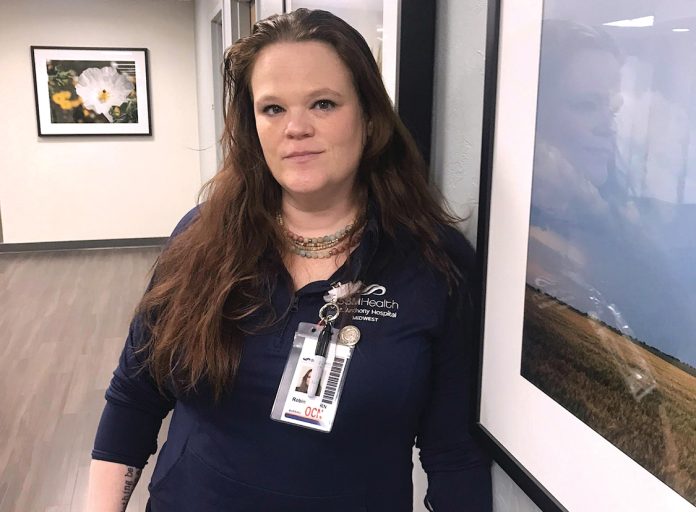 by James Coburn – staff writer
Cancer care is evolving with specific treatments for different types of cancer. Every person and malignancy are different.
Biomedical research and the therapies targeting cancer cells are light years ahead of when Robin Dabney, RN, became a nurse in 2017.
Being a cancer care nurse can be challenging. But Dabney has an empathetic nature that is needed when providing infusion services to patients at SSM Health Cancer Care, located on the campus of SSM Health St. Anthony Hospital-Midwest. (STORY CONTINUES BELOW)

Though nurses are vulnerable to relating to the emotional pain of their patients, Dabney is built to endure. She realizes the need to push her own response of sadness to the side when at the clinic.
"Sometimes you're just not going to be able to be cheered up, but you have to be able to make them feel as comfortable as possible, as cared for as possible, and remember why you are doing it," Dabney said.
Patients may be understandably fearful. But Dabney said nurses can help comfort patients by figuring out what is causing points of distress. She finds opportunities to help patients feel better instead of thinking they're just grumpy.
The Cancer Care Clinic is a tight-knit team of nurses who go over and above their line of duty to help other nurses provide exceptional care, Dabney said.
Cancer does not take a holiday, but it is not always a death sentence. Dabney has had patients that didn't make it.
"I've had patients I didn't think were going to, but have been in remission for years," she said. "The patients and their families are my entire reason for being here."
Becoming a nurse was a heartfelt journey for her. When Dabney was 27, her daughter provided her good reason to become a nurse after being diagnosed with type-1 diabetes at age 18. Dabney wasn't a nurse at the time.
"The nurses taught me how to take care of her. They were the ones that helped me when I cried," she said.
Dabney wanted to be that instrument of health and healing for somebody else. Now she administers chemotherapy as well as non-cancer infusions and immunotherapy.
"The area we have is absolutely fantastic," she said. "It's a very conducive environment for patients."
The Cancer Care Clinic opened in December with state-of-the-art equipment, three exam rooms, nine treatment rooms, dedicated parking and a comfortable lobby.
"It feels like home to me," Dabney said.
Patients are allowed to have a family member or friend with them. There is a list of snacks and TV channels and more one-on-one time without 15 people in the same room.
"The chairs are super fancy. They're heated and massage, so we can make people as comfortable as possible in a tranquil environment," Dabney said.
She educates them about what their medicine does and the side effects to expect.
As an oncology certified nurse, she knows there is always reason for hope. New treatments are always on the horizon. She knows about every chemotherapy available, and how they work in each category because every type of cancer requires a different infusion-type battle plan.
"So that's actually one of the things that I like to do, dig into what we are going to do next, what's this going to look like in five years," she said.
Targeted therapies and immunotherapies are amazing, she continued. The more is revealed about cancer — why and how the body produces cancer by genes causing a malignancy, is essential for biomedical research scientists to target specific cancer producing genes.
Recently she has worked with newer types of phases 2 and 3 research drugs.
"You can have five patients with colon cancer, and they can all have colon cancer for different reasons," she said.
Many cancers do not immediately produce symptoms until it's late in the game. People will tell Dabney they "just felt off, but nothing was wrong with me."
Then they find out their cancer has metastasized to stage 4 ovarian cancer, colon cancer or pancreatic cancer.
Catching cancer early enough saves lives. COVID made matters worse in that fewer people didn't have their mammograms or colonoscopies, putting it off for another year. People have said they knew people with cancer but didn't think it would happen to them.
"I think that is a big mistake — a big mistake," she said. "Cancer doesn't care if it's Christmas. Cancer doesn't care if you have a grandkid on the way. Cancer doesn't care about anything at all."
Cancer care nurses know they must take care of themselves in order to help others. Dabney centers herself by crocheting a lot and doing yoga and traveling with her husband.
For more information about SSM Health Cancer Care visit:
https://www.ssmhealth.com/conditions-treatments/cancer-care-support?gclid=Cj0KCQiA54KfBhCKARIsAJzSrdqFFEO-Y_VrTY8VuVSA9x-OLDG9v7a3WMjxbGgUf-SrfpA8rpnL-84aAt7UEALw_wcB