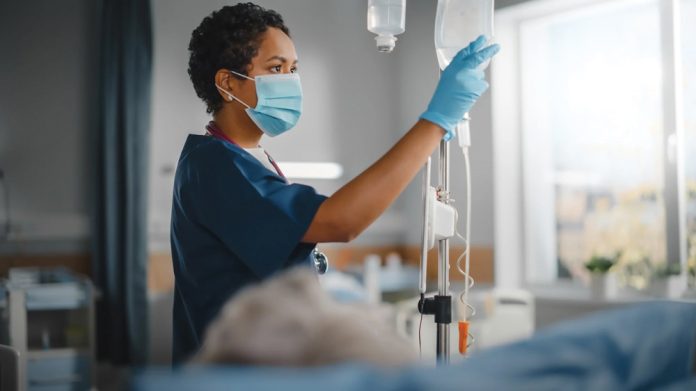 For the 21st consecutive year, nurses ranked #1 in Gallup's annual Most Honest and Ethical Professions Poll. The American public rated nurses the highest among a host of professionals, including medical doctors, pharmacists, and high school teachers. Nurses kept their place atop the poll despite the challenges presented by the lingering COVID-19 pandemic, high rates of flu and RSV infections, staffing issues and the pernicious threat of workplace violence. Their ranking in this year's poll directly reflects both nurses' unparalleled skill and deep connection to their patients and communities. According to the poll, 79 percent of Americans rated nurses' honesty and ethical standards as "very high" or "high." The second highest-rated profession, medical doctors, was rated 17 percentage points behind nursing. (STORY CONTINUES BELOW)
https://oknursingtimes.com/jobs/job/lvn-lpn/
"This recognition belongs to America's 4.4 million incredible nurses," said ANA President Jennifer Mensik Kennedy, PhD, MBA, RN, NEA-BC, FAAN. "For more than two decades now, the nation has recognized the vital role you play in keeping our friends, families, and communities safe and healthy, regardless of the setting you work in or the challenges you might face. Your ranking in this poll is an acknowledgement that without your bravery, professionalism, and clinical expertise, our health care system could not function. I look forward to celebrating and sharing your many remarkable achievements over the course of 2023 and beyond."
Nurses have been able to maintain their ranking in this poll by providing high-quality, patient-centered care to individuals, families, and communities across the country and in every conceivable health care setting. But this accomplishment does not overshadow the serious challenges facing the entire nursing profession.
"Like 2020 and 2021 before it, this past year was a difficult one for nurses. Though COVID-19 may have receded from the headlines, it continues to weigh on nurses in communities and care settings in every corner of the country. Additionally, the strain of a historically severe flu season along with a surge of RSV infections has only added to the stress and anxiety that many nurses are feeling," said Mensik Kennedy. "And the lurking menace of workplace violence can make what is already a difficult job, a deadly one. In short, I am gravely concerned about our nation's nurses and the nursing profession."
"I am urging the public and private sector to work together with nurses to develop solutions to the numerous longstanding crises that have plagued nursing for too long," said Mensik Kennedy. "Because the health of the nation depends on a strong and well-supported nursing workforce."
Throughout 2023, the American Nurses Association (ANA) will continue to advocate on behalf of our nation's nurses in addition to educating the public about who nurses are, what they do, and how their vast knowledge and indisputable expertise touches and improves the lives of Americans everywhere.